I posted a couple of weeks ago about United's enhance domestic meal service. For once United made changes that were overwhelmingly positive!
Anyway, I had my first firsthand experience with the changes last night and this morning.
Last night I was on a redeye from Seattle to Washington Dulles. In the past, the snack was simply a cheese plate with a few slices of fruit and a cookie. Not very good if you ask me, since the cheese is the same kind United uses everywhere, so I've grown quite sick of it. If anything, it was a bit of a blessing, because I finally stopped eating the snacks on redeyes.
But now they have quite a filling meal service on redeyes! To start, the flight attendant offered the snack basket, consisting of potato chips, Ghirardelli squares, Biscoffs, and bananas.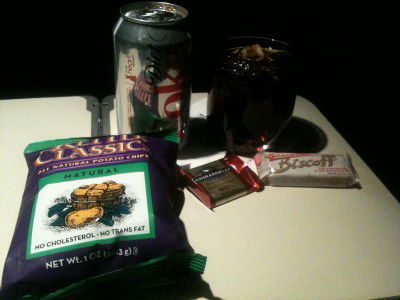 Snack basket
Shortly thereafter the main course was served, which consisted of a hot turkey sandwich, side salad, and Sun Chips.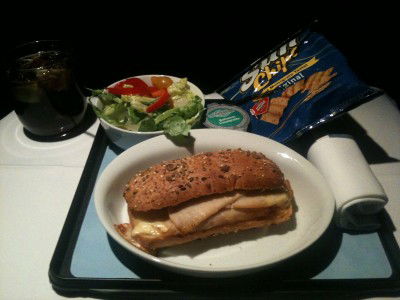 Turkey sandwich, salad, and Sun Chips
This sandwich was actually delicious, with quite a bit of turkey, and the salad was more than just the typical rotten lettuce.
To finish off the meal was a warm cookie, as usual.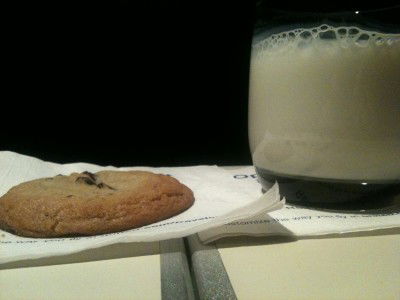 Warm cookie and milk
I was really, really impressed. And in a way I'm dreading this, since I'll have a hard time turning this meal down, while I had no problems turning down the cheese plate. It's actually tasty and filling. I had low expectations after seeing Matthew's post and the rather bare sandwich, but I thought this was really impressive.
Then came my breakfast flight, from Washington Dulles to Tampa. The choices used to be an omelet or a fruit plate. The omelet was always served with a small bowl of fruit and a croissant, and the fruit plate was always served with yogurt and a croissant.
The new choices were cereal or an omelet. I went with the cereal. I thought it was kind of funny that they served the Corn Flakes in the same plate they serve scrambled eggs in. It was served with a small bowl of fruit, croissant, yogurt, Biscoffs, and banana. The omelet, in addition to what used to be served with it, also comes with yogurt and Biscoffs now.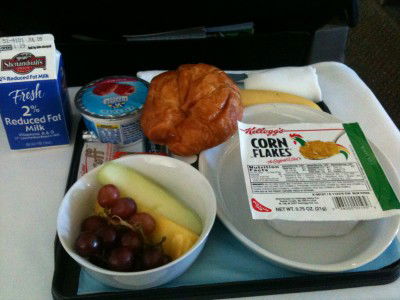 Breakfast
While I'm not excited to see more food on an airplane that I'm tempted to eat, this is an all around positive change.