A few weeks ago I shared the trailer for Etihad's virtual reality film starring Nicole Kidman, which is the first time a Hollywood actor is featured in a such a film:
https://www.youtube.com/watch?v=4WYI01G9gAQ
The trailer was intriguing, not just because it featured lots of pictures of Etihad's gorgeous A380, but also because there seemed to be a mysterious plot to it.
Well, Etihad has now released the full five minute virtual reality film, which can be downloaded on a dedicated website. You can only watch it on a mobile device, like an iPhone or Android, and you need to download an app to watch it.
For those of you who were as unfamiliar with virtual reality film as I was, the reason you have to watch it on a mobile device is because you'll be spinning your device throughout the film to get a 360 degree view of what's going on. As the name suggests, you're supposed to feel like you're there.
This is an interesting marketing approach for an airline to take, since they're greatly decreasing their potential audience by requiring people to download something. As someone who isn't especially tech savvy, getting this figured out and then downloading it took a few minutes.
So is the film worth watching? Well, the visuals are stunning, and the film takes you through economy, business class, the onboard lounge, first class, and The Residence (which is the private three room suite featuring butler service).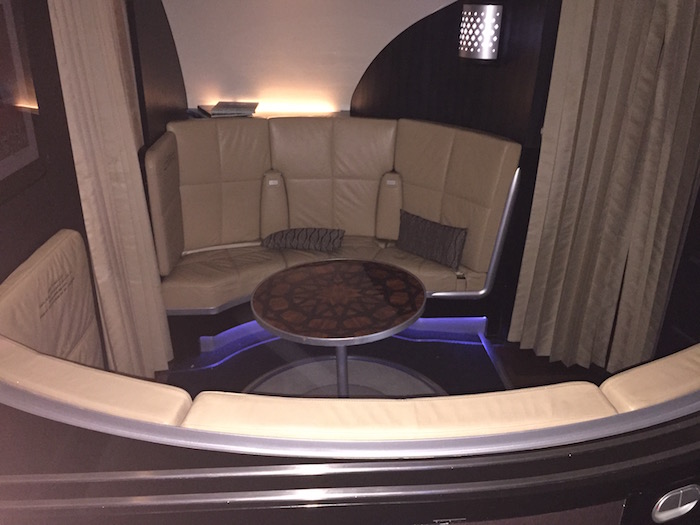 Etihad's lounge onboard the A380
However, maybe I missed something, but there didn't actually seem to be a plot. Based on the trailer where they're talking about something which is going to happen, I was expecting Denzel Washington to pop out (on second thought, an airplane movie he'd be involved in might not be the best PR for an airline).
In reality the film was simply a bunch of immersive airplane porn, which I love. It's just not exactly what I was expecting going in.
Here's how the film is described in Etihad's press release:
Etihad Airways has released its highly anticipated 360-degree virtual reality film starring Academy Award winning actress Nicole Kidman. This marks the first time that a Hollywood actor has ever starred in a fully immersive virtual reality movie.

The five-minute feature, titled 'Reimagine', is a major coup for the innovative national airline of the United Arab Emirates, and immerses its viewers in a fully experiential journey following Nicole Kidman through one of its new Airbus A380s flying between New York and Abu Dhabi.

The airline has used cutting-edge technology and multidisciplinary mediums in the feature to bring to life its acclaimed guest experience and hospitality story by engaging the consumer in various sensory interactions onboard the virtual flight. Each scene in the film takes on a theme intended to stimulate the senses of light, sound, motion, and conversation.

Nicole Kidman, Academy Award winning actress and Etihad Airways' brand ambassador, said: "The film is a culmination of Etihad's vision to tell the airline's story in an extremely innovative way and a commitment to engaging with the public as has never been attempted by an airline before. It was a great challenge but one which has definitely paid off and it was great to be part of such an exciting project."

Throughout the experience, the viewer meets and engages with a number of characters including the actress herself, her film director, an opera singer and even an Emirati guest with a falcon in First Class. The journey also provides personal interactions with the Savoy-trained Butler in The Residence, the airline's luxurious private three room cabin, the inflight Chef in First Class, the Food and Beverage Manager in Business Class, and the Flying Nanny, trained by the Norland College in the United Kingdom.
Perhaps the most interesting part of virtual reality films is observing people watching them. I watched it in the gate area of an airport this morning, and was constantly spinning around to be able to see all 360 degrees. When I finished watching the film, another passenger in the gate area said "is everything alright?" Oops!
I guess the moral of the story is that watching virtual reality films, much like running with a backpack on, will never look smooth.
I also learned that the flavors of biryani are supposedly enhanced at altitude.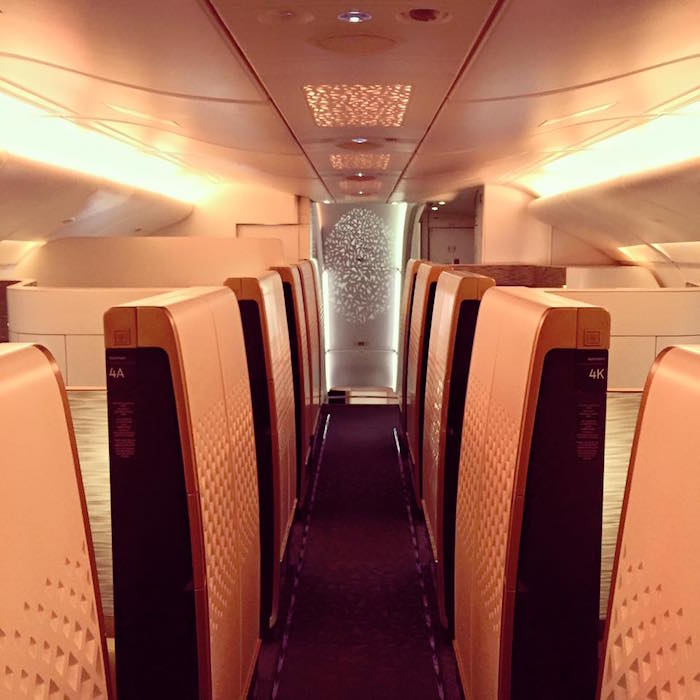 Salmon biryani in Etihad Airways first class
If you watched Eithad's virtual reality film, what did you think of it?