I'll have a full trip report coming very shortly, but in the meantime I wanted to share two teaser posts about my Etihad Residence experience — one about the ground experience in Abu Dhabi, and the other about my onboard experience. If you're curious about how I booked this ticket, see my previous post.
My flight from Abu Dhabi to Sydney was scheduled to depart at 9:50PM, so I requested that I be picked up at the Emirates Palace at 3PM. Etihad offers chauffeur drive to business class, first class, and Residence passengers, though Residence passengers seem to get a nicer car — I was picked up in an Audi A8 (at least I believe that's what this was?).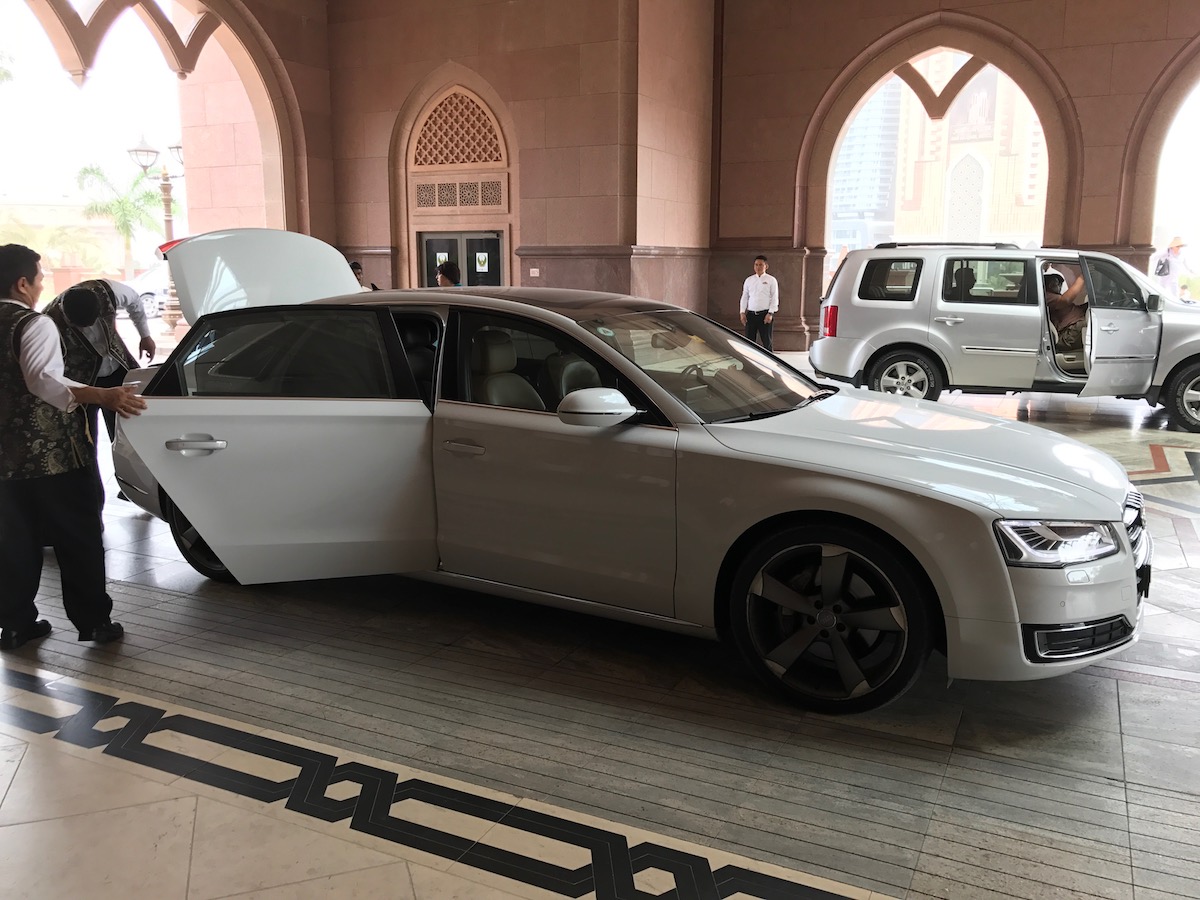 As we pulled up at Abu Dhabi Airport there were two Etihad representatives waiting for me. One of them was there to escort me, while the other was there to take my bags. I don't think I touched my bags once from the time I arrived at the airport in Abu Dhabi to the time I left the airport in Sydney. They already had my boarding pass printed out, and escorted me straight through security and to the first class lounge.
I've reviewed the first class lounge before, though today I had access to the exclusive Residence lounge. There are two Residence lounges, though one is bigger than the other, so the smaller one is only used as a backup, in the event that two parties are booked in the Residence around the same time.
The lounge was stunning, and all mine — you don't have to share it with any other passengers. There were two gorgeous leather couches, two comfortable lounging chairs, and a table with dining for four.
Just as Etihad has a butler for Residence passengers in the air, they also have a butler on the ground. I was thrilled when I saw that my butler was Amal, someone who I've gotten to know quite well over the years. The butlers working in the Residence lounge are also lounge duty managers, so they shift between roles depending on demand on a particular day. Amal is such a professional and nice guy, so it made my day that he'd be taking care of me (though little did I know that my day would be made over and over and over again).
I figured six hours would be too long to spend in the lounge, but boy was I wrong. Amal kept me busy, in a good way. We discussed what I wanted my lounge "schedule" to be like. Amal suggested that I maybe get a shave, then get a massage, then have a full meal at around 6PM, then maybe have another spa treatment, and then board at around 9PM (I had the choice of whether I wanted to board first or last).
First I had an incredible wet shave in the Style & Shave salon, which was lovely (and much needed, as I opted not to shave before the flight). Then it was time for a spa treatment. Amal asked "do you want the treatment in the spa or in your lounge?" For the novelty I couldn't turn down a treatment in the Residence lounge, so I requested that. I went with a hand massage, which was lovely.
After that Amal encouraged me to do a wine tasting, and brought out a selection of four whites, four reds, and two champagnes. One of the champagnes on offer was the very nice Billecart-Salmon 2004 Blanc de Blancs. It's the same one they serve onboard, and I loved it. The problem is that there's nothing that pains me more than a wasted bottle of champagne, so I got a bit further into the bottle than I was hoping to, and not quite as far into the other wines. 😉
At that point Chef Steve came by to introduce himself and discuss my dining for the night. After he introduced himself I said "I've had a look at the menu," and he stopped me right there. "I just want to explain that the menu is merely a backup plan, so please tell me what you like and I will create a custom menu for you."
Since he's the chef, I asked him what he likes most, and it became clear that we had similar tastes, and I asked him to just run with it.
My gosh, he didn't disappoint. To start I had a chilled white tomato soup with buffalo mozzarella foam, tomato mousse, dehydrated olives, and ciabatta. It tasted every bit as good as it looks.
For the main course I had lobster and caviar. I mean, look at that dish… I don't think I've ever seen anything like that.
I was also offered accompaniments for the caviar. By the way, Etihad serves Abu Dhabi farmed caviar. I've heard mixed reviews of it (including that it's especially salty), so was looking forward to trying it myself. What did I think? It was indeed a bit saltier than the caviar I've had from Russia, Iran, etc., though it also quite literally melted in my mouth. So it has a very unique taste, and I quite liked it.
Then I had an incredible nougat dessert.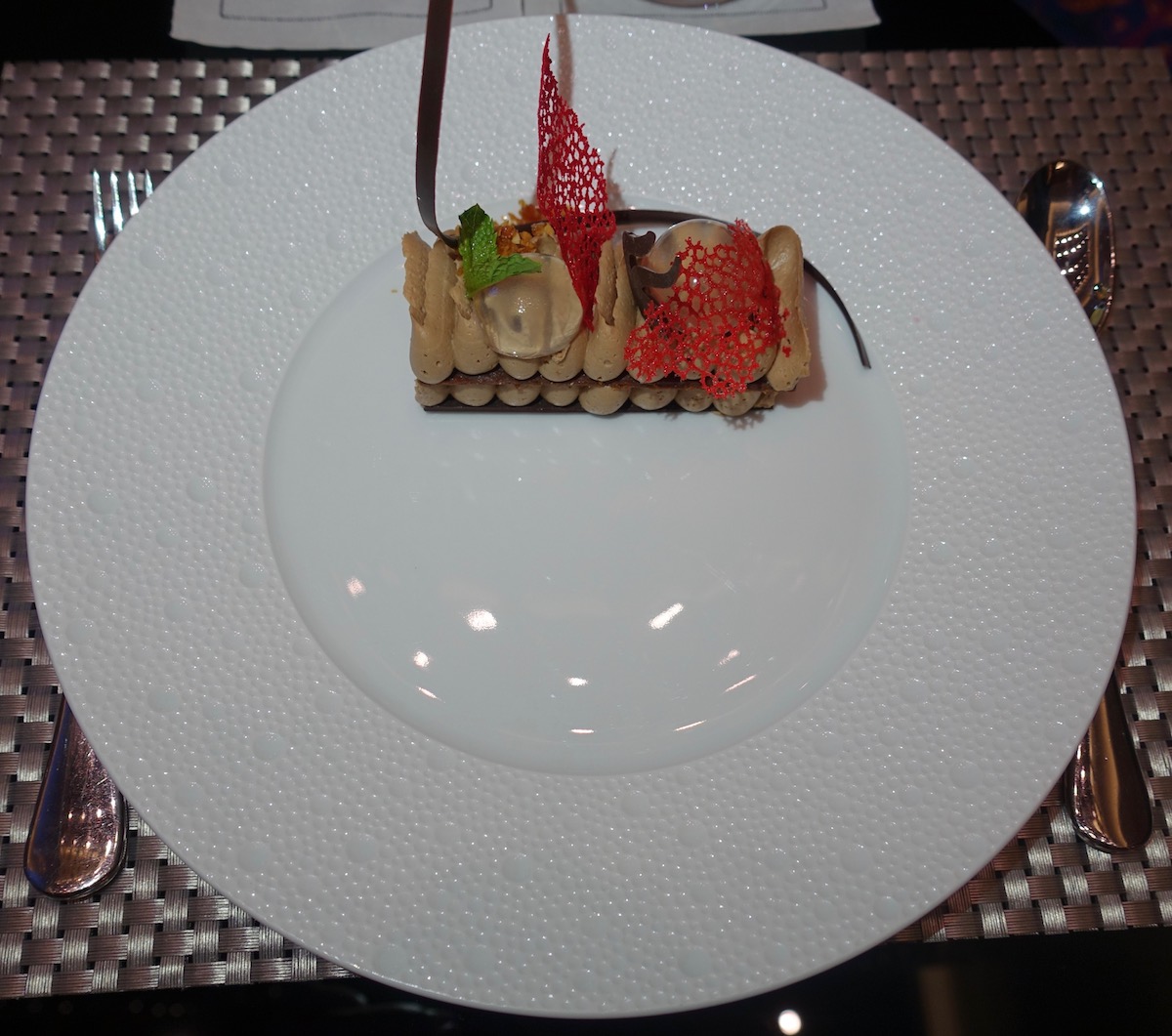 Chef Steve, you're a rockstar!
I decided to do a Facebook live from the lounge while wearing a bathrobe, so that's how I spent my time after dinner.
Before I knew it, my flight was ready for boarding. I bid farewell to Amal, who couldn't have been more professional, and he introduced me to Rochelle, who would be escorting me to my flight. It was almost a bit awkward to walk out of the lounge, as I was being escorted by three people, and each staff member we walked by said "enjoy your Residence experience."
Waiting just outside the lounge was a golf cart, which would be taking me to the gate.
There was an additional security checkpoint, which the porter more or less took care of. And now came the awesomest/most awkward part of the experience. We were in a gate area with about 400 people who were sitting there with nothing to do, and suddenly I arrived by golf cart with several people, and just inside the gate area the butler was waiting for me, wearing white gloves. He shook my hand, greeted me, and escorted me onto the plane, with Rochelle and the porter walking along with us. That was quite possibly the most uncomfortably awesome airport interaction I've ever had.
There was no wait whatsoever — Johan greeted me, and then we all walked onto the plane. A few minutes later general boarding began.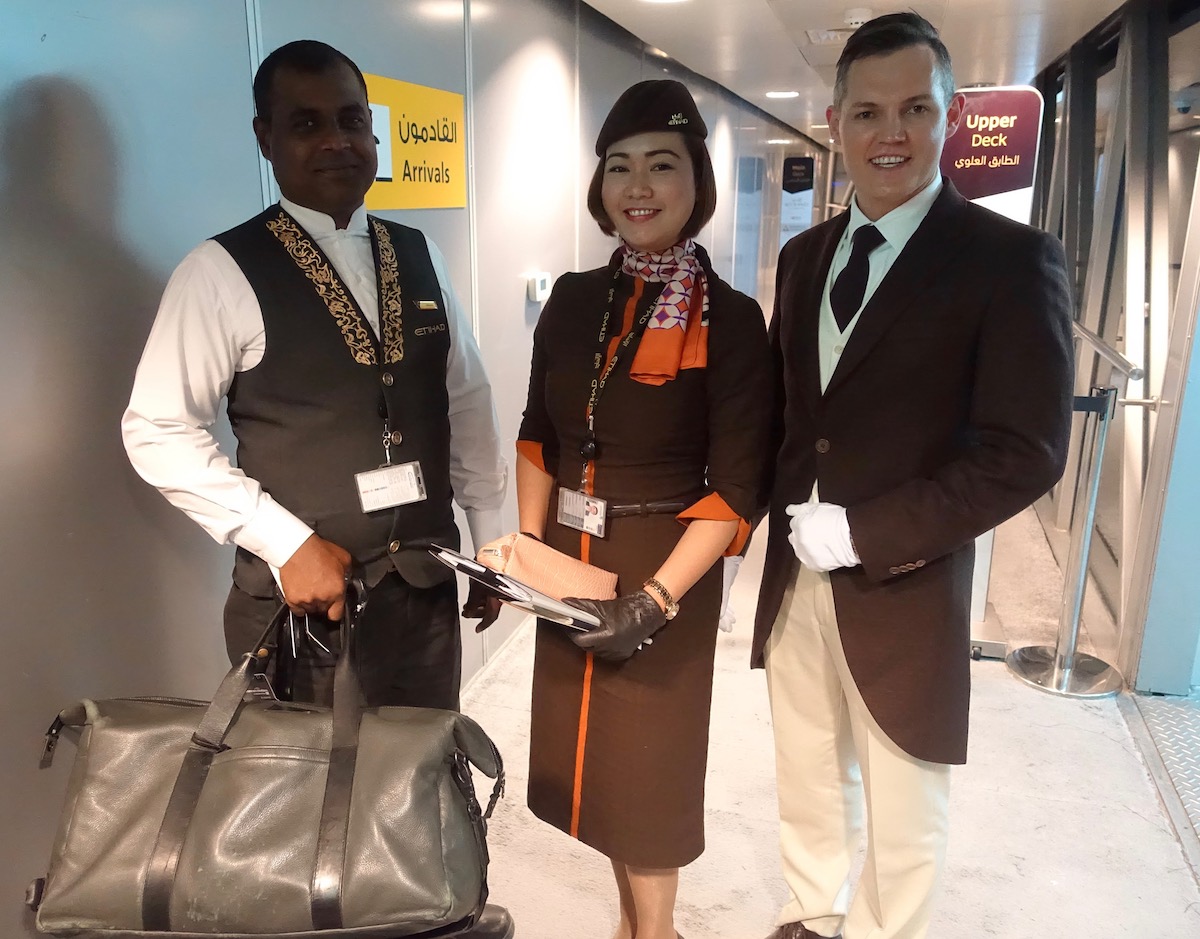 What a stunningly flawless experience. To be honest I didn't have very high expectations of the ground experience, so it blew me away. I couldn't believe how perfect the execution of everything was. To say I was pumped to get on the flight would be the understatement of the year.
Stay tuned for the onboard experience, and of course for the full trip report, which will be much more detailed!