The Gulf carriers are under immense financial pressure from their respective governments (unlike what Delta would like to have you believe, these airlines won't always have money), and that's starting to show in terms of the experience they offer. Don't get me wrong, they're still largely better than their competition, but like other airlines, they think cost-cutting is the key to profits (or at least reduced losses).
Anyway, this post is specific to Etihad's US lounge strategy, which I don't really get. Etihad operates three of their own lounges in the US, in Los Angeles, New York, and Washington Dulles. I've reviewed their lounges in New York and Los Angeles, and Tuesday night flew from Washington to Abu Dhabi on Etihad, so will have a review of that lounge soon.

Etihad Lounge New York
Operating an airline lounge is outrageously expensive. Now, I can get why they'd have a lounge in New York, where they'll soon have two A380 flights a day, plus the Air Serbia flight, which uses the lounge. However, Etihad flies one daily 787 to Washington Dulles, and one daily 777 to Los Angeles.
It's one thing if they contracted the lounge out to a bunch of other airlines, in which case they could potentially even make a profit running the lounge, as many airlines do. But that's not what they do. Instead the Etihad Lounge Washington Dulles is open for roughly three hours per day, from around 6:30PM until 9:30PM. It's only used by Etihad and Royal Air Maroc passengers (it's a bit odd that they contract it out to Royal Air Maroc, but whatever).
Can you imagine the rent they pay, how much it costs to staff the place, etc.? When they break down the cost, I can't imagine what the per passenger cost is, especially when you consider the airline could otherwise probably pay $20-25 per passenger to instead send them to another lounge.
The Etihad Lounge Washington Dulles is gorgeous, and is quite large when you consider that Etihad has only one daily 787.

Etihad Lounge Washington Dulles

Etihad Lounge Washington Dulles
You can even board the plane directly through the lounge, which is a nice feature.

Etihad 787 at Washington Dulles Airport
However, Etihad seems to be in cost-cutting mode when it comes to the lounge soft product. When I last visited the Etihad Lounge New York, they had innovative city-themed cocktails and an a la carte dining option, which is pretty tough to beat as a business class passenger.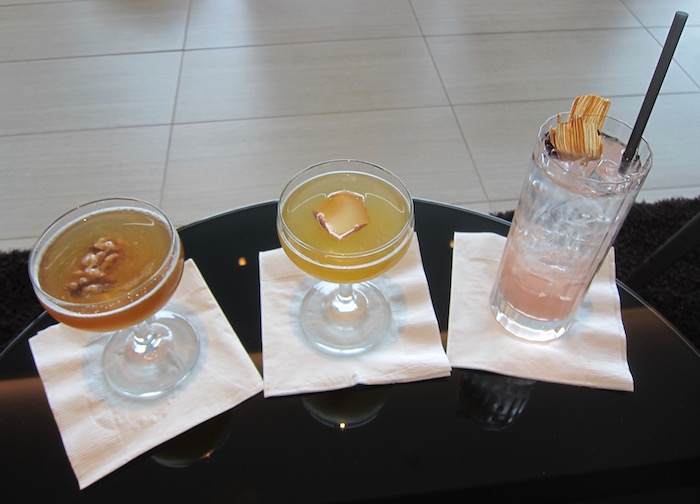 Cocktails at Etihad Lounge New York

A la carte dining at Etihad Lounge New York
However, the Etihad Lounge Washington Dulles apparently recently cut their menu. I've heard that similar cuts are happening at other lounges. Now there's only a buffet, and it's not even a big buffet.

Etihad Lounge Washington Dulles food spread
There's a small selection of fresh fruit, cheese, salad, hummus, etc.

Etihad Lounge Washington Dulles food spread
And then there are three hot "plates," each of which has two different options. Frankly, they didn't look especially appetizing.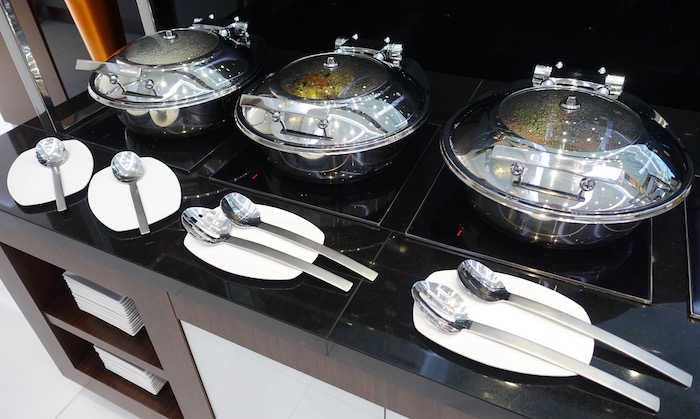 Etihad Lounge Washington Dulles food spread
To me, this just seems penny wise and dollar foolish. I assume their per passenger cost for operating their own lounge is a multiple of what it would cost them to send passengers to a contract lounge. Clearly they believe that a differentiated ground experience drastically changes the experience, or else they wouldn't invest so much.
But then they cut costs in the area that makes the experience special, by cutting their a la carte dining, and having what I'd consider at best to be a very mediocre food spread.
It's an odd way to do business, if you ask me…