Etihad's new first class lounge in Abu Dhabi has seemingly been under construction for eons, and perhaps worst of all is that they've refused to officially provide an opening date. Many of us are really excited to check it out, as I suspect it'll be spectacular, but it's hard to plan around its opening if they don't provide a date.
Last May I shared an update on the opening of the new Etihad lounge. I was told that the lounge should open in the second quarter of 2015, though shortly thereafter was told the opening was delayed until October. Then last August we received an update that the new lounge was supposed to open in early 2016. Then last November we received an update that the new lounge will supposedly open in mid to late 2016 at the earliest.
We finally had some good news this February, when Etihad announced that the first class lounge is scheduled to open in May 2016. They even shared a picture of the entrance to the new lounge on Instagram: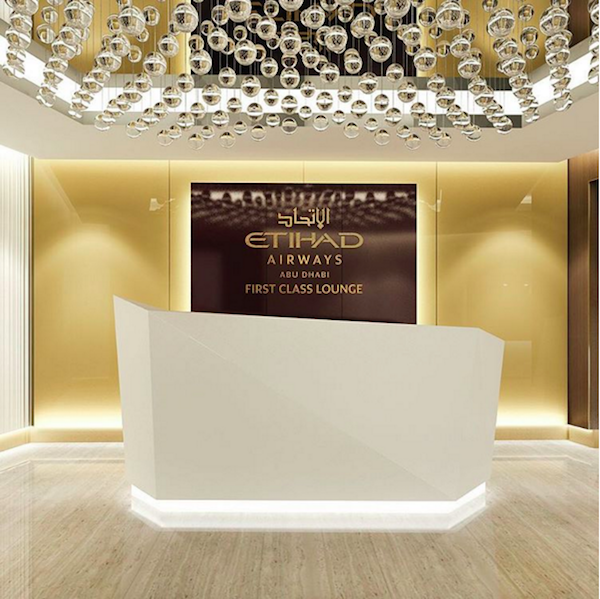 Etihad's first class lounge Abu Dhabi
Then Etihad claimed that the lounge could open on May 1, though I was skeptical of that.
Anyway, for several months now the official line from Etihad has been that the lounge will open in May, and more specifically, "at the end of May." While no date has been provided, at least something has been consistent.
Hi Mike, It will be opened at the end of May. Please stay tuned for the updates. *Yas

— Etihad Help (@EtihadHelp) May 20, 2016
Well, a friend passed through Abu Dhabi Airport yesterday and asked several lounge staff (and a couple of managers) about the opening date, and apparently they all had the same answer. The new Etihad first class lounge Abu Dhabi is scheduled to open on May 30.
Etihad won't publicly say that, but then again they have said it will be opened "at the end of May," so with that statement they can at most be off by a day. 😉
Based on what I've heard from the people who have had a preview of it, the new lounge is top notch, so here's to hoping it's worth the wait.
Do keep in mind that Ramadan starts on June 5, just a week after the lounge is scheduled to open. During Ramadan, Etihad doesn't serve alcohol in their lounge during daylight hours.
Anyone traveling through Abu Dhabi in Etihad first class on or shortly after May 30?