This one has been a long time coming! Lately, it feels like I've booked half the people I know on Qatar's Stockholm to Doha flight, and I've been starting to question my decision. Sure, I know Qatar business class is one of the best in the sky, but what about economy? Similarly, people rave about Emirates and Etihad, but how do we know which is best?
Well, I've finally set out to get an answer. I'm three weeks from starting college and can't resist the temptation of one last trip that's a little too crazy to do over a weekend. 😉
I started by basing my trips from India to get a fair comparison, which turned out to be a bigger problem than anticipated (I'll have another post on that soon). Instead, I worked around one flight on Qatar from Doha to Beirut, and managed to build the following itinerary: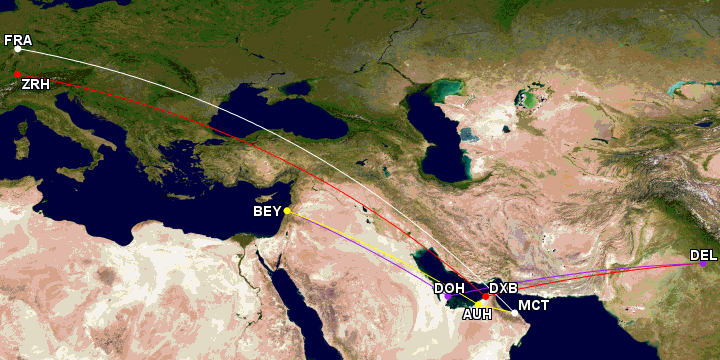 The red flights are on Emirates, the purple on Qatar, and yellow on Etihad. Then I'm flying home from Muscat to Frankfurt on Oman Air. The criteria for my comparison are as follows:
Flights need to be on aircraft that dominate the fleet of each airline and are used on long-haul routes.
At least two flights on each of the ME3.
Spend at least two hours at each airlines' hub airport.
No lounge access or premium benefits allowed so I can accurately test the experience of "your average traveler."
In the end, I booked the following flights:
Zurich to Dubai – Emirates A380
Dubai to Delhi – Emirates 777-300ER
Delhi to Doha – Qatar 787-8
Doha to Beirut – Qatar A330-300
Beirut to Abu Dhabi – Etihad 787-9
Abu Dhabi to Muscat – Etihad A320
I'm hoping the flights on Etihad will be enough. Given that I'm trying Qatar and Emirates' flights to India, and Etihad commonly uses their A320s on Indian routes, it should be a fair comparison. For positioning to and from Zurich and Frankfurt, I booked a roundtrip award ticket on SAS, since last minute prices were outrageous.
I'll have an introduction with ticket prices and more soon. I look forward to sharing my experience with you all!