It has now been over seven months since MH370 disappeared, and it seems that we know less now than the day it disappeared.
As far as I know the investigation seems to basically be on hold, which is rather disappointing since clearly there are lessons to be learned from it which can be used to make flying even safer in the future.
It's interesting that Emirates' CEO Tim Clark recently did an interview about MH370 with German newspaper Der Spiegel. Of the people that have emailed me about it, I've heard two general thoughts:
Kudos to him for having the balls to stand up for something that's important
He should shut up, it's not his place to have theories about an incident like this
I stand somewhere in the middle, leaning towards being happy he's bringing it up. His airline is the largest operator of 777s in the world, so he certainly has an interest in making sure the plane is as safe as possible.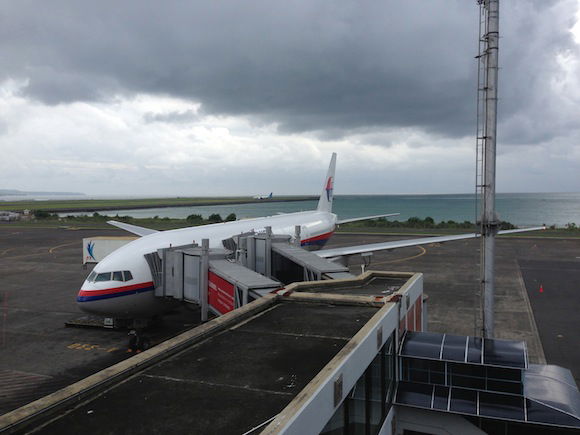 Malaysia 777
The interview is in the form of a Q&A, and he actually has some pretty interesting things to say, whether he's right or not.
He believes that someone was in control of MH370 when it went down, and not that it was on autopilot:
Clark: My own view is that probably control was taken of that airplane.

SPIEGEL ONLINE: By whom? What do you think happened?

Clark: It's anybody's guess who did what. We need to know who was on the plane in the detail that obviously some people do know. We need to know what was in the hold of the aircraft. And we need to continue to press all those who were involved in the analysis of what happened for more information. I do not subscribe to the view that the Boeing 777, which is one of the most advanced in the world and has the most advanced communication platforms, needs to be improved with the introduction of some kind of additional tracking system. MH 370 should never have been allowed to enter a non-trackable situation.
He also thinks it should be made impossible to disable ACARS from the flight deck, so that there's no situation in which a flight could no longer be tracked — there's no reason that should ever be needed, he thinks:
Clark: My recommendation to aircraft manufacturers that they find a way to make it impossible to disable ACARS from the flight deck. And the transponder as well. I'm still struggling to come up with a reason why a pilot should be able to put the transponder into standby or to switch it off. MH 370 was, in my opinion, under control, probably until the very end.
He's also not convinced that MH370 went down in the Indian Ocean:
SPIEGEL ONLINE: Does that surprise you? The possible crash area west of Australia is vast and the search there only began following considerable delays.

Clark: Our experience tells us that in water incidents, where the aircraft has gone down, there is always something. We have not seen a single thing that suggests categorically that this aircraft is where they say it is, apart from this so-called electronic satellite "handshake," which I question as well.
What should Malaysia Airlines do to fix the financial situation they're in?
SPIEGEL ONLINE: Malaysia Airlines has experienced two tragic catastrophes this year, the disappearance of MH 370 and the apparent shooting down of MH 17 over eastern Ukraine in July. If you led the company, what would you do?

Clark: Very difficult one. None of us has been in such a situation before, having to deal with two tragedies within a few months of each other. It will be very difficult for Malaysia Airlines to deal with the stigma. They need to take a fresh look at what they do, revisit their business model, possibly (consider) a rebranding. We as an industry need to find a way to help these guys sort out their problems. But with that kind of brand damage, it's extraordinarily difficult.
The theory that someone was in control when the plane went down overlaps somewhat with the theory in the book Goodnight 370: The Truth Behind The Loss Of Flight 370. Whether there's any truth to that theory, though, remains to be seen.
It's disappointing that investigators seemed to lose interest around the same time the media did…
What do you think of Tim Clark's interview?
(Tip of the hat to Andrew)