About an hour ago it was first reported that MS804, an EgyptAir flight between Paris and Cairo, went missing.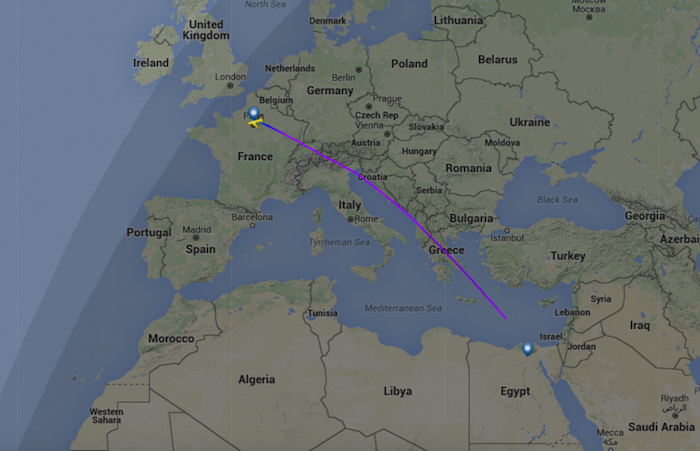 Where radar contact was lost, per flightradar24
Obviously there's a lot of information (and misinformation) out there, and we'll likely find out a lot more over the coming hours and days. There's a natural desire to know as much about these incidents as quickly as possible, which is why they tend to turn into 24/7 news cycles.
With that in mind, I figured I'd share the basic details we know so far (of course these are subject to change, given that they're still in the early stages of the investigation):
The flight was operated by a 12 year old Airbus A320, with tail number SU-GCC
According to EgyptAir, the flight had 10 crew members and 59 passengers (that's a lot of crew members for an A320, even when you include the pilots, though perhaps there were some crew flying as passengers)
The flight disappeared from radar at ~37,000 feet, under 200 miles off the coast of Alexandria, Egypt, over the Mediterranean Sea; that was 10 miles after entering Egyptian airspace (which covers part of the Mediteranean)
The flight disappeared from radar at 2:45AM in Cairo, and it was over two hours until EgyptAir made a public statement about the flight; it has now been about three hours since the disappearance occurred
Weather enroute was excellent, and the flight's route was completely normal until it disappeared from radar
I won't be covering the happenings of MS804 in great detail since I'm not an expert and also am not careful enough with my words to do so, but I figured I'd at least recap those very basic details, as people first start to hear about this disappearance.
For up to the minute coverage on MS804, I highly recommend following @thatjohn and @AirlineFlyer on Twitter, as they both do a fantastic job covering these sorts of incidents. They stick to the facts and leave out the sensationalism, so you can bet I'll be glued to their Twitter feeds over the coming days. I'd also recommend following @EgyptAir.
Again, my thoughts with those aboard, as well as their families…