As I wrote about earlier (and as discovered by Frequent Miler), British Airways' online shopping portal is offering double Avios on purchases this weekend. This includes dating sites. The best of those is match.com, which is offering 150 Avios per dollar spent. That's an insane deal, and an opportunity to buy Avios for 0.67 cents each.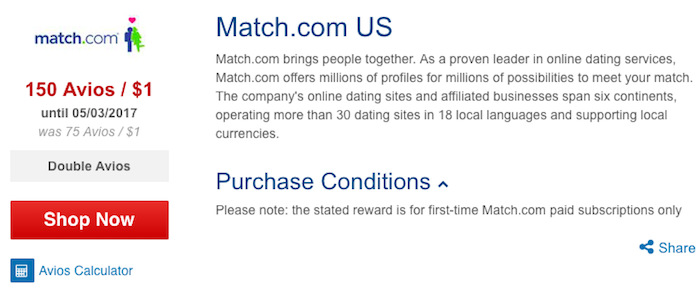 So, even though I'm happily in a relationship, I have my priorities in order — I refuse to turn down points at that rate!
I figured I'd outline the process, so you can do this too. For me the entire process took just 15 minutes, and that included taking screenshots, filling out my profile, etc.
To take advantage of this offer you'll first want to go to this page, where you'll be prompted to log in with your Executive Club number. Make sure the page says that you earn 150 Avios per dollar (since this promotion could be updated at any time), and I also highly recommend taking screenshots of the offer page and your confirmation page, just in case there are issues later.
Then you'll be transferred over to match.com.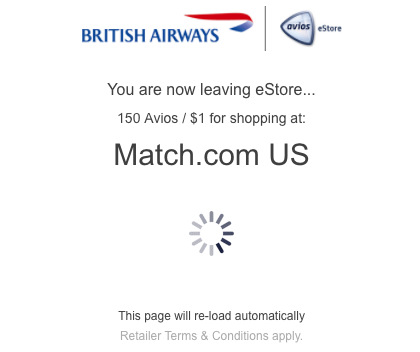 Then you'll be asked to fill out basic information and choose a username. I figured I might as well stay true to the theme with my username.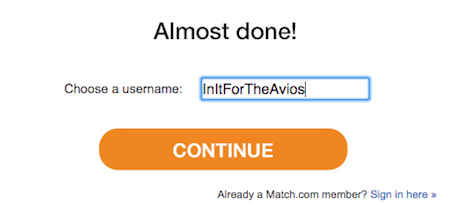 Then you're asked to fill out all kinds of information about yourself.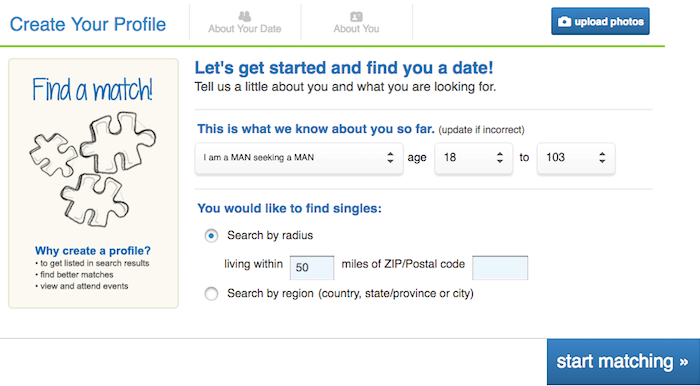 The good news is that you can skip most of these questions, and leave them open. The exception is the page that asks you to write about what you're looking for.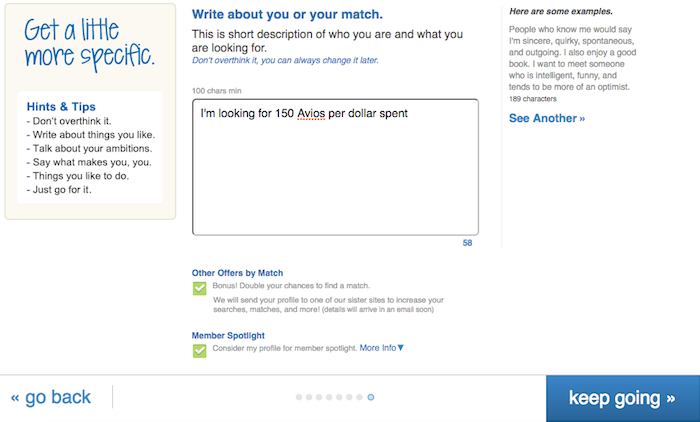 So the entire process should take about 10 minutes up until this point, and then you'll be brought to your account homepage. This is also where you can register for a paid plan.
If you go with a 12 month bundled plan, you'll pay $274.25. However, given the rate of 150 Avios per dollar spent, my goal was to make my membership as expensive as possible. Rather than choosing a bundled plan, click on the "Basic plans" heading (thanks to reader Trevor for pointing this out).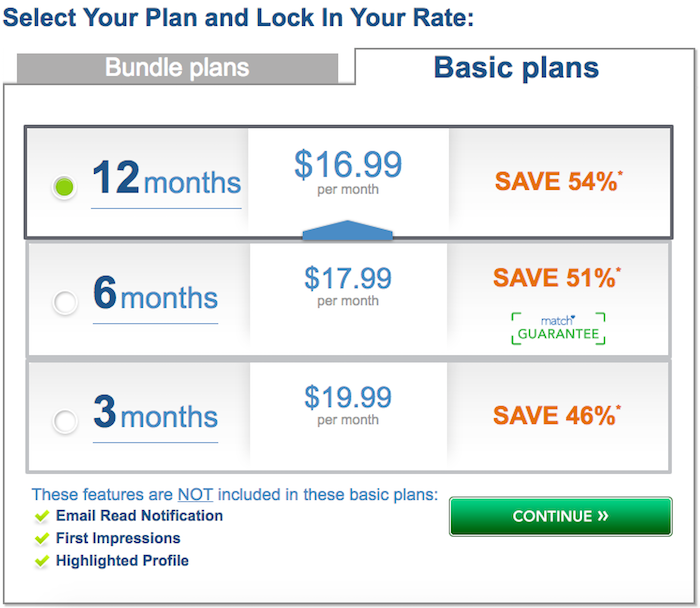 There you'll see the 12 month option for $16.99 per month. However, on the next page you'll be given the option of add-ons. In my case, I added all of them, since I wanted to drive up the cost as much as possible.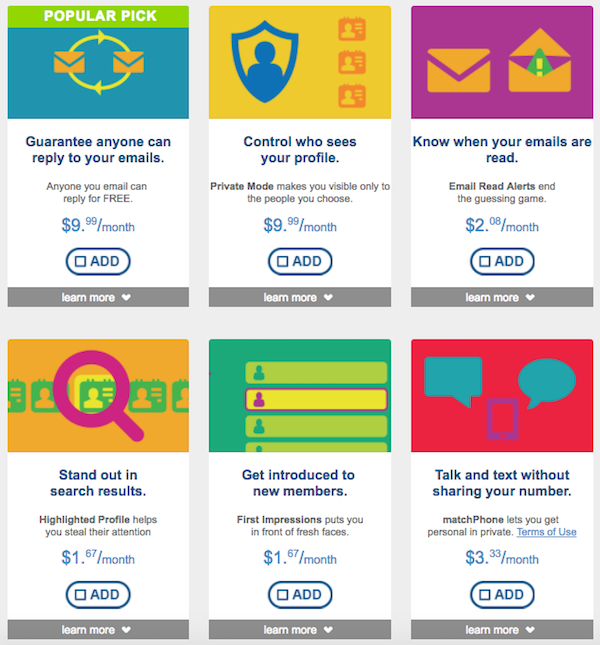 The total came out to $548.57.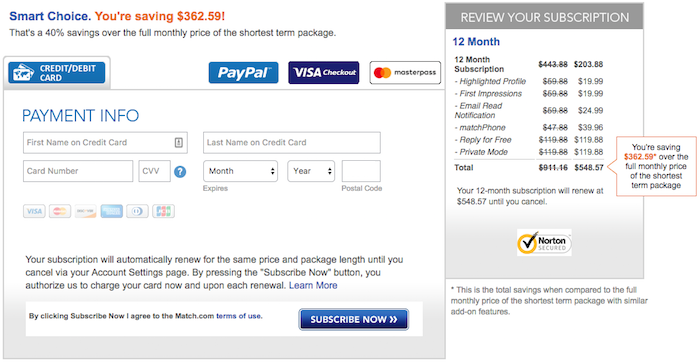 I entered my credit card information, though it didn't go through, as it triggered a fraud alert. American Express sure knows me well. 😉 However, after verifying it wasn't a fraudulent purchase, I entered the credit card information again, and everything was approved.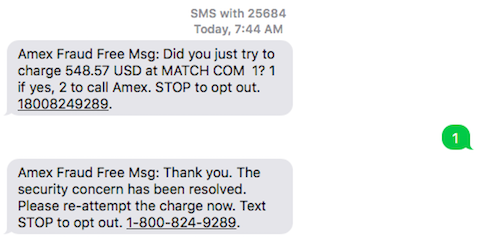 I received a confirmation page confirming the cost of my membership, etc.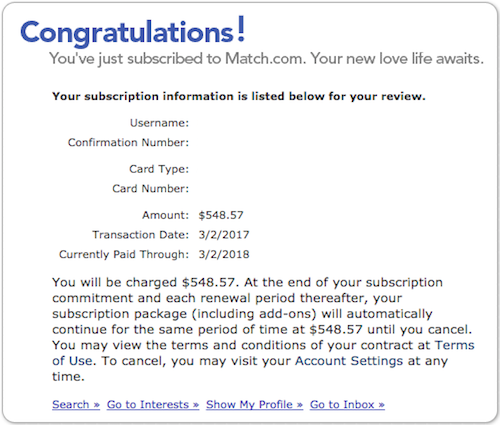 Memberships with match.com auto-renew, so just set a calendar reminder for yourself to cancel before the first year is up. Personally I'd wait until after the Avios post to your Executive Club account, which could take a few weeks.
So all-in-all my membership cost $548.57. At a rate of 150 Avios per dollar, that should earn me 82,285 Avios, which is incredible. Best of all, the entire process took just about 15 minutes.
It's not often we see opportunities to pick up points for 0.67 cents each, so I'd highly recommend taking advantage of this. Hopefully this promotion is fully honored as published, given how generous it is.
Now I'm going to have Ford, my parents, etc., sign-up for memberships.
Do you plan on joining match.com to earn 150 Avios per dollar?