A couple of days ago I wrote a post entitled "Dear Hotels: Stop With Your Currency Conversion Scams."
As the title of the post suggests, this was in regards to the terrible exchange rate you get when paying in USD at a foreign hotel. Typically when you make a purchase abroad you're given the choice between paying in the local currency and paying in the card's home currency.
You should always elect to pay in the local currency, since the transaction will typically be converted at or near the market exchange rate that way. But if you pay in your home currency you'll not only get a terrible exchange rate, but often also be hit with a transaction currency fee (which could be in addition to the foreign transaction fee).
I gave the example of the Hilton Queenstown, where the front desk associate didn't even give me the option of whether I wanted to pay in NZD or USD. My bill was for 1,163NZD, which should have been 762.57USD using the market exchange rate.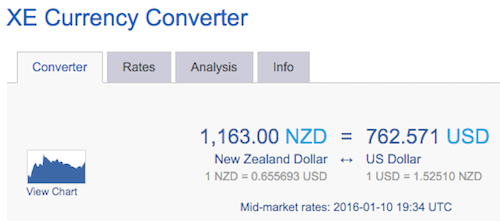 Instead I was charged 806.96USD.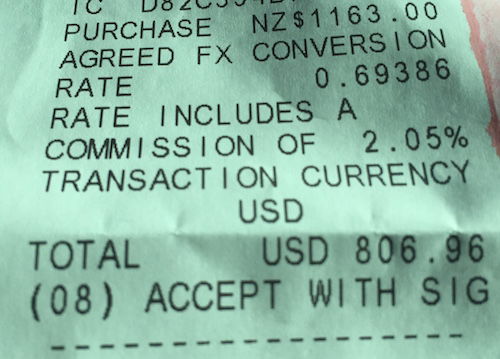 That means I was overcharged by $44.39, or 5.8%.
While hotels usually give you the option of whether you want to pay in local currency or in your home currency, in this instance the front office associate said they were trained to just charge in the card's home currency, claiming that was the better deal for consumers. This is a lie, and clearly not the case.
So I decided to reach out to the hotel's general manager. I explained the situation and linked him to the previous post I wrote. I figured with near certainty his response would be "I'm sorry, the front office associate was trained incorrectly and you should have been given an option; I'll make sure this doesn't happen again."
Here's the response I got instead, which he emailed me and posted as a comment on the blog post:
Thank you for your email and post to your site. My apologies for the delay in responding however I wanted to ensure I was providing you the correct information.

This service is provided by Travelex who conduct regular training for our team on how to use the system as well as to explain the differences.

Our objective is to inform the guest of the options and as such have a 'script' to explain the differences and impact.

"The commission to change NZD to your own currency is already included in the exchange rate and purchase amount, which is fully disclosed separately on the eftpos receipt" – you could also add onto the end of this "the exchange rates are provided by Travelex and are market competitive" "We are aware some overseas banks may charge a transaction fee for international purchases if you pay in NZD or your own currency. We would advise you contact your bank if you have any queries on this"

All this information is also provided in detail on the slip which requires your signature to provide maximum transparency

We do provide on-going extensive training with the team across a wide range of subjects required for them to perform their role here at the hotel. As a result of your feedback we will ensure that this subject takes a priority as a refresh with the team over the next days.

Thank you again for your feedback and we look forward to having the opportunity to welcome you back again soon.
I'm happy he took a day to respond to ensure he was providing me with the "correct information," though based on the way I read his comment, he doesn't seem to understand the issue either. I thought I explained the issue pretty simply in my previous post, though according to him it's something I should take up with my bank.
That's sort of incredible — so I guess we're to assume that rates at the Hilton Queenstown are actually 6% higher than stated for those of us with foreign credit cards, based on the mandatory dynamic currency conversion scam they pull on their guests.
Bottom line
Well, at least we now know it's not just one-off front office associates who don't understand the dynamic currency conversion scams, but hotel general mangers as well. I'd love to know:
How charging me 6% more is "market competitive?"
How not giving me the option of which currency I want to pay in — which my bank absolutely makes available to me — provides "maximum transparency?"
I emailed him on principle, not because I was overcharged by ~$44, but rather so I can hopefully help consumers save tens of thousands of dollars in the future by not being subjected to this scam. But now that it's clear he doesn't actually understand what's going on, I'll take this up with corporate, so hopefully they can provide some training on a higher level.
What do you make of this situation?