Reader Young asked the following question on the "Ask Lucky" page of the blog:
Hi, Ben,

My family recently completed a trip between US and Europe. We reserved four business class seats using US Airways' mileage. On the way back from FRA to ORD, United Airline downgraded three of our seats from Business class to Economy class because the scheduled flight was cancelled due to weather condition. Only my seat was preserved in Business class probably due to my 1K status. I sent a message to UA customer relationship for some compensation, but was told that I need contact US Airways as the tickets were issued by US Airways. Please advise what I should expect for a reasonable compensation, and which airline is responsible for it.

Appreciate your help!
While airlines have contracts of carriage and fare rules that are as long as the Bible, they do surprisingly little to address situations like these. So here are my general thoughts on the situation:
The EU has some of the best airlines regulations in the world
It's not necessarily specific to this case, but as a general note I think it's worth pointing out just how awesome EU261 is, which sets very clear government guidelines for air travel compensation for travel in Europe. For example, when my flight from Frankfurt to Salzburg was canceled last year, I was issued 250EUR cash compensation. They still make you fight for it, but at least the regulations are crystal clear.
In this case EU261 is a moot point, since the cause of the cancellation was weather.
It's amazing how little contracts of carriage actually say
Airlines publish lengthy contracts of carriage, but have you ever actually read them? It's amazing how little consumer protection they actually offer. For example, here's part of US Airways' contract of carriage covering cancellations and schedule changes:
Schedules are subject to change without notice. US Airways is not responsible or liable for substituting aircraft, changing seat assignments, making connections, failing to operate any flight according to schedule, or changing the schedule of any flight.
When you really think about that, it's kind of amazing. You can book a non-refundable ticket, and if you change your mind you're out of luck and can't cancel. Meanwhile the airline isn't at all responsible or liable for changing schedules, not operating flights, etc. In other words, as far as they're concerned, they're within their rights if they get you to your destination six weeks later, if they so please.
When a flight is canceled you're entitled to be accommodated on the "next available flight." How that's defined is a gray area at times.
Once you accept an alternative routing, you waive your rights
Okay, so that's an oversimplification, but I think it's accurate for the most part, and in particular in this situation.
When your flight is canceled you're entitled to be accommodated on the "next available flight." How that's defined gets complicated, especially when you booked through one airline and are flying a different one. And it's also tricky because there are so many different types of fares. Are you entitled only to be accommodated if your original fare class is available? Or in your original class of service? Or…?
In situations like cancellations, though, you have a bit of flexibility in terms of how you'd like to be accommodated. The next available flight might only have economy class space, while you might otherwise have the option of waiting a couple of days and being accommodated in the premium cabin you originally booked.
So in this case it sounds to me like United was doing everything they could. A flight was canceled for reasons outside of their control, and they were using some sort of priority system for trying to accommodate people on other flights, probably going by status, fare class, etc.
Once you agreed to being rebooked, though, that's it.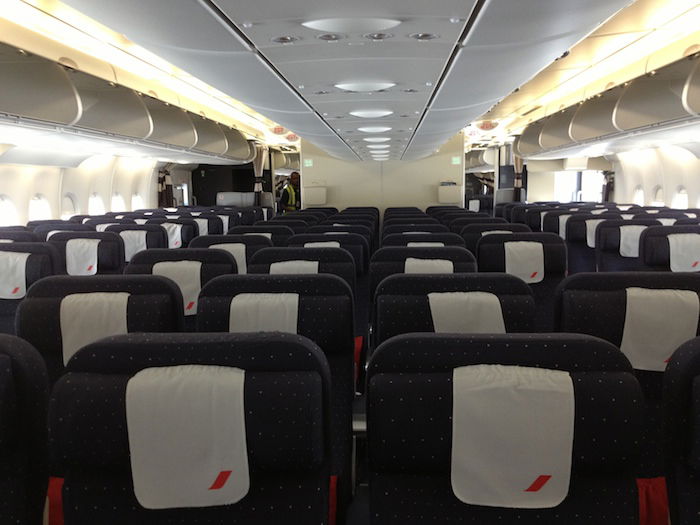 What would I do in this specific situation?
So there's no compensation due here (which is to say that there's no law that entitles you to anything), though I certainly think a "gesture of goodwill" is due, as the airlines like to say.
I think United did everything they could, and from their perspective you chose to accept accommodation in economy class for three of the four tickets on an alternative flight.
I would be emailing US Airways and requesting the "difference in fare" between economy and business class. So in this case if you were simply flying between the US and Europe and your return got downgraded, I would be requesting 20,000 Dividend Miles per person, which is the one way difference in mileage between business class and economy class. I think that would be fair in this instance.
What would I have done differently?
For future reference, how would I have tackled this? So I don't know exactly what was done here, but I would have done two things:
I would have made it clear to the agent that I wanted to be accommodated in my original class of service, even if that meant taking a later flight home
If United were unable to help, I would call US Airways, since they were the ones that issued the ticket, as they might be willing to open space on their own flights
Bottom line
Call me jaded, but I have very little faith in airlines when things go wrong. And I have even less faith in them after reading their contracts of carriage.
When situations occur that are outside of the airlines' control, things spiral downwards. If you find yourself in such a situation, don't agree to an alternative unless you're happy with it.
Of course you have to be reasonable, and ultimately we all have different priorities. If you need to be at work the next day and the only option is in economy class, then take it. But at the same time don't agree to economy with a promise that they'll "try" to get you into business class, assuming you otherwise wouldn't fly economy.
Instead, if they try to accommodate you in economy class and you don't mind waiting longer for a flight in business class (assuming you originally booked that), tell them that. If you tell them you want to be accommodated in your original class of service, they should be willing to work with you on that, as it's not an unreasonable request.
What has been your experience being rebooked in the event of a cancellation on an award trip?