Last week Nick posted about the opening of a new terminal at Pyongyang International Airport. It features such modern amenities as a gift shop, a duty-free store, a chocolate fountain, a newstand (presumably with a wide selection of international, independent publications), and… luggage carts!
Per the Korean Central News Agency, North Korean dictator Kim Jong Un was apparently satisfied with the new terminal:
After getting down through an air bridge, he went round the newly-built terminal.

He was very satisfied to see the terminal well built as required by modern architectural beauty and national character.

He noted with pleasure that the gatepost of the airport was erected in such way as to sustain the national character and the front and back of the terminal look very nice.
The pictures certainly seem to support that theory: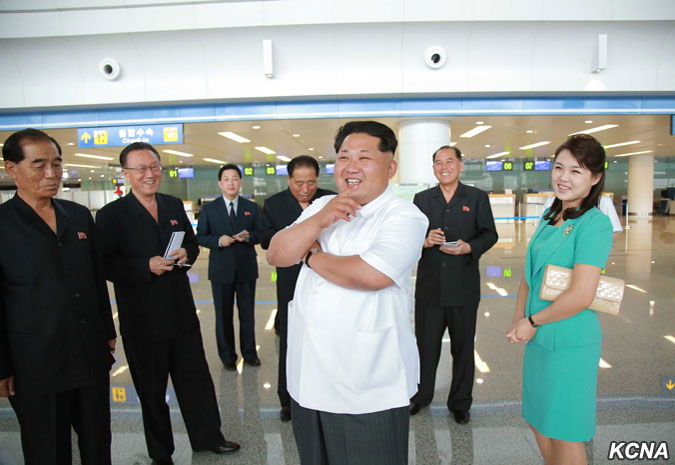 Only apparently Kim Jong Un wasn't satisfied. As a matter of fact, apparently he was so unsatisfied that he decided to execute the terminal's designer. Via Yahoo News:
Kim smiled as he posed next to chocolate fountains and espresso bars – but in in private was so furious at 'defects' that he had the airport's designer killed.

Airport design chief Ma Won Chun disappeared late last year, and is thought to have been executed after Kim voiced his dissatisfaction with the airport, according to The Diplomat.

Chun was executed for 'for corrupt practices and failure to follow orders.'

Kim Jong Un issued a statement saying, 'Defects were manifested in the last phase of the construction of the Terminal 2 because the designers failed to bear in mind the party's idea of architectural beauty that is the life and soul and core in architecture to preserve the character and national identity.
I'd love to make jokes about the world class facility and Kim Jong Un's amazing basketball skills, but this is just so screwed up…
I guess really the picture of Kim Jong Un at the airport should be more like: