I'm in Helsinki at the moment staying at a Luxury Collection property, and one of the friends I'm traveling with is celebrating her birthday today.
I've done an extensive amount of travel on birthdays, and I've always found that for the most part hotels are pretty accommodating and try to do something special. After all, it's the hospitality industry, and it's the little touches that count.
However, I can't help but be a bit surprised by how this hotel handles birthdays, and I'm not sure if I've just been lucky in the past or if my expectations are too high, which is why I'd like to open this up to you guys.
My friend's husband emailed the hotel in advance to ask if there's anything that could be done to make her birthday special. To be clear, she's a Starwood Platinum member staying at the hotel for several nights, so in theory should be a "high value" customer. They said they'd have some flowers waiting in her room when she arrived a couple of days ago, though there were none there, and they weren't delivered at any point during her stay. At the very least given that her husband corresponded with the hotel you'd think they could have acknowledged her birthday in some way during the stay.
Meanwhile this afternoon I asked about the possibility of having a cake delivered to her room. While I've always found hotels happy to offer cakes for free for birthdays, I specifically mentioned I had no problem paying for it, which I really don't, because I don't think a free cake is any sort of an "entitlement." I specifically asked that they bill the cake to my room and have it delivered to hers.
Instead they have the cake delivered to her and have her sign the bill with it. Seriously?! I mean, they charged 64 Euros for a friggin' birthday cake, so I figure the least they could do is not screw up the billing at that price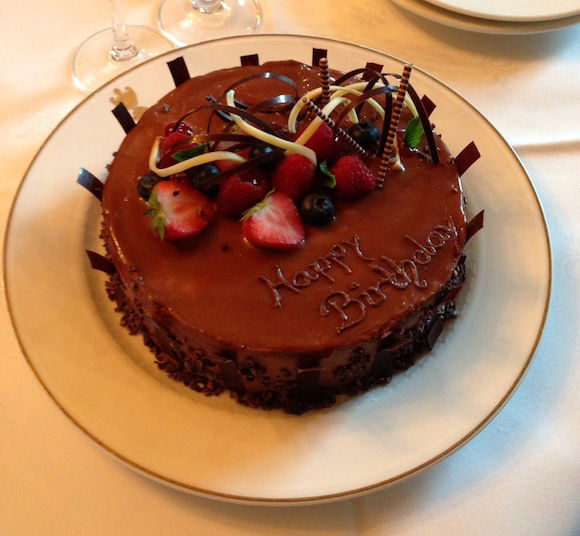 Anyway, I don't know if my expectations are off. I think hotels (at the very least four star and above) should proactively notice if it's a guest's birthday. It shouldn't be too tough to do. In the past I've found hotels to be generous, whether it be a free cake (which is by no means required) or at the very least a card from the hotel wishing the guest a happy birthday.
This time they didn't deliver the flowers they said they would, and they charged me 64 Euros for a cake which they tried to have her sign for when I specifically instructed them to bill it to my room. And the hotel did nothing to acknowledge her birthday, not even a card.
Am I off base? Should one just have no expectations when a guest with a birthday is staying, or did the hotel fail? And to be clear, she's taking it all in stride and having a great birthday, though I'm the one that's a bit miffed by all this.
Curious to hear what you guys think!