I'm often sleepless in Singapore, up until now for one simple reason — jetlag. I don't know why, but I suffer more from jetlag in Singapore than just about anywhere else in the world. I'm not sure if it's because of the schedule I keep when I'm here or if it has to do with the usual arrival times of flights. But that's not the point of this post. Tonight I'm sleepless in Singapore, but for a totally different reason. I'm convinced the juju in my hotel just feels a bit off, and I can't bring myself to turn the lights off.
Let me take a step back for a moment and explain. I spent last night at the W Sentosa Cove in Singapore, and had a great stay. In the evening I met a local friend for dinner, and he's like a human encyclopedia when it comes to Singapore. If something has ever happened, he knows it (and trust me, there seem to be stories about every hotel here). I mentioned I was spending the next night at the Hilton Singapore, and he shared a couple of interesting stories about the hotel.
One story was from 2009 and involves a newlywed guy that "fell" from the 24th floor rooftop pool and was found dead on the side of the hotel in the middle of the night. Things like that happen, though I'm not sure how exactly you "fall" from a rooftop.
The more gruesome story is from 1974 where an Australian man supposedly killed his wife at the Hilton and then chopped up her body into 13 pieces, sealed it into a trunk, and only a couple of years later on his deathbed revealed it to his son.
Interestingly shortly after that happened the Hilton placed ceramic statues in front of the hotel, which represent real-life characters from China's Tang Dynasty. The tradition of placing door guardians by entrances of buildings is said to keep wandering ghosts and spirits out of buildings. Is their placement at the hotel related to the murder or is just a coincidence? I don't know.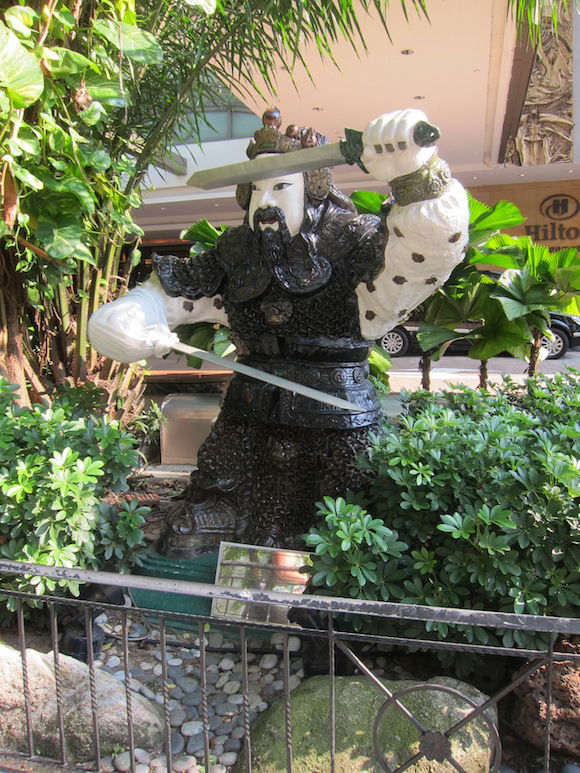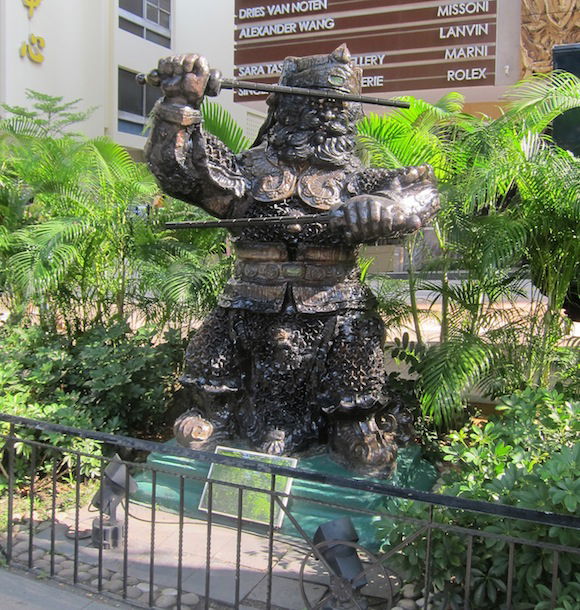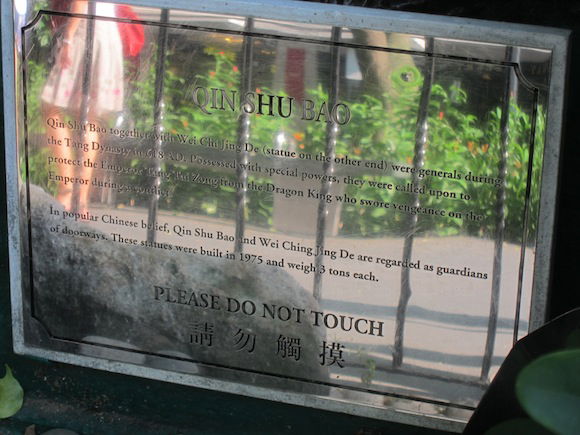 Anyway, crazy stuff like that happens, and I'm not really a "spiritual" person. I'm also traveling with a friend, and during the taxi ride from the W to the Hilton she was telling me that she believes that places have "energy." That some places feel positive and some feel negative. I had a hard time keeping a straight face, since I never thought I believed in that.
Guys, I'm literally going off the deep end here, because from the second I've gotten to this hotel the "energy" just feels off. Yes, admittedly it probably has a lot to with what I was told prior to getting here, since I may very well be "looking" for energy.
But everything just feels off. Really, really off. Initially we were assigned rooms on one of the club floors, and the floor above it is being renovated, and the noises from it were crazy loud.
So we went back to the front desk and were reassigned rooms. This time they were on a different floor, so we first checked out my friend's room, which seemed fine, and then checked out my room. She agreed something felt weird about my room, though we couldn't put our finger on what it was. Not that this is the reason it felt weird, but the piece of art on the wall must be hung nearly 10 degrees crooked, which is amazing since there's no way to adjust it.
But there's just something about the room that feels off, and I can't put my finger on it. As we were in the room checking behind the drapes, under the bed, the closet, etc. (I swear on my life I wasn't under the influence of anything other than "energy"), suddenly a loud noise starts in the other side of the room out of nowhere. I'm pretty sure I sprinted out of the room at this point, though when I went back in the room I figured out is was just my electric shaver in my bag that had gone off on its own. I don't know, but that gave both of us a big laugh. But that's not what felt "off" about the hotel, but rather something else I can't quite put my finger on.
Anyway, I could go on and on, but I'll stop, because I realize I sound like a nutty idiot. I realize a lot of my "issue" probably stems from what I was told prior to my stay, and I gave something a lot of thought that would otherwise never even cross my mind.
But I'm curious to hear from you guys not necessarily about my stay, but rather if you've stayed at hotels that you feel have "bad" energy and hotels that have "good" energy? Or do you believe in "energy" at all? Now the Hilton Singapore isn't know to be haunted, though hotels like the Grand Hyatt Taipei are, and the Grand Hyatt has similar columns in front of the hotel to ward off the spirits and ghosts. In the case of "haunted" hotels do you believe in energy?
Again, I realize I'm a total idiot, though blogging is truly therapeutic for me. I can't say how much better I've felt about my Royal Jordanian flight, for example, since finishing the trip report on it. In a way it closes one chapter of my life and opens another. Hopefully it's the same here. 😉