IHG Rewards Club revealed the details today of their fall promotion, which is valid for stays between September 1 and December 31, 2013.
There are several different versions of the offer, so to see what you're eligible for, you'll want to register here.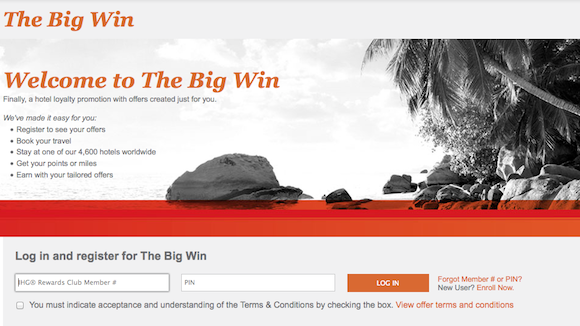 My version of the offer looks as follows:
More specifically:
Try one and done — Stay at any IHG® hotel and receive 1,000 Points
Stay more & earn more — Stay a total of 9 nights and receive 8,000 Points
Explore our brands — Stay at 2 different IHG brands and receive 12,000 Points
Survey the win — Complete a simple survey and receive 100 Points
Live the city life — Stay at 2 of the following locations below and receive 7,200 Points
Win big — Complete all of your offers and receive 28,000 Points
So there are parts of this promotion that are super easy and generous in my case. For example, 1,000 bonus points the first night, 12,000 bonus points after stays at two IHG brands, and 100 points for a survey are all easy. Completing nine nights would be easy if I still stayed at IHG brands frequently. The ridiculous one is the "Live the city life" part of the promotion, which requires you to stay at two random hotels in any of a handful of cities. Otherwise I'd say this promotion is totally worth going for given the 28,000 bonus points offered, but short of that just doesn't seem worthwhile.
Keep in mind, though, that Priority Club points are nowhere near as valuable as Starpoints or Hyatt points. They're worth 0.7 cents each at most.
But still, compared to what we've seen from them the rest of the year on the promotion front, I'd say that's apretty darn good promotion.
(Tip of the hat to Vito)