Delta is the master of monetizing their products, including their extra legroom seating. Over the past year Delta has been taking considerable steps to differentiate their Comfort+ cabin (extra legroom economy seating), including adding free drinks and snacks and installing a curtain to separate the cabin from the rest of economy.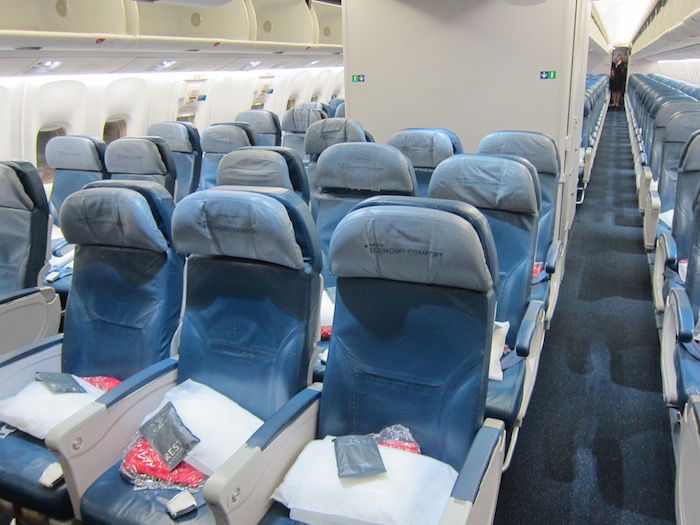 Clearly they weren't doing this to be charitable, but rather because they saw more opportunities to monetize the cabin. Mid-October their strategy became more apparent, when Delta announced they'd introduce a separate fare class for Comfort+ starting for flights on May 16, 2016. Under the current system, Comfort+ is something high tier elite members can select for free at the time of booking, or otherwise you can "buy up" to Comfort+ after you book your reservation. But now it's a completely separate fare class. What's Delta's goal with this?
It will allow Delta to sell tickets directly into Comfort+, both when paying cash and redeeming miles; by making Comfort+ a more visible choice at the time of booking, they're hoping more people will pay for it (be it in miles or cash)
Rather than letting elite members assign Comfort+ at booking, they're making them go through an extra step to request an upgrade; this seems to be the start of them trying to reposition Comfort+ as something you need to be upgraded to rather than something you get for "free" as an elite.

One question has been how many miles tickets in Comfort+ will accrue. After all, it's now a separate fare class, so will it also accrue more miles, just like first class accrues more miles than economy (in the above example, the price difference is greater between economy and Comfort+ than it is between Comfort+ and first class).
People were thrown off for a while, since the fare class for Comfort+ is "W," which is the same fare class some of Delta's partners (like Air France, Virgin Atlantic, and Virgin Australia) use for their premium economy cabins. Bookings in "W" class n those partners earn 150% MQMs.
Delta has now updated their mileage accrual chart to clarify what Comfort+ "W" fares accrue. As you might expect, Delta Comfort+ "W" fares accrue 100% MQMs, the same as most other economy fare classes.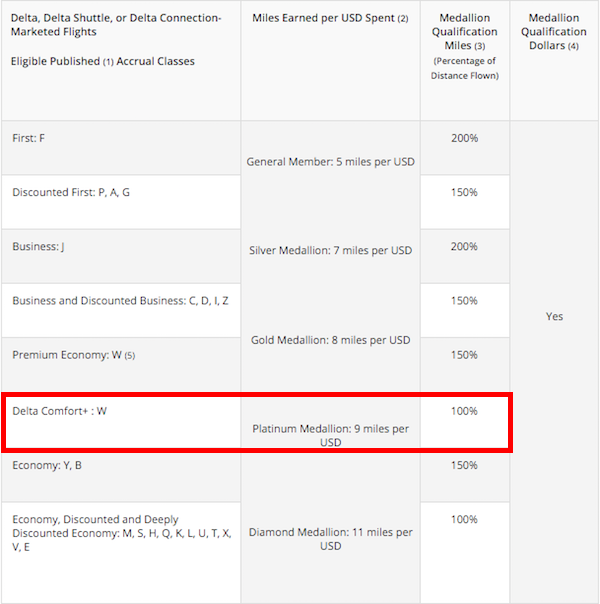 On one hand that's what I was expecting, though on the other thing I think Delta missed an opportunity with this. If they issued a small number of bonus MQMs (maybe 110%), they might be able to incentivize some elite members who would otherwise be upgraded to Comfort+ to instead pay for it. Especially if they're traveling on their company's dime, where they might be able to expense a Comfort+ fare.
Bottom line
This doesn't come as a surprise, as I wasn't expecting Comfort+ to accrue additional MQMs. It's smart for Delta to clarify the policy, though, given that they've been selling Comfort+ without saying how many miles it will award.
While this is what I expected Delta to do, I actually think they missed out on an opportunity to generate additional revenue by offering some small number of bonus MQMs.
Now we just have to wait for Delta to officially announce premium economy, which I imagine will accrue bonus MQMs.
(Tip of the hat to Adam)