As reported by Gary, Delta has added the functionality of searching for Virgin Australia award space to their website. Now if you use the delta.com award tool and there's Virgin Australia award space, it will automatically show up when doing a search.

When the partnership between Delta and Virgin Australia was initially announced I was really excited, since previously it was nearly impossible to redeem Delta SkyMiles for travel to Australia.
The fact that they've added the functionality to search online is awesome, since you used to have to call Delta's SkyMiles desk to make a reservation for travel on Virgin Australia, and they're among the most clueless agents in the airline industry (half of them had no clue who Virgin Australia is, the other half hung up on me, thinking I was asking if they were a virgin… oy).
And at the time Virgin Australia wasn't just an average partner, but actually had an unreal amount of award space. While other airlines were stingy with award space to Australia, Virgin Australia released several business class award seats on most flights, even during peak season. The downside was that there were fuel surcharges, though at the time they were maybe $500 roundtrip. It wasn't cheap, but at the same time was still an incredible bargain for award travel to Australia.
While coach award space is still quite good, the bad news is that business class award space has more or less dried up over the past several months. We went from seeing award availability almost every day to seeing award availability in business class a few days a year. So in many ways the partnership has become a lot less valuable.
The other bad news is that fuel surcharges have gone up even higher. A roundtrip coach award ticket will cost you around $800, while business class will cost you over $900. While it might still be a good deal in business class in many circumstances, I find it really hard to justify in coach, especially in addition to 100,000 Delta SkyMiles for the roundtrip.
But here's the really interesting part. Delta imposes fuel surcharges for Virgin Australia award redemptions originating in the US, but not for Virgin Australia award redemptions originating in Australia.
A roundtrip coach award ticket from Los Angeles to Sydney on Virgin Australia will run you $799.50: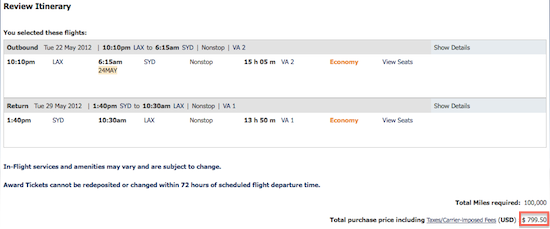 While a roundtrip coach award ticket from Sydney to Los Angeles on Virgin Australia will run you $119.50: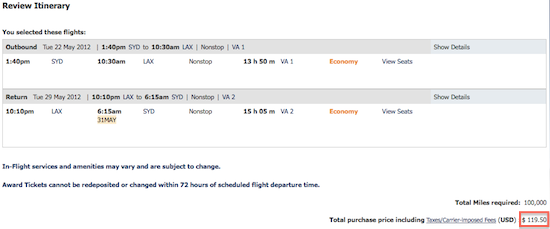 So yeah, you pay an extra $680 for the privilege of originating in the US. There's no doubt that US consumers have had a hard time adopting to fuel surcharges imposed by some airlines (British Airways, for example, as they try to enter the US market more with their credit card), though this is the first time I've seen US consumers subject to more fuel surcharges than consumers in other countries.
Anyway, it seems that while the booking process has gotten easier than ever before, the availability is worse than ever before. Oh, how I long for the old days in this instance…