For quite a while Delta has been offering Basic Economy fares. Here's how Delta describes this "product:"
If you're looking for a low fare, your travel plans aren't likely to change, and you don't mind where you sit, Basic Economy just may be your ticket. With Basic Economy, you'll find low fares while still enjoying access to our premier onboard experience, including Wi-Fi, free personal video entertainment with Delta Studio™, complimentary snacks and award-winning service. This fare option includes no ticket changes, Main Cabin seat assignments after check-in, pending availability and limited Medallion® benefits.

Currently, Basic Economy is only available in select markets, but look out for it on more flights soon. More flexibility including the ability to select an available Main Cabin seat at booking is available with the Main Cabin product.

Airline revenue management is in the business of segmenting consumers as much as possible, in order to get everyone to pay as much as they can for a ticket. They do this by offering several types of seating options, all kinds of add-ons, minimum stay requirements, etc.
Part of that is competing with low cost carriers, even ones like Spirit. That's why Delta originally introduced these Basic Economy fares. Specifically, Basic Economy fares come with the following warning at the time of booking: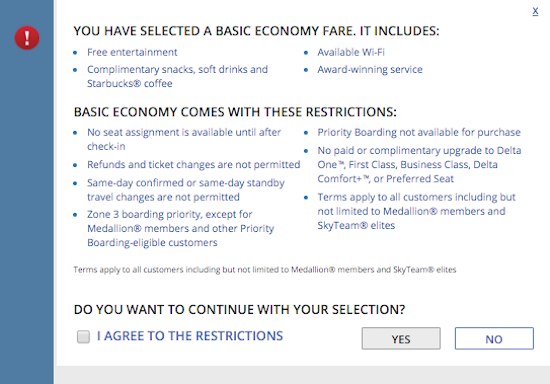 Since the intent was to compete with low cost carriers, these fares have only been available in very limited markets, typically also ones served by low cost carriers. At least officially, the intent has never been for Basic Economy to become the new standard entry level fare.
However, we've slowly seen Basic Economy fares spread, to the point that Basic Economy fares now seem to be available for select transatlantic flights as of next summer. Via Points, Miles & Martinis, Delta is selling Basic Economy fares between Salt Lake City and Paris, and this offering will expand to other international routes soon. I'm not sure if this is actually brand new, but it's the first time I've seen it.
In the below instance, the Basic Economy fare between Salt Lake City and London is $2,427 roundtrip, while the normal economy fare is just $40 more roundtrip: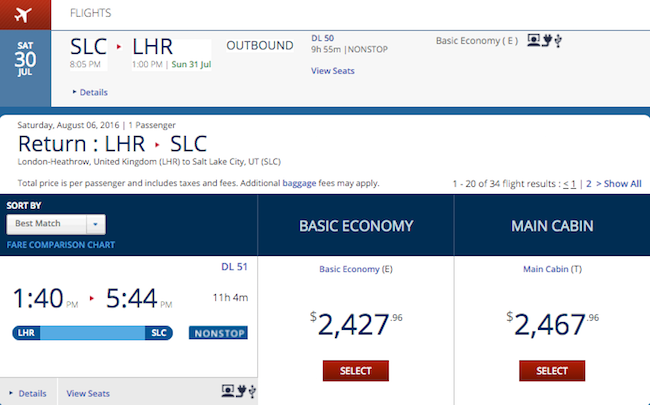 In theory Basic Economy doesn't have to be a bad thing. It's a further product offering which allows people to pay for exactly what they want. However, that assumes that Basic Economy pricing isn't impacting the normal economy pricing.
Long term I think Delta's plan is to make Basic Economy the new standard as much as possible, by making that the entry level ticket cost, and then charging more for economy fares without those restrictions.
Bottom line
I view Basic Economy much the same way I view the new premium economy that American is introducing. In and of itself it's a positive new addition, as it gives consumers more options. However, inevitably over time it changes the landscape and basically means you end up paying for something which was previously free. In the case of premium economy, my concern is that economy to business class upgrades will no longer be possible, for example.
I'm not sure I get the rationale of offering Basic Economy on transatlantic flights, in particular on routes like Salt Lake City to London, where Delta is the only carrier. It would be one thing to offer them on routes also operated by airlines like Norwegian, but on a route where they're charging $2,000+ and are the only carrier? Hmmm, that doesn't seem to be within the spirit of what Basic Economy is meant to be.
What do you make of Basic Economy expanding to transatlantic flights?