Over the past few years we've seen basic economy fares expanded greatly at the "big three" US carriers.
Airlines market these as being lower fares that enable them to compete with ultra low cost carriers, though in reality they've used these to try and get people to pay more for the same product they received before.
Delta was the first of the major US airlines to introduce basic economy, and they did so back in 2012. Delta has been the least punitive of the "big three" US carriers when it comes to basic economy. American and United added basic economy in early 2017, and have done everything they can to make the fares unpleasant (though American decided to roll back some of those changes).
One thing that I've appreciated is that airlines haven't brought basic economy to award tickets. I figured it was only a matter of time until it happened… and that time is now.
Delta is now selling basic economy award tickets. As of now this is only on select routes, though I imagine they're just slowly implementing this, and it will eventually be widespread.
For example, take the below flights from Pittsburgh to Charleston via Atlanta, where basic economy costs 20,500 miles, and economy costs 23,000 miles.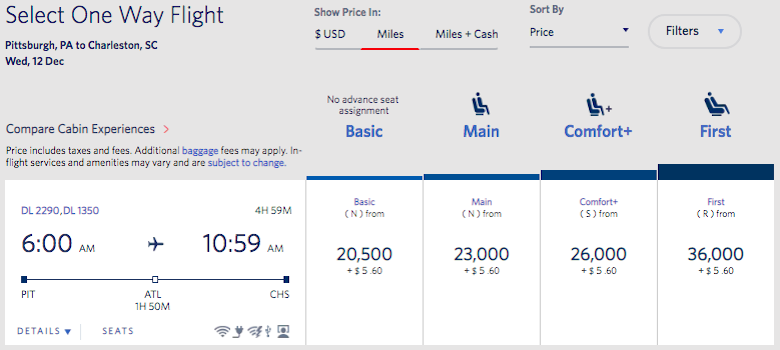 So they're charging an extra 2,500 miles to book a non-basic award ticket. If you book the basic economy award ticket, you will only be assigned seats at check-in, and ticket changes and upgrades are not allowed.
It's not surprising to see Delta be the first US carrier to introduce this, given that:
They're typically the "innovator" among the big three
They don't have an award chart, and that their award pricing is dynamic, which makes it easy for them to implement something like this
Delta seems to peg the value of a SkyMile somewhere around one cent.
On a paid ticket for the above itinerary, regular economy would be about $30 more than basic economy, so the 2,500 mile premium more or less makes sense (though I guess it should be a bit higher).
So while Delta will have the easiest time implementing this, I'd be willing to bet that eventually American and United will also introduce basic economy awards. Maybe we'll see those introduced the same time as premium economy awards.
What do you make of Delta introducing basic economy award tickets? Do you think American and United will follow?