Update: It looks like Delta has stopped charging these. Whether this was a "glitch" or just early implementation of a change that's on the horizon remains to be seen.
Oh Delta, Delta, Delta, Delta. Delta doesn't publish SkyMiles award pricing, and doesn't officially publish what award flights are subjected to carrier imposed surcharges. However, it looks like something major has just changed.
Up until now, the only SkyMiles awards on Delta "metal" that have been subjected to carrier imposed surcharges have been those originating in Europe. US to Europe one-way awards haven't been subjected to carrier imposed fees, and roundtrip US to Europe awards haven't been subjected to these fees.
As reported by Point Me to the Plane, it looks like Delta has started adding carrier imposed surcharges to award tickets from the US to Europe, both in economy and business class. For example, here's the calendar for nonstop flights from Seattle to Paris next summer in business class: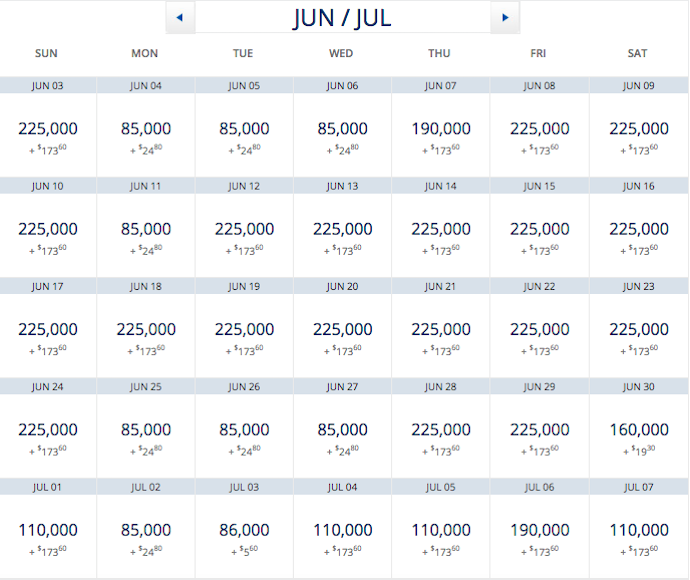 As you'll see, the below Delta flight from Seattle to Paris comes with $173.60 in taxes & fees, while previously the fees totaled $5.60.

That means they're charging an extra $168 in fees. Oddly that doesn't even reflect the surcharges they'd impose on revenue tickets — those would total $478.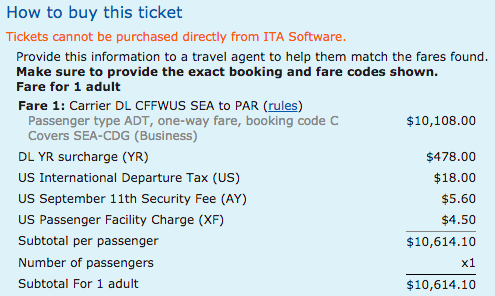 These fees are also being charged on roundtrip tickets from the US to Europe.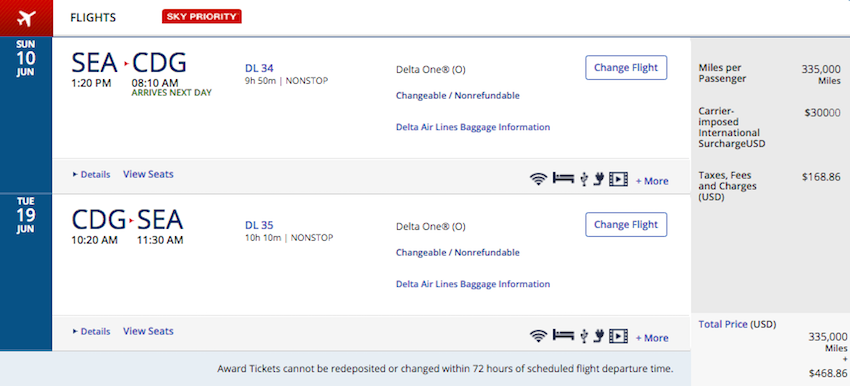 Like, can anyone make sense of why some flights are subjected to fees while others aren't based on the below?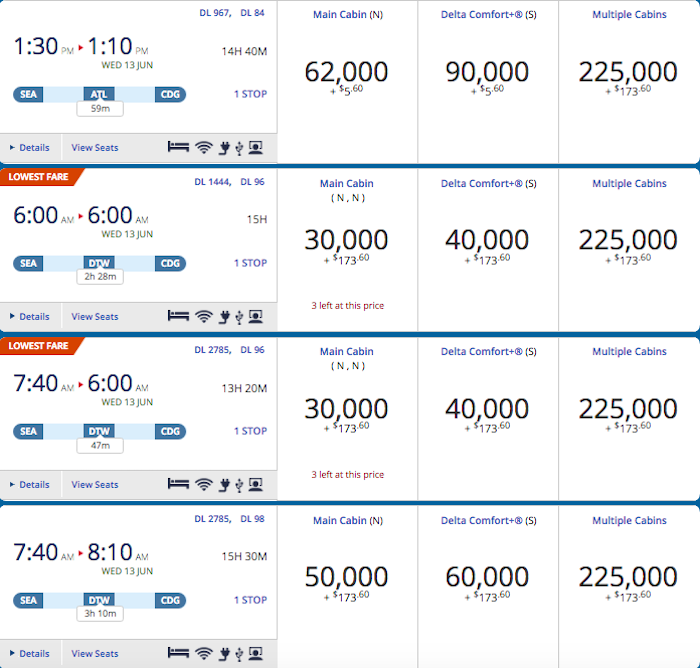 This is just plain bonkers. I'm not sure if the current pricing is their finished product, if this is all a glitch, or if they're in the process of rolling out these new fees, but haven't done so for all flights yet. I'll reach out to Delta in hopes of getting some clarity, but who knows how much information they'll share.
Regardless, the lack of communication here is infuriating. It's one thing if this were an isolated incident, but this is far from the first time we've been in a situation where we weren't sure if a change on Delta's part was a glitch or not. The number of devaluations we've seen from Delta the past couple of years is so frustrating. We're increasingly getting to the point where redeeming SkyMiles for one cent each towards the cost of a ticket is the best way to use the miles… and I guess that's exactly what Delta wants.
What's going on, Delta?!