In addition to the published perks offered by credit cards, we sometimes see credit cards offer additional perks to engage members. In the past we've sometimes seen Delta and American Express team up to offer free food to their co-branded card members, and they've just announced the latest such offering (see here for all Delta American Express cards).
Between September 6 and November 2, 2019, Amex and Delta will be offering free pretzels as part of their "Perktoberfest Tour." With this we'll see the #DeltaAmexPerks pretzel truck travel to nine cities, delivering free, locally made pretzels to card members.

Card members who present their card will receive one complimentary, freshly baked pretzel for themselves and one for a guest.
Non-card members can also buy pretzels at the cost of $3, and the proceeds will be donated to the American Red Cross.
While I get where they're coming from, I sure feel like that sends an odd message. You'd think this would be an exclusive card member perk, rather than something that gets you out of donating $3 to charity. 😉
You can expect the pretzel truck at the following destinations on the following dates (as you can see, they're mostly in Delta hubs and focus cities):
Salt Lake City – City Creek Center: September 6
Salt Lake City – Avenues Street Fair: September 7
New York City – Herald Square: September 13
New York City – Pier 15: September 15
Detroit – Parktoberfest in Beacon Park: September 21-22
Minneapolis – Mall of America: September 28-29
Atlanta – Sweetwater Brewery: October 5
Atlanta – Candler Park: October 6
Raleigh/Durham – PNC Arena: October 12
Raleigh/Durham – Second Sundays at City Market: October 13
Boston – City Hall Plaza: October 18
Boston – Brewer Fountain Plaza: October 19
Seattle – Westlake Park: October 26
Seattle – Fremont Sunday Market: October 27
Los Angeles – First Fridays at the Brig Abbot Kinney: November 1
Los Angeles – Xbox Plaza at L.A. Live: November 2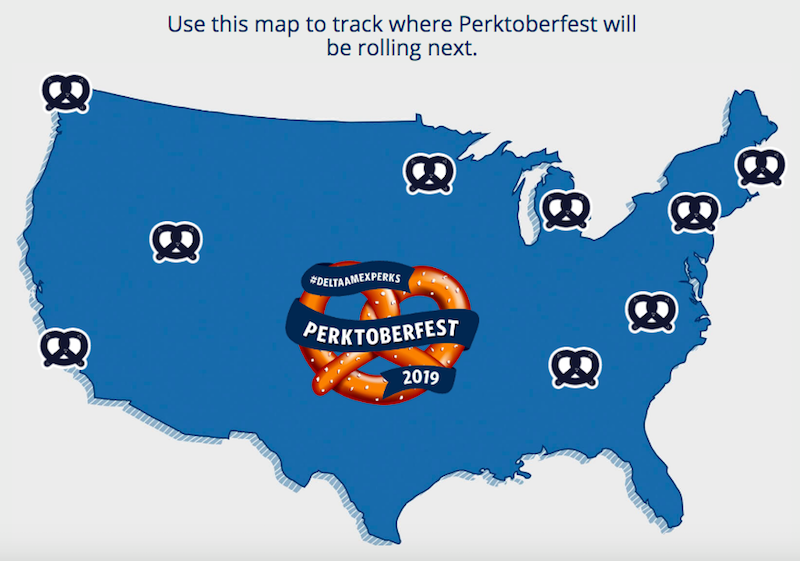 This is a cute promotion. In fairness it's probably not worth going too far out of your way to get a free pretzel, though some people will no doubt find this to be worthwhile.
Do you plan on getting a pretzel as part of this promotion?