We've seen US airlines unbundle their services for a while now, from checked bag fees to standby fees to premium seating fees.
However, Delta is taking it a step further with their new "Basic Economy" fares, which are available in select markets.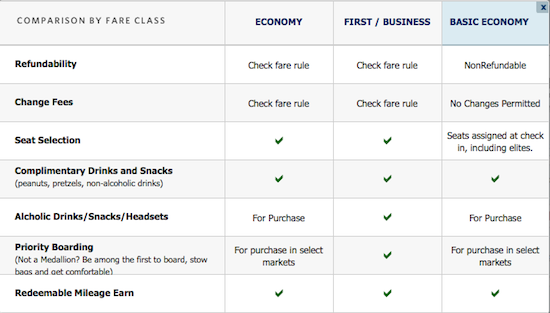 The first thing that's unique about these fares is that they're non-refundable and non-changeable. That means you can't even pay a fee to change the flights, so if your plans change you forfeit the ticket entirely.
But the more interesting thing is that advance seat assignments aren't permitted, even for elite members. This is an interesting development since previously elite members (in particular top tier elites) were more or less excluded from the "unbundling." Yet in this case even a Delta Diamond can't get advance seating when booking one of these "Basic Economy" fares (which book into the "E" fare class).

What's interesting to me is that these fares are still eligible for mileage accrual, and as far as I can tell, also eligible for upgrades. So I find it rather odd that in creating these "Basic Economy" fares they're only getting rid of seat assignments and the ability to change a ticket.
But I think this is the beginning of a trend we'll see in the airline industry where they take even more perks out of the lowest fares. Previously the flying experience was "unbundled" regardless of what kind of a non-full fare ticket you booked, while now they're starting to differentiate between discounted coach fares. I suspect we'll see other airlines follow, and in turn more things taken away, including mileage accrual and the ability to upgrade. And let's be honest with ourselves, it's not like they're lowering fares to offer you a more basic ticket without the perks. Rather, you're paying the same fare you previously would have and are getting less. But I guess that's the story of the US airline industry.