A few days ago United uploaded a video to YouTube entitled "a day in the life of a United flight attendant." I was briefly excited when I saw the title, because as an aviation geek I generally like these types of videos.
Cathay Pacific did one a while ago for flight attendants:
They also did one for pilots, and they were fun to watch:
Well, United uploaded a video that I thought would be a similar concept, but it's… well… not. In this case I think the video is worth posting not because it's actually interesting, but because I can't quite figure out what United is going for with it.
Here's the video, to start:
This video is obviously extremely scripted. There's nothing wrong with a scripted video, but this is scripted to the point of bearing little resemblance to reality.
All of the flight attendants featured are young new hires who make everything sound really glamorous, like:
"Working weekends and holidays is a reality here at United Airlines, but the best part, for me, I got the chance to work for 4th of July and experience the fireworks over New York City. What other job gives you that opportunity?"
A job that doesn't make you work on July 4th?
Or they talk about how United customer experience is at the center of everything they do:
"I get a thrill knowing that I made a lasting positive impression on a customer."

"The minute I step on that aircraft, I feel like it's my party. My job is to make sure everyone is taken care of, that they enjoy our great customer service, and that they want to come back and fly with us."

"At United we put our customers at the center of everything. I try to treat them as if they're guests in my house."
Anyway, maybe it's just me, but I think it's all just a bit much. I'm sure all of these new hires are lovely people, and I'll assume they really enjoy their jobs. But the way United scripted this really makes it come across as insincere, and I think most of us would agree that this doesn't reflect the customer experience you get most of the time on United (or most other US airlines).
Having them say they like their jobs? Sure, that's great. Having them fist-bump in the crew room and having them wave goodbye to planes? That's a bit much.
I think Andrew B. got it right when I messaged him about this: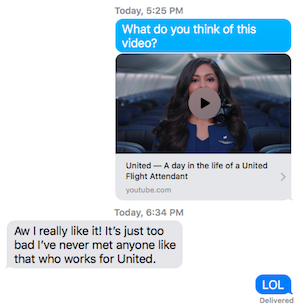 Does anyone have a different take, and think United actually did a good job with this?