Corsair is a French low cost carrier that primarily operates long haul flights between Paris Orly and the Caribbean, though they have some other routes as well.
Up until this summer the airline didn't fly to the US (they did back in the day, though had discontinued all those routes). Then as of June 2019 they began flying between Paris and Miami. Well, the airline has now announced their second US route.
Corsair To Fly From Paris To Newark
Corsair will be launching daily flights between Paris Orly and Newark as of June 10, 2020. The flight will operate with the following schedule:
Paris Orly to Newark departing 6:00PM arriving 8:25PM
Newark to Paris Orly departing 10:45PM arriving 12:00PM (+1 day)
The flight will cover a distance of ~3,650 miles, and is blocked at 8hr25min westbound and 7hr15min eastbound.
The flight is expected to go on sale as of September 17, 2019. It's pretty noteworthy that this route will operate daily, since they launched their Miami flight with 3x weekly frequencies.
Corsair's A330-900neo
Corsair intends to use a brand new Airbus A330-900neo for this route. This plane is expected to feature 352 seats, including 20 business class seats, 21 premium economy seats, and 311 economy seats.
Corsair says that they have a new business class on the A330-900neo, though I haven't been able to find any details about it yet, as they haven't yet taken delivery of their first such plane.
For context, Corsair introduced a business class product in mid-2017, which was only angled seats. So I wouldn't have very high expectations, though who knows, maybe Corsair is trying to go upmarket with their A330-900neo.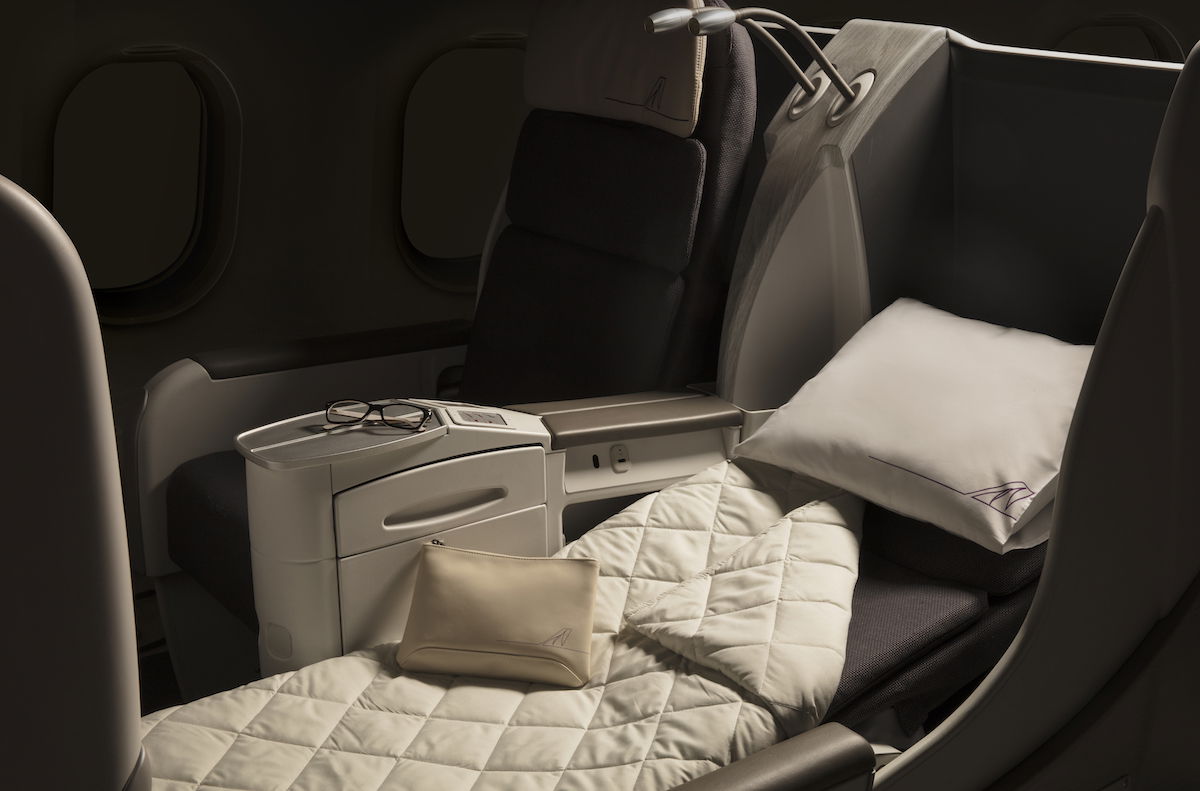 Corsair's current business class
New York To Paris Is A Crowded Market
Obviously New York to Paris is a popular market, though it's also incredibly competitive. Corsair will become the ninth airline to operate flights between New York City-area airports and Paris-area airports:
Air France flies from JFK to CDG and JFK to ORY
American flies from JFK to CDG
Delta flies from JFK to CDG
La Compagnie flies from EWR to ORY
LEVEL flies from EWR to ORY
Norwegian flies from JFK to CDG
United flies from EWR to CDG
XL Airways flies from EWR to CDG
Corsair New York Summary
Corsair will be launching daily flights between Paris and Newark as of summer 2020 using their new A330-900neo. It's interesting to see the airline add a second route to the US, given that they previously focused mostly on flying to leisure island destinations.
While there's a lot of demand in this market, I do wonder how successful this route will be for Corsair. I can't imagine they'll develop a loyal following, though I guess with low enough fares and pretty dense planes, they can probably make this work without too much effort.
What do you make of Corsair becoming the ninth airline to fly between Paris and New York?