In the interest of full disclosure, OMAAT earns a referral bonus for anyone that's approved through some of the below links. These are the best publicly available offers (terms apply) that we have found for each product or service. Opinions expressed here are the author's alone, not those of the bank, credit card issuer, airline, hotel chain, or product manufacturer/service provider, and have not been reviewed, approved or otherwise endorsed by any of these entities. Please check out our advertiser policy for further details about our partners, and thanks for your support!
Reader Neil posed some questions on Ask Lucky this weekend about how Chase handles Ultimate Rewards points when you have multiple accounts:
I finally opened a Chase Sapphire Preferred card in early August just before the Reserve card was announced. I was lucky enough to get approved for the latter 10 days ago, and I now have both cards, and will be collecting Ultimate Reward from both cards. So some newbie questions:

Are the points from each Sapphire card kept separately or are they treated as a single set of points?
If the former once I combine the Preferred and Reserve points, do additional points earned on either card get added to the combined total or do I have to keep moving them from one account to the other?
Assuming I downgrade the Preferred card to a Freedom card, I believe I can move the Freedom points into Ultimate rewards. Will I have to do this manually every month or can it be done automatically?
One of the great perks of the Chase Ultimate Rewards program is the combinability of points from multiple cards. Business accounts can be combined with personal accounts, and vice versa. So if you have any of the following cards —
— the points you earn on one card can be combined with the rewards balance of any other Ultimate Rewards-earning card. Each account accrues points separately, however, so you will have to manually merge them as needed.
Combining points is quite simple, though it does take a few steps. If you've done this before, here's a baby otter instead.
Combining Ultimate Rewards points from multiple cards
Once you've logged in to your Chase account, you should see a box on the right-hand side with your Ultimate Rewards balance, and a link to the Ultimate Rewards page: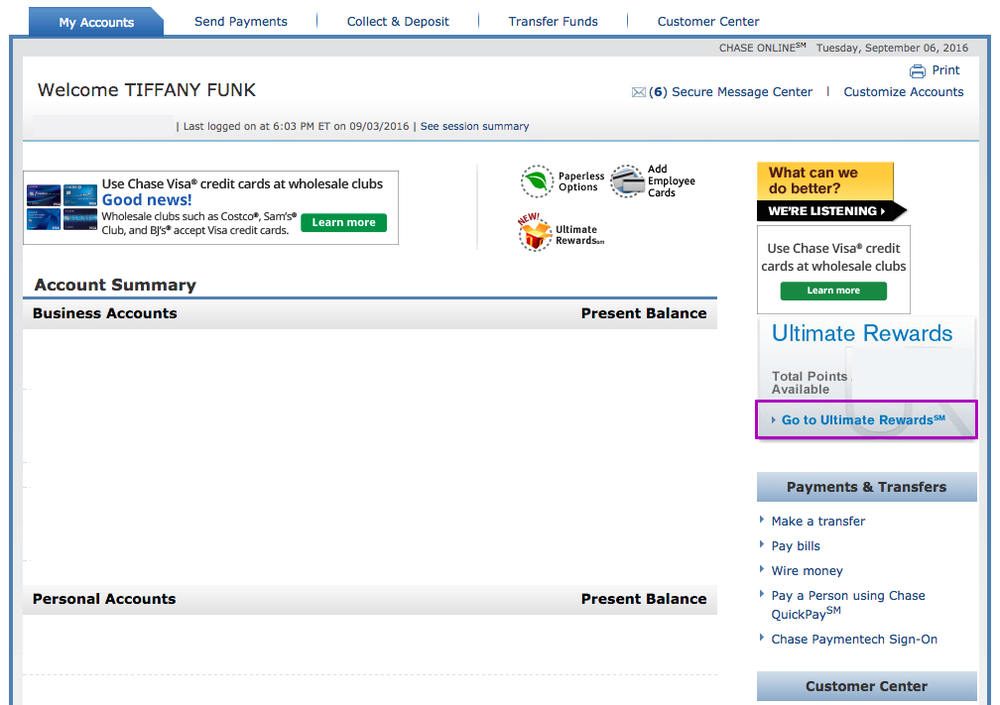 If you have multiple Ultimate Rewards accounts, you'll have the option to select a card to manage. For this example, I'm going to transfer points from my Ink Cash to my Sapphire Reserve, so I'll select the Ink Cash on this screen as an example (though it doesn't actually matter which account you start from):
Now that you're looking at an individual account, you'll see a smaller points balance in the upper right of your screen. Those are the Ultimate Rewards points associated with a particular card, versus the larger balance you might have seen on your main Chase homepage:
Select the down-arrow next to the points balance, and you'll see the current account listed at the top, and any other accounts listed below. Below that, you'll see a link to "Combine Points":

This next screen is where you actually choose what points to combine. Choose which card to move points from, and which card to move points to. It will default to moving points from the account you're actively managing, but you can easily choose another account on this screen instead:
It's worth mentioning that the last card option on the bottom right belongs to my husband, which is why the formatting is different. More on transferring points between household members later.
Once you've selected your accounts, you can decide how many points to move: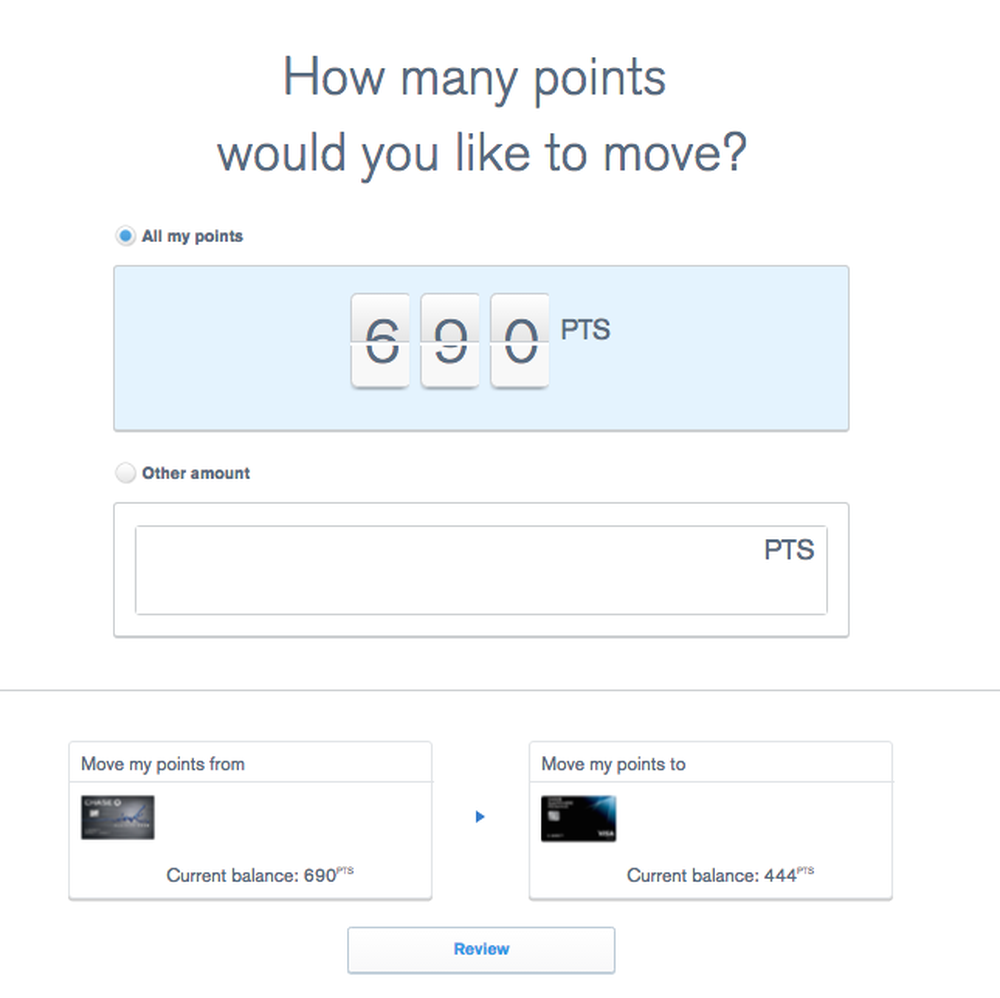 The system for moving points between accounts is the same as transferring points to travel partners, so there are lots of confirmation screens and opportunities to review:
Once you hit submit, the destination account will immediately reflect the combined points balance:
You can do this as often as you'd like, for as many cards as you have. Some people like to consolidate their balances every month, others wait until they're ready to redeem points — it's just a matter of preference.
Combining Ultimate Rewards points from multiple people
As I mentioned earlier, you can combine points with a designated household member. The process is identical once you've linked accounts, you just select their card as the destination account for the transfer.
If you haven't linked accounts yet, the box in the bottom right will instead give you the option to transfer to another member. You'll just enter their account number and attest to your relationship.
Chase has become progressively more strict about who you can transfer points to over the years. On the plus side, they don't designate who the other member can be as long as they live in your household. So you can transfer points to a spouse/partner/parent/etc., provided you reside at the same location:
You can move your points, but only to another Chase card with Ultimate Rewards belonging to you, or one member of your household. If we suspect that you've engaged in fraudulent activity related to your credit card account or Ultimate Rewards, or that you've misused Ultimate Rewards in any way (for example by buying or selling points, moving or transferring points with or to an ineligible third party or account, or repeatedly opening or otherwise maintaining credit card accounts for the sole purpose of generating rewards) we may temporarily prohibit you from earning points or using points you've already earned. If we believe you've engaged in any of these acts, we'll close your credit card account and you'll lose all your points.
Person-to-person transfers are also instant, which makes it easy to combine points prior to transferring to a travel partner.
Bottom line
If you're using the best card for each purchase, you'll likely end up with points spread across your Ultimate Rewards accounts. Fortunately, combining points from multiple cards into a single account is very straightforward, and the option to pool with a household member is nice as well.