An Ethiopian Airlines 767 flying from Addis Ababa to Rome yesterday was hijacked… by the 30 year old co-pilot. Apparently while the captain went to the bathroom the co-pilot "squawked 7500," which is the code for a hijacking, and locked himself in the cockpit. This was somewhere over Sudan.
The first officer diverted the plane to Geneva, because he was seeking asylum in Switzerland. He circled around Geneva until his request for asylum was granted. The ATC audio of him requesting asylum is pretty interesting, as he uses the term "we." Upon landing the first officer escaped with a rope through the cockpit window, before surrendering to police. Fortunately all passengers and crew were safe.
The flight was apparently close to running out of fuel due to how long it was circling over Geneva (while waiting for asylum to be granted), to the point that one engine supposedly flamed out. Via flightradar24, here's the path of the plane around Geneva: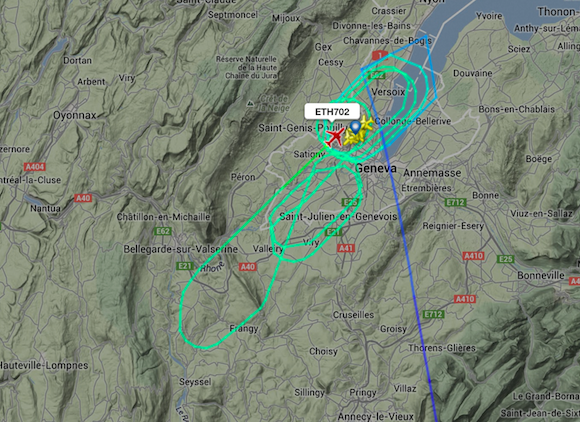 Here's the latest press release from Ethiopian Airlines:
Ethiopian Airlines flight 702, on scheduled service departing from Addis Ababa on 17 February 2014 at 00:30 (local time) and scheduled to arrive in Rome at 04:40 (local time), was forced to proceed to Geneva Airport. Accordingly, the flight has landed safely at Geneva Airport and all passengers and crew are safe at Geneva Airport.

The cause of the diversion of the flight is under investigation. Ethiopian Airlines has made all the necessary arrangements to ensure that its esteemed passengers are being properly handled while in Geneva and can proceed to their intended destinations, to Rome and Milan, at the earliest.

Ethiopian Airlines wishes to apologize to its esteemed customers for the inconvenience caused by this diversion.
For more information, check out the International Business Times story.
Hmmm, and I was about to book a US Airways award that included travel on Ethiopian Airlines… doubt my mother would be okay with that anymore!
Crazy stuff…