I'm a huge fan of CLEAR, and have written about it quite a bit in the past. I signed up for it last year, and it has saved me a significant amount of time.
The benefit of being a CLEAR member is that instead of lining up to have your ID checked in the regular line or Pre-Check line, you can go to the CLEAR line, scan your fingerprints, and then you're escorted past the ID checker. With TSA Pre-Check lines sometimes being longer than the regular lines nowadays, this lets you skip to the front of even that line.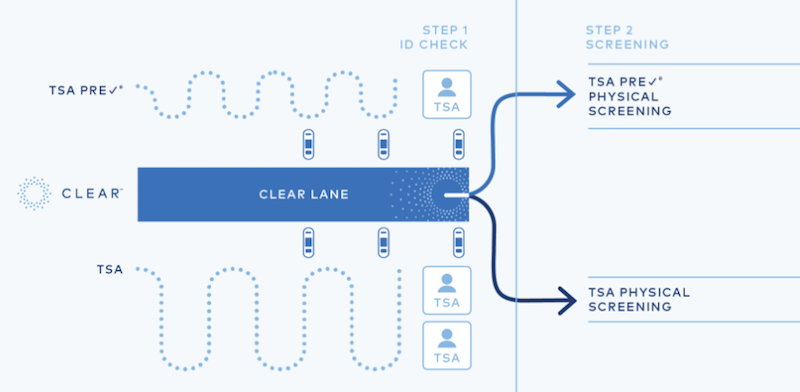 It doesn't always save me time, though what I appreciate is that it makes my airport experience consistent. I'm always on my way within a few minutes. While the normal price for CLEAR is $179 per year, nobody should actually be paying that much. Just for being a SkyMiles member (without any status) you get a reduced price of $99 per year, and the price goes down even more if you have status.
CLEAR sometimes has promotions for new members (like 15 months for the price of 12 months), though it's not often they offer an outright free trial, as they're doing now. At the moment CLEAR is offering a three month free trial when you sign up using promotion code HAPPY4TH by July 8, 2018.
The terms say that this will automatically renew at $179 for 12 months after the trial, though you can cancel anytime during the trial. So you will have to make sure that you remember to cancel, and presumably once you do, you'd be able to sign-up again under the Delta offer, for the lower annual rate.
If you've been curious about CLEAR but haven't wanted to drop the cash without experiencing it first, this is a great opportunity. The process of signing up is super easy. You just fill out the online form, which takes maybe a minute, and then you get registered the next time you go to the airport, which also only takes a few minutes. This isn't as complicated as signing up for Global Entry, or anything.
Anyone plan to take advantage of this CLEAR free three month trial?