Citi is an advertising partner of OMAAT.
Update: As it turns out Citi is making a lot more changes to their cards, including dropping car rental coverage, travel protection, and more.
Credit card issuers sometimes offer benefits that may not be part of a card's core value proposition, but that still add value for many. A price match program is one of those, though over time we've seen fewer and fewer card issuers offer this.
The concept is that if you find a lower price on something you purchased after the fact, you can submit a claim and you'll be reimbursed for the difference. This way you can make a purchase without worrying if you got the best price, and it also means that if a product goes on sale after you purchase, you can still take advantage of that.
It's an awesome concept, though the problem is that like many other things, this benefit became too easy to use thanks to technology, and as a result it became too costly.
It has just been announced that the Citi Price Rewind program will be ending for purchases made as of September 22, 2019.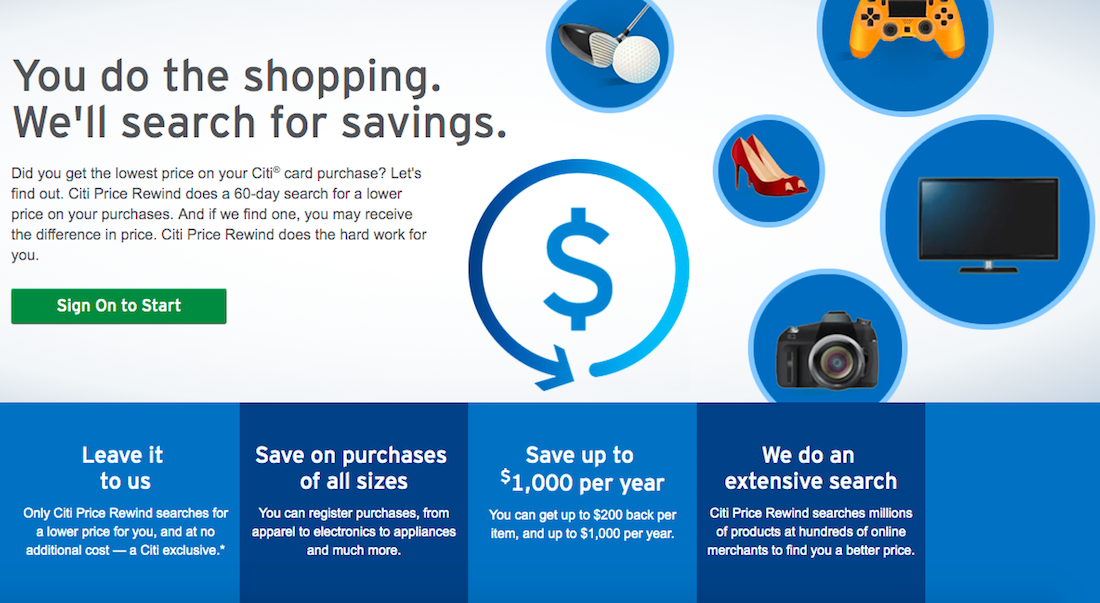 For purchases made prior to September 22, 2019:
Coverage will remain unchanged, and you may submit requests with a lower price found within 60 days of your purchase
Citi Price Rewind will continue to search for a lower price for 60 days from the date of your registered purchase
To start a price search, you must register within 60 days of your purchase; after November 20, 2019, no price searches can be started
Requests must be received within 180 days of your purchase; after March 19, 2020, no new requests can be submitted
These are the second major changes that Citi has made to this program recently. In July 2018, Citi changed this benefit so that they reduced the limit from $500 per claim to $200 per claim, and they reduced the maximum benefit per calendar year per account from $2,500 to $1,000.
So, why these changes? I'd say the intention with a program like this is to put people at ease when they're making purchases, but they probably don't actually expect most people to take advantage of it. However, now there are websites that make the tracking process super easy. That also makes this benefit super costly.
I imagine this was one of those situations where a very tiny percentage of card members were almost entirely benefiting from this, and it was just too costly to justify. The Citi website actually shows how many much people have benefited from this — last year alone, they paid out over 17.5 million dollars, spread across nearly 700,000 payments.

Will you miss Citi's Price Rewind benefit?
(Tip of the hat to @IadisGr8)