Citi is an advertising partner of OMAAT.
Just a little while ago I speculated about the ratio at which Virgin America points will eventually be converted into Alaska Mileage Plan miles, given that the merger has now closed. As I mentioned, I think a 1:2 transfer ratio is too generous, while a 1:1 transfer ratio isn't generous enough, so to me a 1:1.5 ratio sounds about right.
As I mentioned in the post, Virgin America Elevate is transfer partners with both American Express Membership Rewards and Citi ThankYou, and points transfer at a ratio of two Amex/Citi points per Virgin America Elevate points. Personally I don't think that represents a very good deal, though it does suggest that Virgin America Elevate points are more valuable than most airline miles (since most of them transfer at a 1:1 ratio).
There's one other interesting update on that front today — per an email sent out to cardmembers, Citi ThankYou points can no longer be converted into Virgin America Elevate points as of January 22, 2017.

As of now I don't see anything suggesting that the partnership between Virgin America and Amex will be cut, though I think it's entirely possible that will happen as well.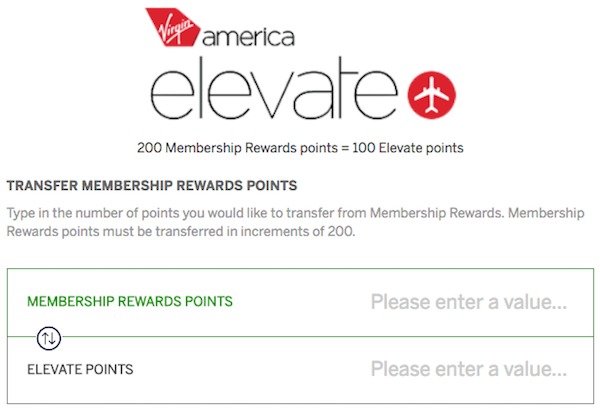 To answer a logical follow-up question, reader Andy asked the following question on another post:
Ben, I received an email today from Citi stating that as of January 22nd ThankYou points will no longer be transferrable to Virgin America Elevate. Now that the Alaska/Virgin merger is final, could this be a short-lived way to transfer ThankYou points to Alaska? Would you speculatively transfer ThankYou points to Elevate hoping that they will be later transferrable to Alaska Mileage Plan?
I definitely wouldn't speculatively transfer points here. Converting Citi ThankYou points into Virgin America points at a 2:1 ratio isn't a very good deal, and I don't think that Virgin America points will convert into Alaska miles at a 1:2 ratio (which would be the equivalent of a 1:1 Citi ThankYou to Alaska transfer). I certainly could be wrong, but that's not a risk I'd take.
So personally I don't view this as a huge loss for Citi ThankYou points, since I would have never used the transfer option at that ratio anyway. Perhaps some hoped that we'd see a 1:1 Citi to Alaska transfer ratio, though I don't see that happening. If Alaska wanted to partner with any transferrable points currencies (other than SPG) they would have done so already.