I'm a big fan of the "sharing" economy, whether it involves rides, cars, bikes, or whatever. Well, maybe not quite whatever, after reading this story.
Shanghaiist reports on a Shenzhen-based umbrella startup, Sharing E Umbrella, that launched in April with an investment of 10 million CNY (~1.5 million USD). The startup founder saw how well the sharing economy worked otherwise, and figured he'd try his luck in the umbrella sharing economy. The company started with 300,000 umbrellas in 11 cities, and now almost all of the umbrellas are missing.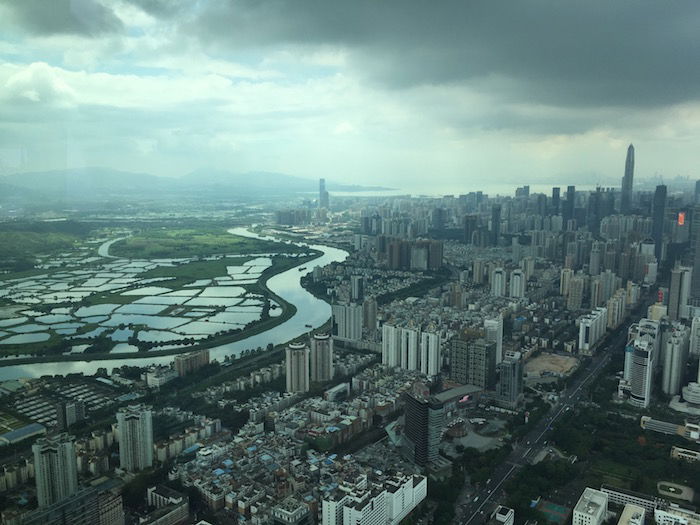 Shenzhen, China
As far as the (theoretical) business model goes, users have to pay a 19CNY (~2.75USD) deposit to use umbrellas, plus a fee of 5CNY for every half hour of use (~0.75USD). There's only one small problem:
While Sharing E Umbrella gave out their umbrellas at train and bus stops, they soon realized that getting users to return the umbrellas would be a problem. "Umbrellas are different from bicycles," Zhao said. "Bikes can be parked anywhere, but with an umbrella you need railings or a fence to hang it on."

The SCMP reports that Zhao concluded that the safest place for an umbrella would be at the customer's home, where it would be safe and undamaged. But, apparently, customers have skipped the final step of then returning the umbrellas, simply keeping them for themselves.
Now there are virtually no umbrellas left, and most bizarre of all, each lost umbrella costs the company 60CNY. Why wouldn't they make the deposit equal to (or more than) the cost of the umbrella?!
But the company isn't giving up, and plans to release another 30 million(!!!!!) umbrellas by the end of the year.
What a concept, and that's not even accounting for how highly seasonal this will be. If this goes as planned, presumably for months at a time will there just be 30 million umbrellas sitting on the streets, until they're useful again in summer, or…?
There are a lot of areas where the sharing economy works brilliantly, but this doesn't seem like one of them.
(Tip of the hat to Andrew)