One general industry trend we're seeing is that airlines are getting more aggressive about selling business class seats. And part of that trend involves airlines pricing business class more variably than ever before, to the point that business class is sometimes only marginally more expensive than economy.
We see this most commonly in two forms:
Cheap fares out of certain markets — there are certain cities out of which we consistently see cheap premium cabin fares, including Cairo, Egypt, Colombo, Sri Lanka, Dublin, Ireland, etc.
Limited time sales — on top of the great fares out of certain markets, we also often see promotional fare sales, either due to fare wars (where airlines compete with one another on price), periods of low demand for premium travel (around the holidays, where economy is full but business class isn't), etc.
Well, right now we're seeing a sale which combines the above two points. At the moment airlines are publishing extremely cheap business class fares from Ireland to the US. It's normal to see cheap business class fares out of Dublin, but right now we're seeing especially low business class fares published out of Dublin.
For example, I see business class fares from Dublin to New York for ~$1,150:
Or if you want to earn substantially more miles you can fly all the way to Los Angeles for ~$1,350:
Or if you want to take it even further you can fly all the way to Honolulu in business class for a few hundred dollars more: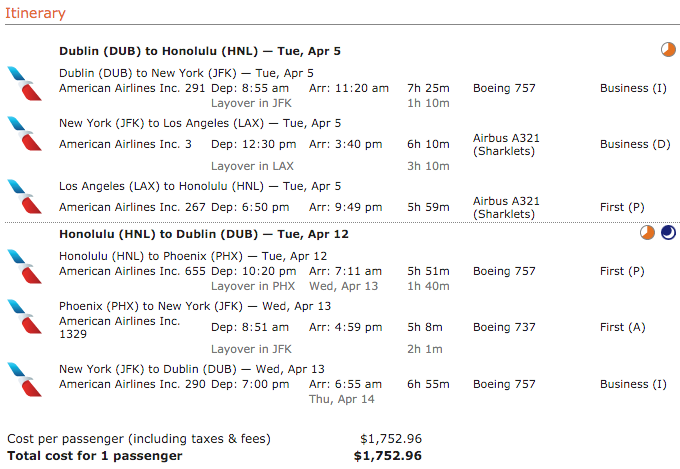 There are similar fares on SkyTeam: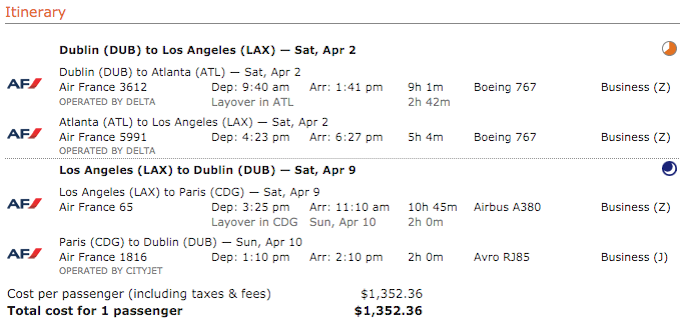 And even similar fares on Delta's joint venture partner, Virgin Atlantic:
For around the same price you could route via London both ways and fly American's 777-300ER, which has a fantastic business class product: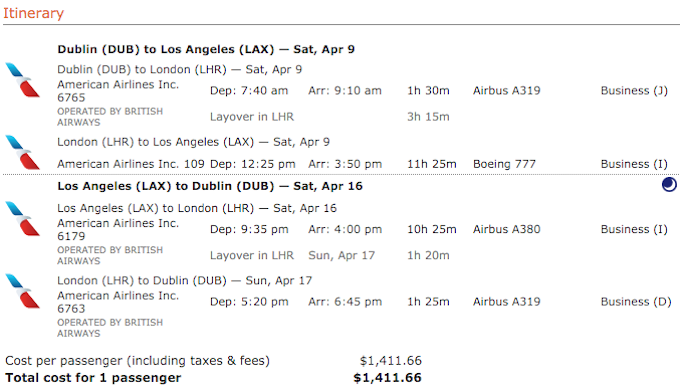 If you have systemwide upgrades you could even upgrade to first class.
The fares seem to be valid for travel through August, and a Sunday night minimum stay is required on most of these fares. Like I said, there's availability to many cities across different airlines, so there's lots of potential with this fare.
Of course this fare is valuable to those based in Europe, but it can also be a great option for those based in the US. For example, I'm heading to London for an Adele concert soon (thanks, Starwood!), and hadn't yet booked my return ticket (my outbound is booked on a really fun routing — stay tuned!).
I could redeem 50,000 AAdvantage miles to book a one-way business class ticket home (though if I originate in London there will be ~$300 in taxes), or I could position to Dublin and book a paid ticket on American.
Say you value 50,000 AAdvantage miles at ~1.5 cents each after the devaluation. That means the "value" of the miles you're redeeming for a one-way award is ~$750.
Then you have to factor in the miles you're forgoing by not booking a paid ticket. As an Executive Platinum member in paid business class routing from Dublin to London to New York to Los Angeles I'd earn well over 20,000 AAdvantage miles (including the 100% elite bonus and bonus redeemable miles for paid business class), which are worth another ~$300. That almost gets me to the "break even" on that revenue ticket, not even accounting for all the elite qualifying miles I'd be earning (I'm not sure I'd need them, though), or the fact that I could upgrade to first class.
If I could figure out a date where a return ticket to Europe in business class would be useful, that would be the icing on the cake.
Bottom line
These are some amazing fares across a variety of airlines for travel between Dublin and the US. If you're looking for a great way to earn status quickly, or otherwise are just looking at an alternative to redeeming miles for transatlantic travel, I'd highly recommend considering this fare, as it's a heck of a deal. Your best bet for searching availability is Google Flights or ITA Matrix.
Do you plan on taking advantage of one of these amazing business class fares departing Dublin?