Travis is my first new contributor to the blog, who will be posting a couple of times per week. The idea behind adding guest contributors is to add different perspectives to the blog. Travis has a unique approach towards travel, given that he travels almost exclusively with his wife and young children, which is in stark contrast to my travels, which are usually alone.
---
Last night at midnight Central Time we said good-bye to an old friend in the frequent flyer world.
Like WorldPerks and OnePass before it, Dividend Miles is now one for the ages, a casualty of the era of airline consolidation.
Dividend Miles will always hold a special place in the hearts of many of us.
But rather than mourn the loss of a friend, let's instead celebrate the life of a great program by recounting all the fun we had together. I was far from a Dividend Miles expert but I still enjoyed the program and I'm sure you did too.
Here are a few of my favorite Dividend Miles memories. I invite you to add your own in the comments.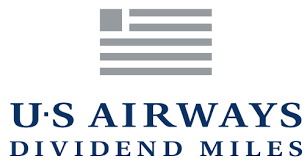 The Annual Grand Slam Promotion
This was consistently one of my favorite promotions of the year. It was like a scavenger hunt where you needed to collect a variety of "hits" from various categories. For example, you might need to stay at a variety of hotel brands, purchase products from specific merchants, and even transfer points to partners. (Yes, they would encourage you to send points out of the program!)
As a result, it was one big optimization problem with the objective of earning the maximum number of points at the lowest cost. If you succeeded in collecting the right hits — and getting them to post properly — you could earn around 100,000 miles for as little as a few hundred dollars. Acquiring points at under 1 cent each was common, and gave you the opportunity to try out merchants you might not otherwise.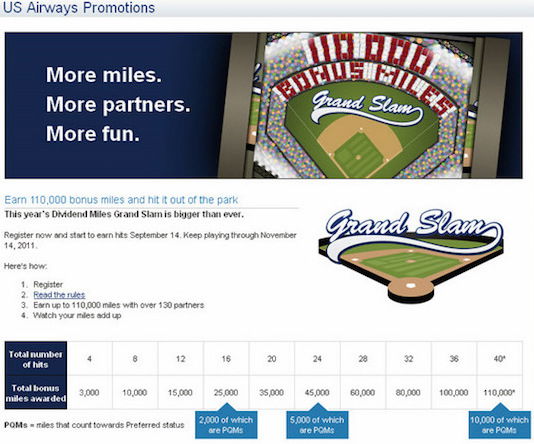 Track-It-Back
This had to be one of the worst marketing ideas I've ever seen. The general idea of the company was decent enough — they would sell you a sticker that you would then put on your personal items such that if they were ever lost, somebody could contact you. The finder would also get some sort of reward in return. Since a simple return address sticker could probably serve the same purpose, the company had to run massive promotions to acquire customers. At one point, it was possible to earn 140 US miles per dollar spent on these stickers.
In other words, you could buy US Airways miles at 0.7 cents each. And get the stickers for free. Which is, coincidentally, exactly what they were worth. The company soon went out of business, but as far as I know, everyone got their miles.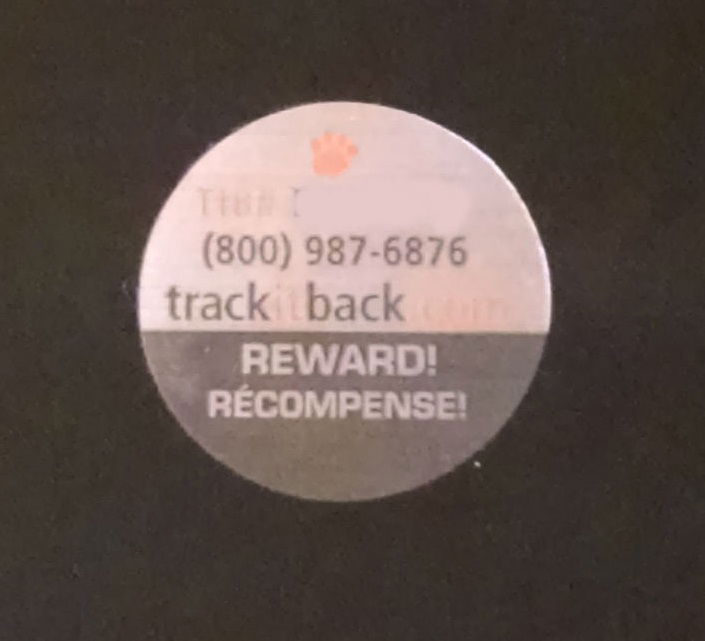 No Rules Awards
OK, technically Dividend Miles did have award rules concerning stopovers, open-jaws, routings, and the like. The award chart was also based on regions. But it was somewhat up to the agent to determine which region your destination was in. Better yet, if they didn't know, they'd occasionally ask you, the caller, where it was. Now I might have won a Geography Bee back in 7th grade, but I've become quite forgetful in my old age. Who really knows where North Asia begins and South Asia starts anyway?
My best US Airways redemption was for my Dad's "round number" birthday a few years ago. My mom decided that she wanted to take him to Scotland and asked me to arrange their travel. A round trip from the US to Europe was going to cost 100,000 US miles in business, which really isn't a bad deal. But of course, had I booked that, Ben would have disowned me, and I certainly wouldn't be writing for OMaaT today!
So instead, I suggested to my mom that they actually go to Asia with a stopover in Europe for 90,000 miles. This way they'd get to have more fun while also saving 10,000 miles. I don't think she quite understood — and who can blame her — but she said "go for it". My wife and I had recently been to Bali and loved it, so I figured that would make a good destination for them as well. Was Bali in North Asia or South Asia? Shucks. I really couldn't remember. Oh well.
I proceeded to book them on xxx-IAD-FRA-EDI-(stopover)-BRU-BKK-DPS-(destination)-SIN-ICN-(overnight)-ORD-xxx on a combination of United, Lufthansa, Thai, Singapore, and Asiana. All for 90,000 miles each in business class. Dad had a blast flying around the world.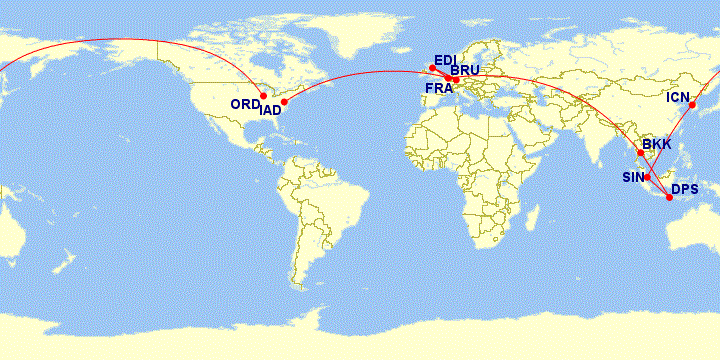 Share Miles Promotion
Once or twice a year, US Airways would run a share miles promotion whereby you could transfer miles to a friend or family member with some sort of bonus. At times, the bonus would reach 100%, meaning that if you transferred 10,000 miles to your friend, they would receive 20,000 miles. There were some fees to do so, but the net effect was that you could end up buying miles around 1.1 cents each.
The key was that you were limited in the number of "shares" and the number of miles in each sharing transaction. Commonly you could only transfer 50,000 miles into an account, though you could transfer as many as you wanted out. If you had a large family, you could set up a round robin share-a-thon whereby one person would transfer to another, and then that person could transfer to two more, and so on. Then one of those people could even transfer back to the first.
This always reminded me of playing Layer Cake on the Apple II when I was kid. The objective of that game was to move a cake with multiple layers from one platter to another, one layer at a time. You had to think about which pieces to move first, and to where, such that you ended up with the cake in the right place and in the right order at the end. (Please tell me someone remembers this game! Send me a screen shot if you can.) Well, the share miles promo worked similarly — you had to have it all mapped out ahead of time such that the right people ended up with the right miles at the end.
The Credit Card
50,000 miles for $89. And a companion certificate that's actually worth something.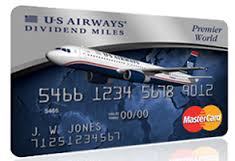 ---
What are your favorite memories of US Airways Dividend Miles? What was the most creative rule-breaking award routing you ever booked?