Cathay Pacific just posted the below picture on Facebook and Twitter: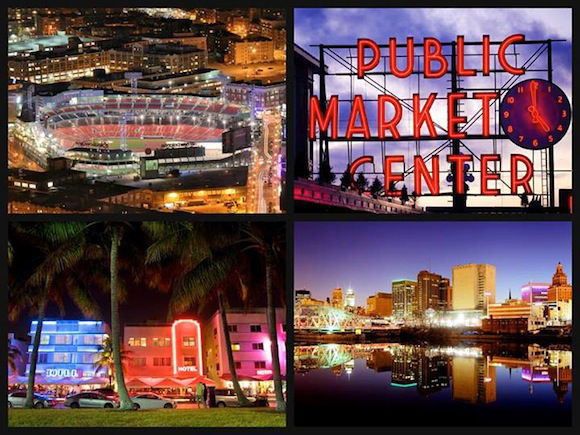 The caption reads as follows:
The countdown begins today! We're excited to announce a brand new route next week to one of the four locations below. Can you guess where it is?
If I'm not mistaken, those pictures are of Boston, Seattle, Miami, and Newark.
Now, I think you can all guess which city I'm biased toward. Cathay Pacific starting service to Seattle would be a (wet) dream come true. But do "we" have a chance?
Here are my thoughts by city:
Boston seems highly unlikely. Maybe if they were announcing A350 service that could happen, but I don't think they're at that point yet. Furthermore, Boston isn't a OneWorld hub, making the service even less likely.
Seattle service could make sense. I think Delta is really onto something with all of the Asia service they have out of Seattle. It's the closest North America gateway to Asia, so the operating costs of those flights makes it a very attractive hub. Seattle also has lots of tech businesses, a huge Asian population, and possible feed from their partner Alaska Airlines. The service still seems unlikely now, though I think it's a city they'll consider more seriously once they take delivery of their A350s.
And Miami also would make a lot of sense in theory, given the lack of practical connections presently available from Latin America to Asia. They'd have tons of feed from American's Latin America network, though the one thing standing in the way of this flight being profitable is that it's ~9,000 miles. That would be their longest fight, and ultra longhaul flights are notoriously difficult to turn a profit on.
I'm afraid the new service will probably be to Newark. There was lots of speculation about Cathay Pacific launching the service in 2012, and while it hasn't formally happened yet, my money is on this being the announcement.
Actually, Cathay Pacific's website seems to be unofficially confirming that Newark will be the new destination. When you type in Newark as your destination on cathaypacific.com, the Cathay Pacific logo appears next to it, which only happens for cities they serve on their own "metal."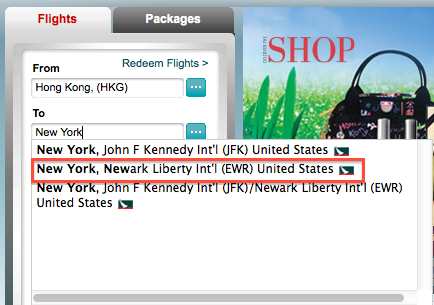 I really don't know how adding Newark service makes sense, when Cathay Pacific already has 3-4 flights per day to JFK. Since they belong to OneWorld and not Star Alliance they'll have very little feed out of Newark (unlike JFK, where American has a hub), so they'll be at a considerable disadvantage against United. Maybe they see some opportunity with Newark since Singapore will soon be discontinuing the world's longest flight between Newark and Singapore and they're trying to pick up that market share, though I'm not convinced those passengers are loyal to Newark vs. JFK, but rather that they were loyal to the nonstop flight to Singapore.
What do you guys think? Is Newark a sure bet, and if so, is it a wise move?