Reader Will emailed me and said he has a choice between a 747 or 777 on an upcoming flight in Cathay Pacific first class, and asked which I'd choose, all else being equal. I've done a ton of travel on Cathay Pacific lately, though mostly on the 777. In the past I thought I preferred the 747, but the 777 is certainly growing on me. I figured I'd cover a few aspects of the "experience," and how they differ on the 747 and 777:
Cabin Size and Service
Cathay Pacific has nine seats in first class on the 747, and six seats in first class on the 777. Both aircraft types have two flight attendants assigned to work first class, so the crew to passenger ratio is better on the 777 than 747. While service is generally quite good on both aircraft types, I do find there's a noticeable difference in service speed.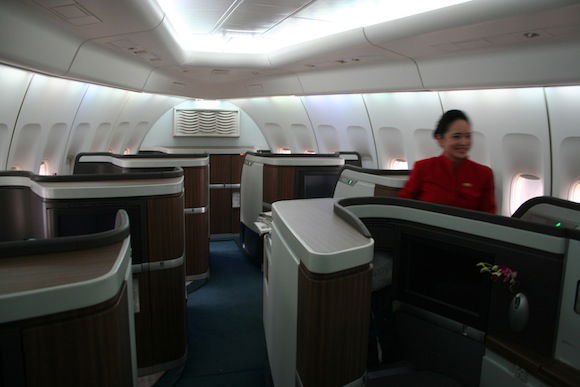 747 first class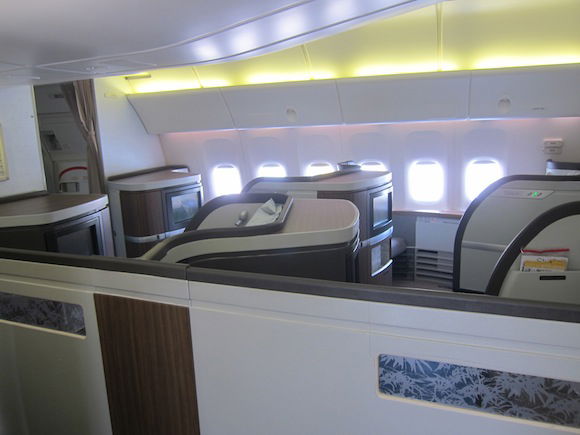 777 first class
Privacy
The 747 cabin is simply more private than the 777 cabin. On the 747 first class is in the nose, so there's absolutely no foot traffic through the cabin. Meanwhile on the 777 there is a fair bit of foot traffic from flight attendants walking through the cabin. Don't get me wrong, it's not really disruptive, but it is worth noting that the 747 first class cabin is really quiet. It's also worth noting that if they're using two jet bridges for boarding on the 777, business class passengers board through the first class cabin, while that's not the case on the 747.
Air Circulation
Here's the thing I've noticed lately, which actually makes a pretty big difference to me. I've found the air circulation to be much better on the 777 than the 747. That's to say that it's not usually quite as steamy in the 777 as it is up front on the 747. I flew 747 first class on Cathay Pacific a couple of days ago in row one, and it was boiling hot up there. I asked them to turn the air conditioning up, and while they did, it was still hot. While there aren't individual air nozzles on either aircraft, I haven't had as many temperature issues on the 777.
Bathrooms
While it's admittedly a minor point, it's worth noting the bathrooms on the 747 are much more spacious than on the 777.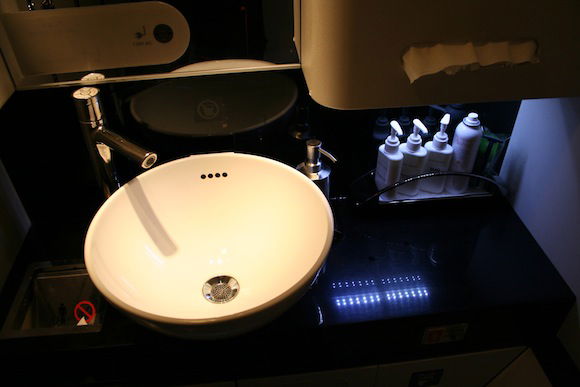 777 lavatory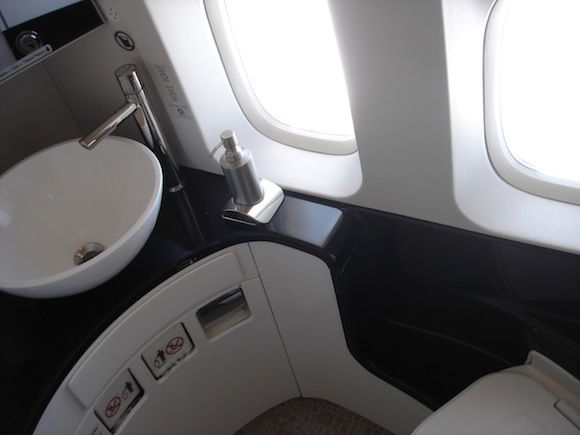 747 lavatory
Seating
Aside from a single center seat in the 747, each first class seat is at the window. The 777, on the other hand, has two rows in a 1-1-1 configuration, so there are two center seats. It's worth noting that the center seats face the right aisle, while towards the left is just a wall. That means seats 1A and 2A are extremely private on the 777, as they have the left aisle all to themselves.
Verdict
All things considered you really can't go wrong with either aircraft. I'd say that if I'm traveling with a companion my first choice would be seats 1A & 1K on the 747. These are right in the nose, and are the only Cathay Pacific first class seats where you can actually "talk" to your seatmate without yelling too much. My second choice with a traveling companion would be 1A and 2A on the 777, as it's extremely private with the aisle all to yourself. Meanwhile I wouldn't generally recommend snagging a center and window seat (like 1D & 1K or 2D & 2K). This is because the seats are far enough apart that you won't really be able to talk, so you might as well both have windows and instead choose to dine together, which is possible at all seats.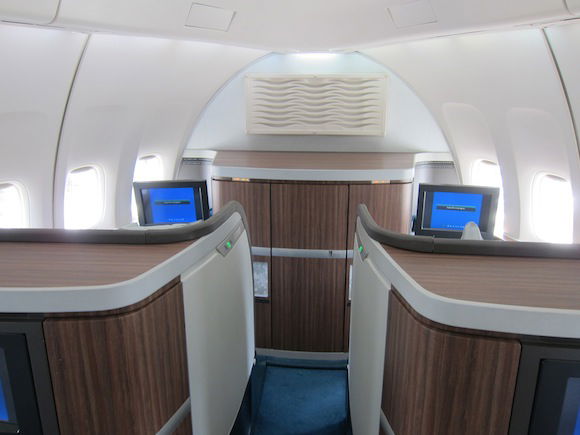 747 first class, seats 1A & 1K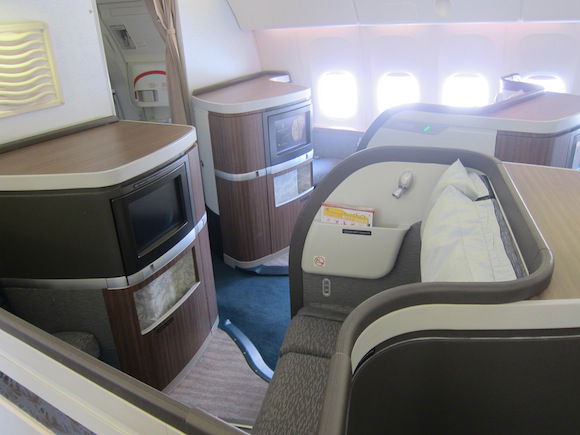 777 first class, seats 1D & 1K
If I'm traveling alone I'd also have to say I prefer the 777, assuming I can get a window seat. My preference would be for 1A or 2A, followed by 1K or 2K. If only center seats are available on the 777 I'd choose seats 2A or 2K on the 747.
Anyway, that's the really long answer. The short answer is to take the most convenient flight as you'll have an amazing flight either way. But you asked, and I answered.
If you've flown both the Cathay Pacific 747 and 777 in first class, which do you prefer?