Well that escalated very quickly…
Canada and Saudi Arabia have gotten into a diplomatic spat. Last week Canada expressed concern about new arrests that have taken place in Saudi Arabia, targeted at women's rights activists. Canada urged the immediate release of all peaceful human rights activists.
Canada is gravely concerned about additional arrests of civil society and women's rights activists in #SaudiArabia, including Samar Badawi. We urge the Saudi authorities to immediately release them and all other peaceful #humanrights activists.

— Foreign Policy CAN (@CanadaFP) August 3, 2018
Saudi Arabia was very unhappy with this, and told Canada to mind their own business. They immediately expelled Canada's ambassador to the country, and halted all trade and investments with Canada in response to this.
#Statement | We consider the Canadian ambassador to the Kingdom of Saudi Arabia persona non grata and order him to leave within the next 24 hours.

— Foreign Ministry 🇸🇦 (@KSAmofaEN) August 5, 2018
While this isn't directly from the government, perhaps the most dramatic aspect of all of this is what a Saudi Twitter account Tweeted earlier today (this has since been deleted — not just the Tweet, but the account on the whole).
They Tweeted the following:
"As the Arabic saying goes: He who interferes with what doesn't concern him finds what doesn't please him #SaudiArabia #Canada"
Below that is a picture of an Air Canada plane headed towards the Toronto skyline.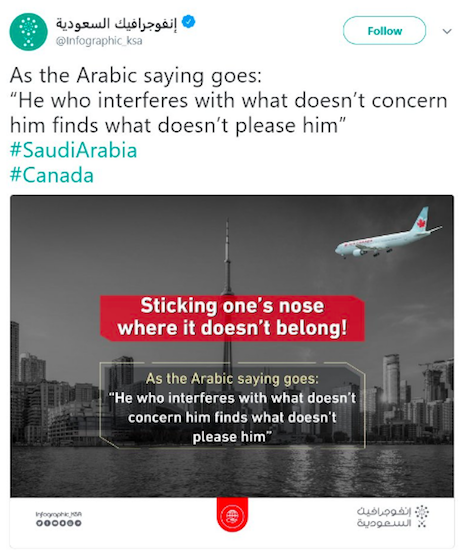 Look, I want to assume they couldn't possibly mean what this looks like (which is just unconscionable), but I'm not sure how else to interpret this, especially in light of the fact that 15 of the 19 hijackers on 9/11 were Saudi citizens.
The graphic has since been reposted without the picture of the Air Canada plane on Instagram.
https://www.instagram.com/p/BmJGUfhBXxj/?taken-by=infographic_ksa
So, what is @infographic_ksa? They were a verified Twitter account with over 350,000 followers. They describe themselves as "a voluntary non-profit project managed by a group of Saudi youth who are interested in technology and social media."
Everyone has to decide for themselves how much of a connection there is between this group and the government, but given that Saudi Arabia isn't exactly the world's biggest proponent of free speech, many assume that on some level they're speaking for the government.
As part of the escalating tensions, Saudia has announced that they'll be suspending flights to Toronto as of August 13, 2018, which is their only route to Canada.
Dear guest, all flights from or to Canada will be suspended from 13th august
However the penalties and fees will be temporarily canceled from 6th august. Thank you

— السعودية | SAUDIA (@Saudi_Airlines) August 6, 2018
Saudi Arabia is also canceling scholarships for 12,000 students in Canada, and is making plans to transfer those students to other countries (which seems like quite a project).
I'll be curious to see how long this situation lasts. Given the other "disputes" going on in the Middle East, I imagine this will likely last a while. It's not like Canada is going to start opposing free speech and apologize, and at the same time I don't see Saudi Arabia giving in.