In the past week I've had no fewer than a dozen readers ask me a question which ultimately boils down to:
"I'm flying in first class, and my friend/family is flying in business/economy class. Is it okay if they come visit me?"
Generally speaking, the rule is that you can visit guests in a "lower" cabin, but you can't go up to a "higher" cabin to visit someone. The exact details of the policies vary by airline, but I don't know of any airline that allows guests to visit someone in a higher cabin.
Why can't you visit passengers in a higher cabin?
Ultimately because it's a slippery slope, and potentially disruptive to other passengers who paid for a peaceful, private experience.
Should one guest be allowed? What about two? Or should it be as many as you can fit in your suite?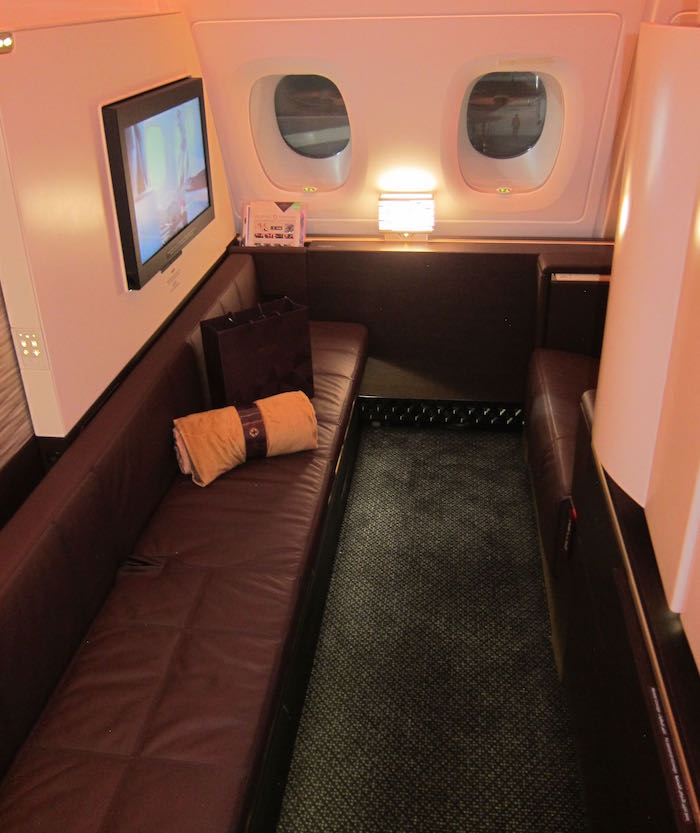 Etihad's spacious First Class Apartment could easily seat the Brady Bunch

Should the guests be allowed to visit for five minutes? Five hours? The entire flight? Can they sleep at your seat if there's room?

Slumber party for six in Singapore Airlines Suites Class? 😉
Should your guest be allowed to order food or drink from the first class menu? What if it's only water and chips?

Where do you draw the line with what food to "share?"
As you can see, it's just a very slippery slope, which is why airlines don't generally allow this.
Are there exceptions?
I know many people subscribe to the "it can't hurt to ask" theory when traveling.
And on a case-by-case basis there are certainly instances where I've seen the crew briefly allow guests in first class. For example, if parents are traveling in first class and kids in business class, I've seen the kids briefly come up to get something from their parents. But that's about the limit of what I've witnessed.
Everyone has a different tolerance for how much they're willing to push boundaries, but personally I couldn't in good conscience ask for anything beyond the above scenario.
First class crews on most top airlines are trained not to say no to first class passengers, and you're putting the crew in a very awkward situation if you're asking for a guest from a lower cabin to be allowed to visit.
Bottom line
For the most part visiting guests in a higher cabin is a big no-no, though you can always visit a guest in a "lower" cabin.
What do you think airlines' policies should be when it comes to visiting guests in a higher cabin?