Oy. Back in September British Airways announced they'd be "revitalising" the Executive Club program on November 16, which sounds great in theory, though they insisted they wouldn't reveal the details until the program actually rolls on November 16, which is today. Talk about a lot of advance notice for no advance notice! It has been a very frustrating process, not just because they're not disclosing the new chart up front, but because of all the availability issues they had over the past week or so, which I suspect might be intentional. The Executive Club call center had a busy signal almost all day yesterday, making it tough to book any awards.
Well, now that it's November 16 and they've "simplified" the award chart you'd think it would be easy to find, but nope, it's not. Instead you can just search routes and see the price, though I don't see a single award chart yet.
The best they seem to have so far is this (somewhat useless) Avios calculator, which will tell you the price for a particular route:
If the new award chart is distance based, why the heck is it so tough for them to show us a single award chart which has the costs based on the distance flown?
They also have a zonal map, though I feel like I need another four year degree to figure out how the hell to work it.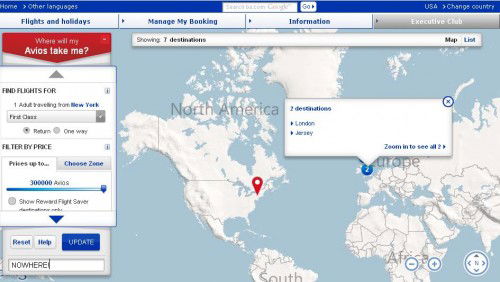 So instead we're forced to explore in terms of actual examples.
In looking up a few of the most popular redemptions, New York to Hong Kong to Bali one way in first class has gone from costing 75,000 miles to 130,000 miles. That's a 73% increase!

In fairness, if you "just" want to fly from San Francisco to Hong Kong one-way in first class, the cost goes from 75,000 miles to 105,000 miles, which is "only" a 40% increase.

For those in North America, seemingly the only good news is that award costs go down for travel to Europe for those on the East Coast.
New York to London goes from costing 75,000 miles one-way in first class to costing 60,000 miles (business class goes from 50,000 miles to 40,000 miles 0ne-way).

The cost of first class from New York to London to Rome one-way goes from 90,000 miles to 75,000 miles.
Anyway, enough examples, the implications here are exactly as expected — for the most part, the cost of partner redemptions for those in North America are increasing drastically, especially for LAN and Cathay Pacific routes, given how "far" they are.
That being said, the cost of many awards to Europe are going down, especially for those on the east coast.
And actually I think my September 3 post on why I'm keeping the British Airways Visa turned out to be true. If you spend $30,000 on the card annually you earn a companion voucher good for a second passenger on an award ticket (you just have to pay taxes/fees/fuel surcharges).
If you live in New York, for example, first class to London or Paris will run you 120,000 miles roundtrip in first class, plus about $800 in taxes/fees/fuel surcharges. If you're able to earn a companion certificate every year, that's basically a trip to London in first class for 60,000 miles plus $800 in taxes/fees per person, compared to other airlines which charge 125,000-135,000 miles, plus $300 in taxes/fees. So I'll gladly pay the extra $500 for a savings of 65,000-75,000 miles.
Of course that only applies to those of you in that situation. On the whole the changes of course get a huge thumbs down from the perspective of a North American flyer… exactly as we expected!