British Airways just announced a flash sale, with very good prices for premium cabin travel to London and beyond. Unusually, first class flights are included in the sale as well, with some pretty compelling fares:
Our business class sale is available to select European cities: Athens, Barcelona, Birmingham, Madrid, and Manchester. Sale fares are also available on American Airlines, Finnair and Iberia Airlines. For 3 days only, First is on sale too, from select US cities. Simply search for your destination, cabin and dates using the Create a trip tool on the left of this page.

Hurry, it's available for 3 days only, until May 12.
BA is advertising Club World (business class) fares starting at $2038, and first class starting at $2742 between certain city pairs.
These are good fares on their own, but you can combine several discounts to save even more!
Finding the fares
The steepest discounts are for Thanksgiving and Christmas/New Years business class fares to London from the following British Airways cities:
Boston
Chicago
Dallas
Los Angeles
Miami
New York
San Francisco
San Jose (CA)
Cheap first class flights are also available from:
Boston
Chicago
Dallas
Miami
New York
San Jose (CA)
If you want to travel outside the holiday seasons, fares seem to be just a few hundred dollars more. There are blackout dates for certain city pairs, so I'd suggest using Google Flights to find the best date and price combination, then booking through the AARP portal for an extra discount.
Leveraging the AARP discount
Keep in mind that AARP members can receive $400 off roundtrip business class fares, as described in this post. This is valid for travel booked by October 31, 2016. This is what lowers these fares into the $2100 range for first from some cities, so is definitely worth taking advantage of!
As Ben has explained before, anyone can join AARP for $16 per year. We're both members, and there isn't an age restriction to join or anything.
You have to click through the AARP portal to receive the discount, and the discount will be reflected in the flights as you select them. The discount is valid on British Airways marketed flights, so if you'd prefer to fly American or Iberia, you can (though you can save more by sticking to BA operated flights, as I'll explain next).

The discounted price is reflected in your total as long as you shop through the AARP portal, so there's nothing extra you have to do.
An extra 10% off
Beyond that, those with the British Airways Visa Card can receive 10% off British Airways fares, provided the flights are also operated by British Airways.
As a reminder, just use promotion code CHASEBA10 at the time of booking.

This discount is only valid on flights that are operated by British Airways. So if you select an American flight (even if it's eligible for the AARP discount), you'll receive an error when applying the discount code.
Stick to BA-operated flights though, and you shouldn't have any issues.
What is British Airways like?
We have had hit-or-miss experiences in BA business class around here: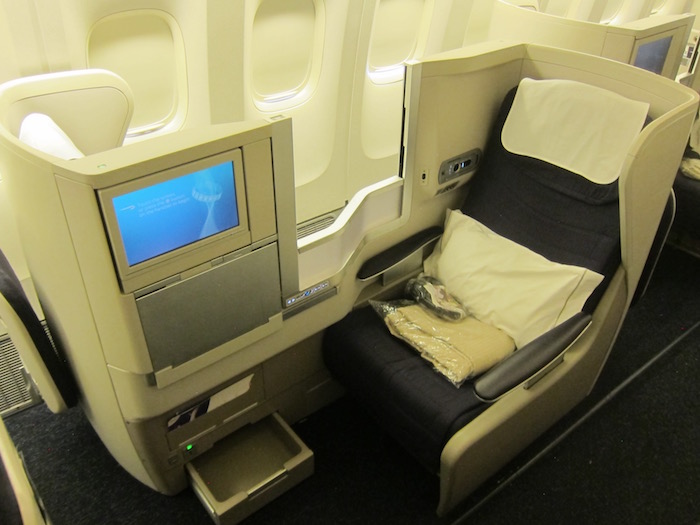 British Airways Club World business class
And a variety of experiences in first: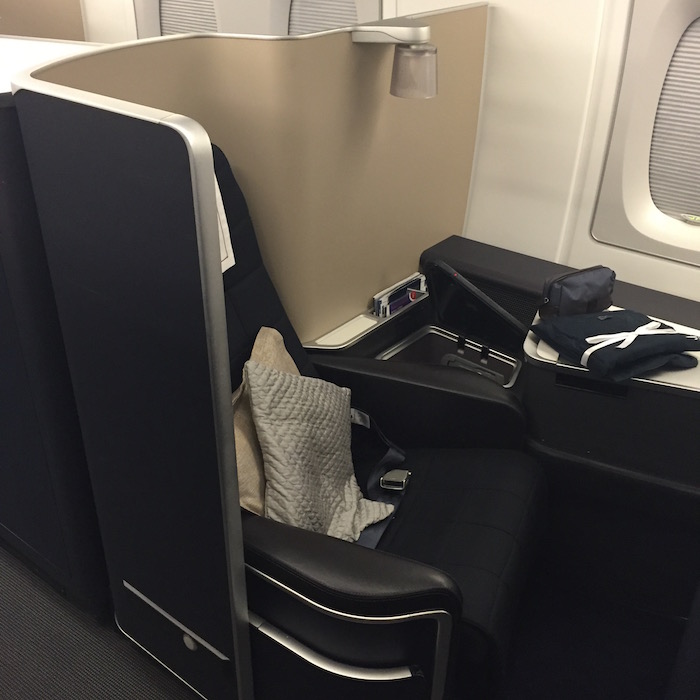 British Airways first class
In general, the hard product isn't as competitive as it could be, but either premium cabin is of course oodles better than coach, and at these prices I wouldn't complain.
How many miles do I earn?
Well, it depends. These fares book into "I" class, which has the following earning rates (there are other partners as well, of course, I am just including those I find useful):
Alaska Airlines | 150% of flown miles
American Airlines | 125% of flown miles
British Airways | 150% of flown miles
Japan Airlines | 125% of flown miles
Of course, American is changing their program at some point, and we don't know what impact that will have on partner flights. My assumption though is that earnings rates for paid business class tickets on partner carriers won't change much.
Alaska is also offering double miles on flights between Seattle and London, so while Seattle isn't one of the "sale cities" it may still be worth checking fares around your dates.
Bottom line
Throughout 2015 we consistently saw business class fares to Europe for under $2,000 (and occasionally as low as $1300 once you stacked these discounts). Thanksgiving fares are generally reasonable, so I don't think this is a spectacular deal for late November travel. This is is the cheapest fare I've seen for first class in quite some time though, and fares are generally much higher than this for business class around New Years, so I think this is a good deal on balance.
If this fits with your plans, I'd go for it!
Update: Don't forget to register for the latest transatlantic bonus, which will give you 25,000 extra AAdvantage miles for this trip!
Is anyone taking advantage of this fare? Where are you going?