Yesterday I posted about how British Airways is launching flights between San Jose and London as of May 4, 2016. This represents their fourth destination in California, after Los Angeles, San Diego, and San Francisco.
Perhaps the most exciting part of the new route is that it's operated by a Boeing 787-9, which is a brand new plane in British Airways' fleet. It has a four cabin layout, as follows:
8 first class seats
42 business class seats
39 premium economy seats
127 economy seats
The new San Jose to London flight became bookable today, which is exciting news. That's because British Airways seems to be making at least two business class and four economy class awards available on each flight on the new route. Unfortunately there don't seem to be any first class award seats available, which I suppose isn't really a surprise, given that the first class cabin has only eight seats.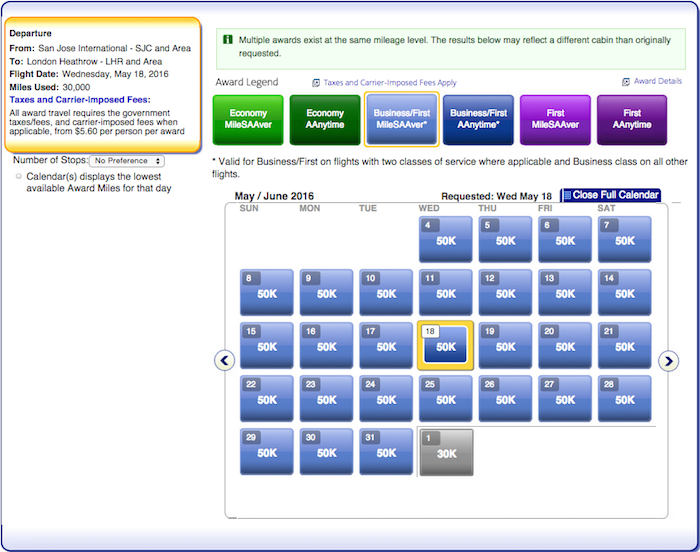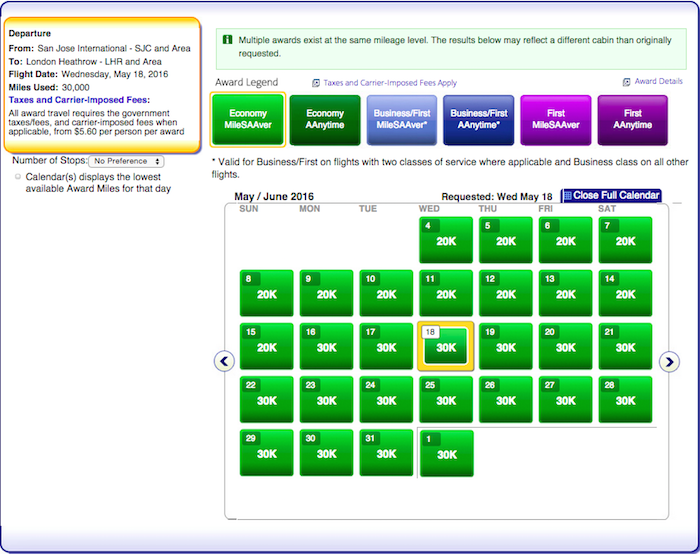 Those number of award seats are actually one of the only upsides of British Airways' award chart devaluation earlier this year, whereby they promised to make at least two business (or first) class and four economy class award seats available on each flight.
Keep in mind that regardless of which program you redeem miles with, you'll pay fuel surcharges for travel on British Airways. That being said, nonstop flights between California and Europe can be extremely difficult to book on miles, so it may well be worth it.
For example, in the case of American, they charge 50,000 AAdvantage miles for one-way business class between Europe and the US. Fuel surcharges vary based on where you're originating. For example, from San Jose to London you'll pay a total of ~$500 for one-way business class:

Meanwhile if originating in Europe, fuel surcharges can be quite a bit lower. For example, Amsterdam to San Jose one-way will run you a total of under $350 for one-way business class:

In either case you'll want to avoid originating in the UK if possible, or else you'll have to pay the hefty UK Air Passenger Duty.
Bottom line
While British Airways isn't my favorite airline for transatlantic premium cabin redemptions, finding nonstop awards between California and Europe can be extremely difficult. Having access to two business class seats between San Jose and London virtually any day next summer is a pretty great option to have.
Hopefully some of you can take advantage of the plentiful award space available here.