Here's a crazy story. Wednesday's British Airways flight from London Gatwick to Kingston, Jamaica, BA2263, had to divert to an airport in the Azores in order to offload a disruptive passenger who refused to return to his economy seat. The Boeing 777 landed at Lajes Air Base in the Azores, which is both a military base as well as a commercial airport.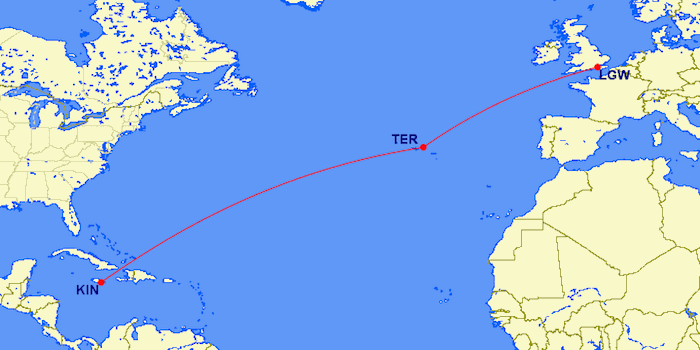 Here's what transpired, per 9News:
The airline said the man refused to return to his economy seat after sitting in business class without permission.

Cabin crew and one of the pilots spoke to him but were unable to convince him to move, British Airways said.

"He repeatedly refused, verbally abused crew members and disturbed other customers," the airline said in a statement to 9news.com.au.

"As a last resort, our cabin crew felt they had no option but to restrain the customer in the interests of the safety of everyone on board and helped him walk back to his original seat."
The passenger seems to agree that he was refusing to follow orders, but says it's because his legs were swelling and he was getting dizzy, and needed more room:
However the detained man, Kwame Bantu, 65, said he is a cancer and diabetes sufferer and claims he was only trying to stretch his legs in first class when the row occurred.

Mr Bantu told the MailOnline he was an hour into his flight to visit family in Jamaica when he became dizzy and saw his legs swelling.

"I was just trying to get some room to stretch my leg," he said.

"But nobody was helping me. They refused to listen about my medical illness and what I was going through. I was treated like a slave."

He claimed he was "ambushed" by six members of staff who restrained and dragged him back to his seat.
Some have Tweeted pictures of the incident:
@British_Airways why did ur staff tackle this man? restrain his feet, hands & neck and tell him to deficate himself?#CORRUPTION pic.twitter.com/SeSbX2kv8F

— A conscious mind (@Xxcee__ceexX) April 26, 2017
There's also a video of the passenger being removed by the police:
https://www.youtube.com/watch?v=LWlS5AYGq2g
I certainly feel bad for the guy's medical condition. Without having seen what transpired, it's tough to know who is in the wrong here. If he did in fact have a serious medical condition, hopefully the crew would recognize that and do what they can to help. At the same time, self upgrading and then after the fact reporting you have a medical condition probably isn't the ideal way to go about that.
The crew also claims that he was being abusive towards them, why is why they made the decision to restrain him.
What a story…