Last week I posted about the fact that flights originating in Brazil don't have fuel surcharges due to government regulations. This is especially interesting on award tickets for travel on airlines like British Airways and Singapore Airlines, which usually impose fuel surcharges on award redemptions.
Well, as a reader kindly pointed out to me on that post ("you've royally cocked this one up"), British Airways' website now seems to impose fuel surcharges for award flights originating in Brazil. For example, take this September 16 flight from Sao Paulo to London:
When you price it out, the taxes and fees show as being $337: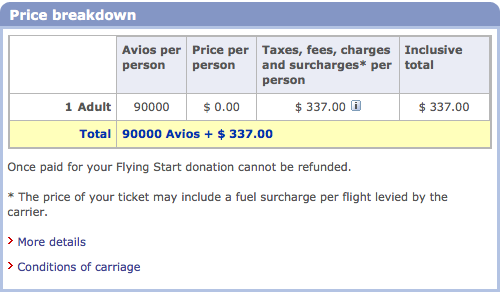 As opposed to the previous total of $36:
Yet oddly when you price out a revenue ticket there are still no fuel surcharges:
And when you price the same award through American there are no fuel surcharges either (even though they usually impose them on British Airways redemptions):
Like I said, this wasn't some loophole, but due to government regulations. So I'm curious to see how British Airways explains this one. Or maybe it's a conveniently timed IT glitch? Can anyone come up with a plausible explanation?