Live and Let's Fly and I had been discussing the possibility of a trip to Turkmenistan, Tajikistan, and Uzbekistan, because, well, why not?
Hyatt doesn't have a huge global portfolio (at least compared to their competitors), but they do have a property in Dushanbe, Tajikistan. Who knew?!?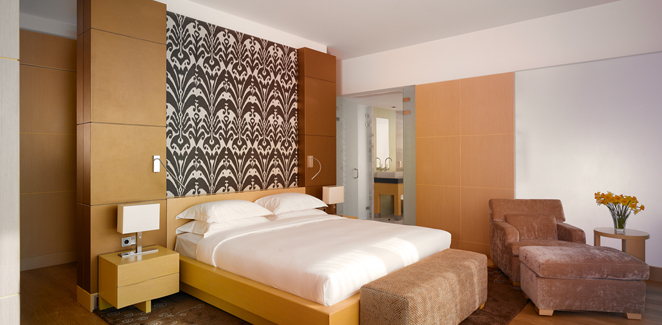 The Hyatt Regency Dushanbe actually looks nice
As an airline nerd, the first thing I think about when visiting a new country is what kind of an airline they have. After all, reviewing airlines is what I do.
For this trip that's mostly easy enough. Uzbekistan Airways flies from New York to Tashkent using a brand new 787 (they even route via Riga, Latvia, though soon they'll also begin operating nonstop flights), so that's an easy enough way to get to the region.
However, while doing some research yesterday I came across Turkmenistan Airlines which is. Blowing. My. Mind. This airline is soooo interesting.
Turkmenistan apparently has a fleet consisting of 777s, 757s, and 737s. According to Airfleets, they have three 777s, one 757, and 11 737s.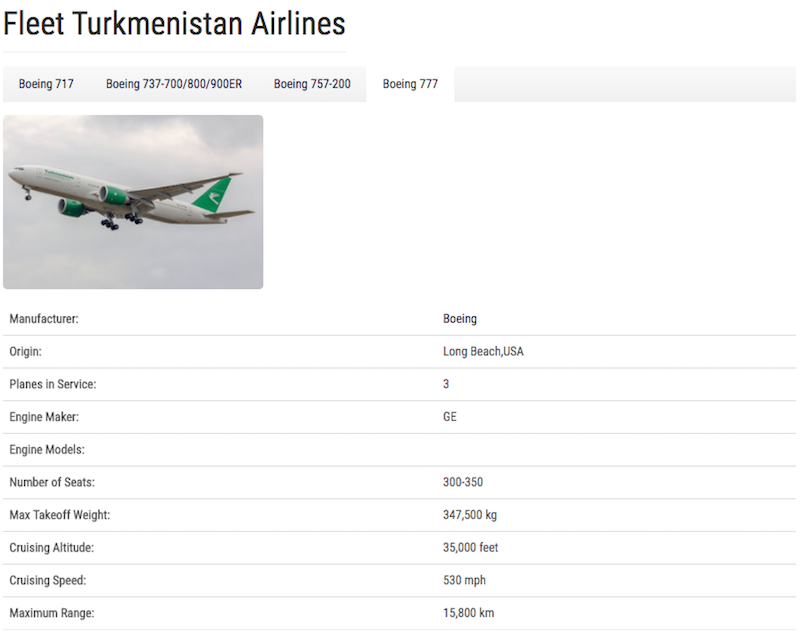 I had absolutely no clue that this airline has 777s. So after seeing that I was determined to fly with them.
In looking at Turkmenistan's timetables, I notice that they fly to London, Frankfurt, Paris, Beijing, Bangkok, etc. They have fixed pricing, so there's no complex inventory management here, but rather if there's a seat available you pay whatever the published price is.
For example, here's their London to Ashgabat timetable: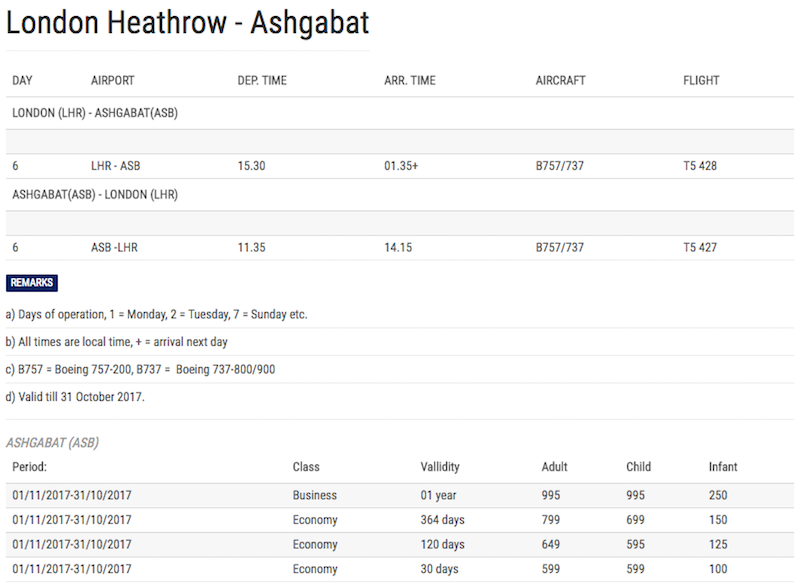 Here's the crazy part. Turkmenistan flights don't show up in the GDS, and their flights aren't bookable through any online travel agencies. So the only way to book them (seemingly) is directly through Turkmenistan's website, which is… wow.
Their online booking experience is similar to what online shopping was like for retailers over a decade ago.
For example, you can book them from London to Bangkok.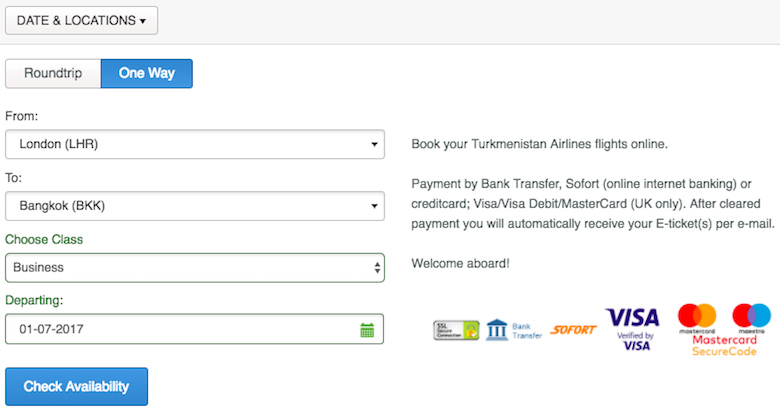 The next page just shows when you depart and arrive, but doesn't show connection info, etc. (though I guess you can look that up in the timetable). Under $1,000 for a one-way business class ticket from London to Bangkok is pretty good too.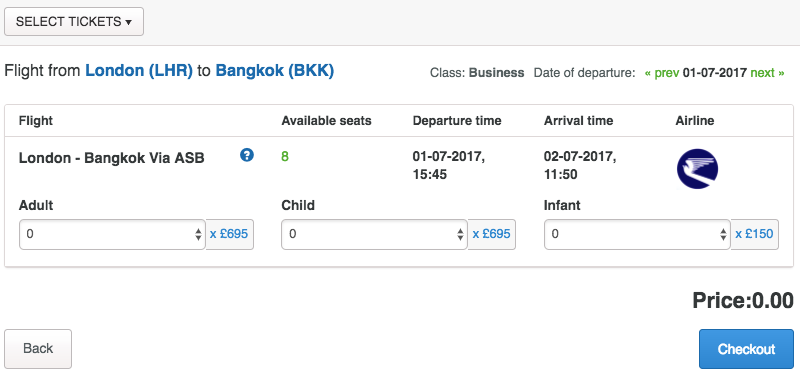 When you click on flight info, it says "Non-stop flight operated by Boeing 737/757/777-200LR. Equipment may vary." Am I going to spend 12 hours on a 777 or 737?!?

The further issue is that the airline publishes almost nothing about their business class product. The only picture they have of their business class is the below one (yes, that's the actual size they use).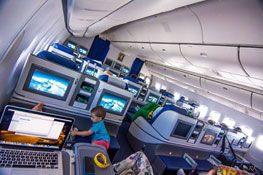 Great photo!
That sure looks like a 777, but what does their 757 and 737 business class look like? Is it like European airlines, where it's just economy with a blocked middle, does it feature something similar to what you get in the US, or is it as nice as Air Astana's 757 business class, which I flew last year from Almaty to London? Even Googling I can't find a single picture of their 737 or 757 product.
The bizarre part is that their timetable doesn't list any routes as being operated by their 777. So then I used Airfleets to look up the tail numbers for their 777s, which are EZ-A777, EZ-A778, and EZ-A779.
If Flightradar is to be trusted, then neither EZ-A777 or EZ-A778 have flown recently. Meanwhile EZ-A779 is flying primarily to Beijing and Istanbul. If Turkmenistan's website is to be trusted, then the airline doesn't even fly to Istanbul.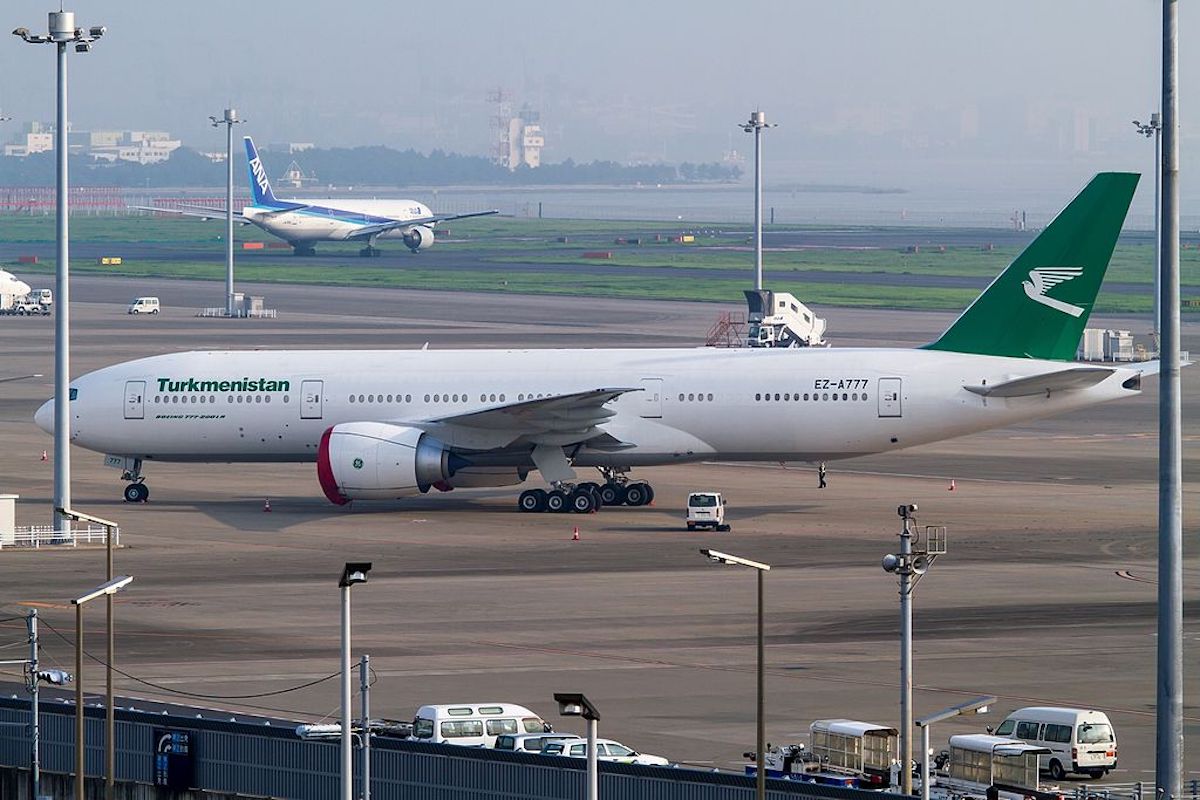 Featured image via Ken H / @chippyho
What the heck?!? Turkmenistan's 777s are the most mysterious ones since MH370.
The only thing that seems better than Turkmenistan's IT is their customer service. Skytrax gives them two stars (making them better than Air Koryo), but some of the customer reviews are hilarious:
Was booked on Turkmenistan Airlines to return to the UK after completing a work assignment in the Caspian. First of all, by their nature, the Turkmen people are standoffish. Multiply this by 20 if they wear any form of uniform, so going through Ashgabat Airport is not an enjoyable experience. The aircraft, a Boeing 777, looked fairly new and as I was flying Business Class I had high expectations. The cabin crew were emotionless and stilted when I was shown my seat, and I was offered a plastic cup of water or Pepsi as a pre-flight drink. I asked if there was any Champagne but was told "No -a lcohol is not allowed" There were only 6 pax in Business Class, but Economy was full. Crew were very lax completing pre take off safety checks, and we took off with 2 passengers with their seats in lay flat bed mode. The minute the wheels left the tarmac the crew released their seat belts and started walking around the galley and cabin. There are large seat back TV screens, but there is no entertainment onboard. Food is served piping hot, but is so bad that it is inedible. Around an hour into the 6 hour flight a male FA plonked himself down in the empty seat across the aisle from me, reclined the seat and then watched a movie on his smart phone. When the seatbelt sign came on for landing at Birmingham the crew went through the motions of pre-landing safety checks, but did not ensure that seats were upright or that window blinds were open. One stewardess was still walking around the galley when we landed. Avoid flying with them if possible!
Where do I sign up?!?!
IS THIS AIRLINE FASCINATING OR WHAT?!?
So, anyone have any insights here? Where exactly do Turkmenistan's 777s fly? What is their 757 and 737 business class like? How the hell does this airline sell tickets if the only way to book is their terrible website? I'm ready to fly these guys in a heartbeat from London to Bangkok, or something!