Yesterday British Airways revealed their new Club Suite, which is the name of their all new business class product. It looks great, though the bad news is that it's going to be quite a long time before a significant number of planes feature these seats.
Routes with British Airways' new Club Suite
For example, by the end of 2019 only six planes will feature these seats, including four factory fresh A350s, and two reconfigured 777s.
I know a lot of people are probably excited to try this product, and as of now we know the following routes will feature it:
As of October 1, 2019, the British Airways A350 will begin flying to Toronto (BA93/92)
As of October 8, 2019, the British Airways A350 will begin flying to Dubai (BA107/106)
Before that — as of July 1, 2019 — the plane will fly between London and Madrid, though the exact flights to feature the plane haven't yet been revealed. I do think it's safe to assume that the cheapest way to try the new business class product will be on the London to Madrid route (at least to experience the hard product, as the soft product will be the typical intra-Europe one).
Best fares for British Airways' Club Suite
I'm sure I'm not the only one who is keen to try British Airways' new A350 business class on a long haul flight, so what are the best options as of now?
Well, British Airways has some good business class fares from London to Toronto, starting at ~$1,860 roundtrip around Thanksgiving.

If you're looking for better fares at other times of the year, there are roundtrip business class tickets from Inverness to Toronto starting at just ~$1,671.
While British Airways doesn't have good one-way fares, they will generally let you book one direction in business class and one direction in economy, which can represent a good deal.
For example you could fly from Inverness to Toronto with the outbound in business class and return in economy for just ~$1,172.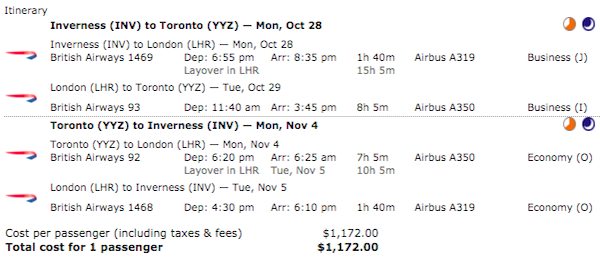 If none of those sound appealing, Cairo is always a reliable option, and roundtrip business class fares from Cairo to Toronto are ~$2,228.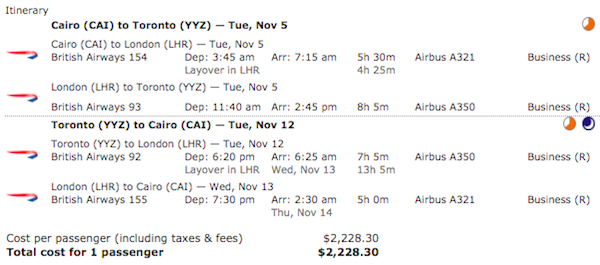 Or you can try a similar trick and book Cairo to Toronto with one direction in business class and one direction in economy for ~$1,453.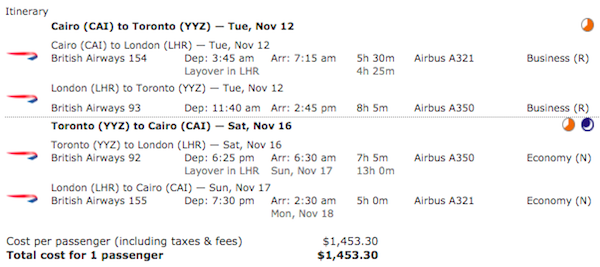 You can find these fares on ITA Matrix and Google Flights. Sadly for those of us based in North America, I don't see many good business class fares departing Toronto as of now. However, British Airways often has fare sales, so if you're patient I'm sure some deals will pop up.
Anyone have plans to fly British Airways' new A350, or know of any other great fares?
(Tip of the hat to God Save the Points)