Given that I'm originally from northern Ohio, I was pretty excited when the Bar Symon restaurant joined the Priority Pass lounge network this spring. I get back that way fairly often with my family, so having a place to grab a "free" bite to eat can save us a fair amount of money.
I've now had the chance to visit twice, and had an enjoyable experience both times. I really like the restaurant "lounge" concept that Priority Pass is creating, and it has definitely saved my family a nice chunk of change given how much my kids eat. This really gives us a ton of value, and reinforces why we hold a credit card with lounge access.
Bay Symon location and seating
Bar Symon is centrally located near gate C6, which happens to be on the way to the United gates. But since the Cleveland airport isn't all the big, and all of the concourses are connected airside, it's pretty convenient to all of the gates. I've marked the location of Bar Symon using a red arrow on the map.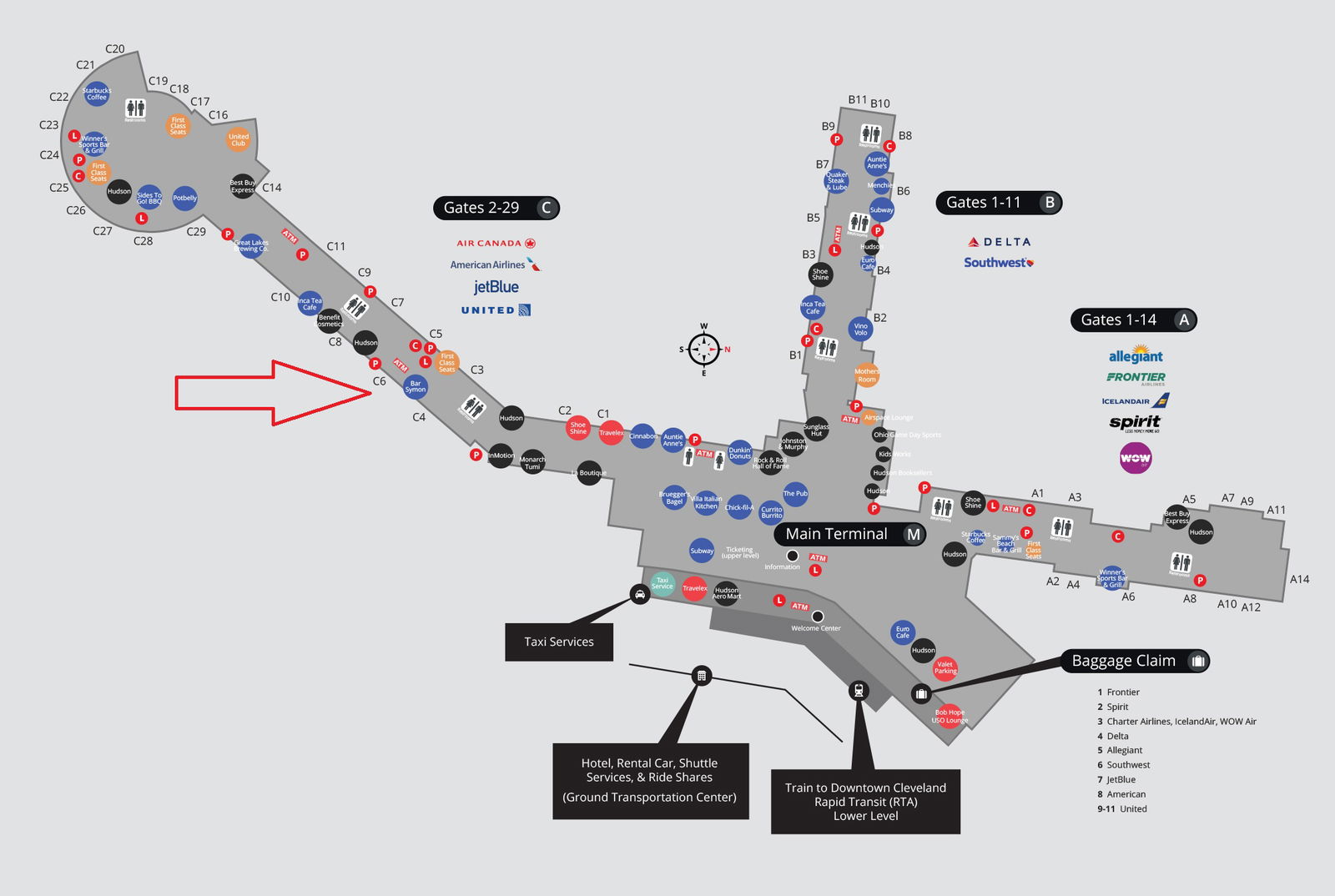 Bar Symon location in the Cleveland Airport
A large Priority Pass sign welcomes you to Bar Symon as you approach from the security checkpoint.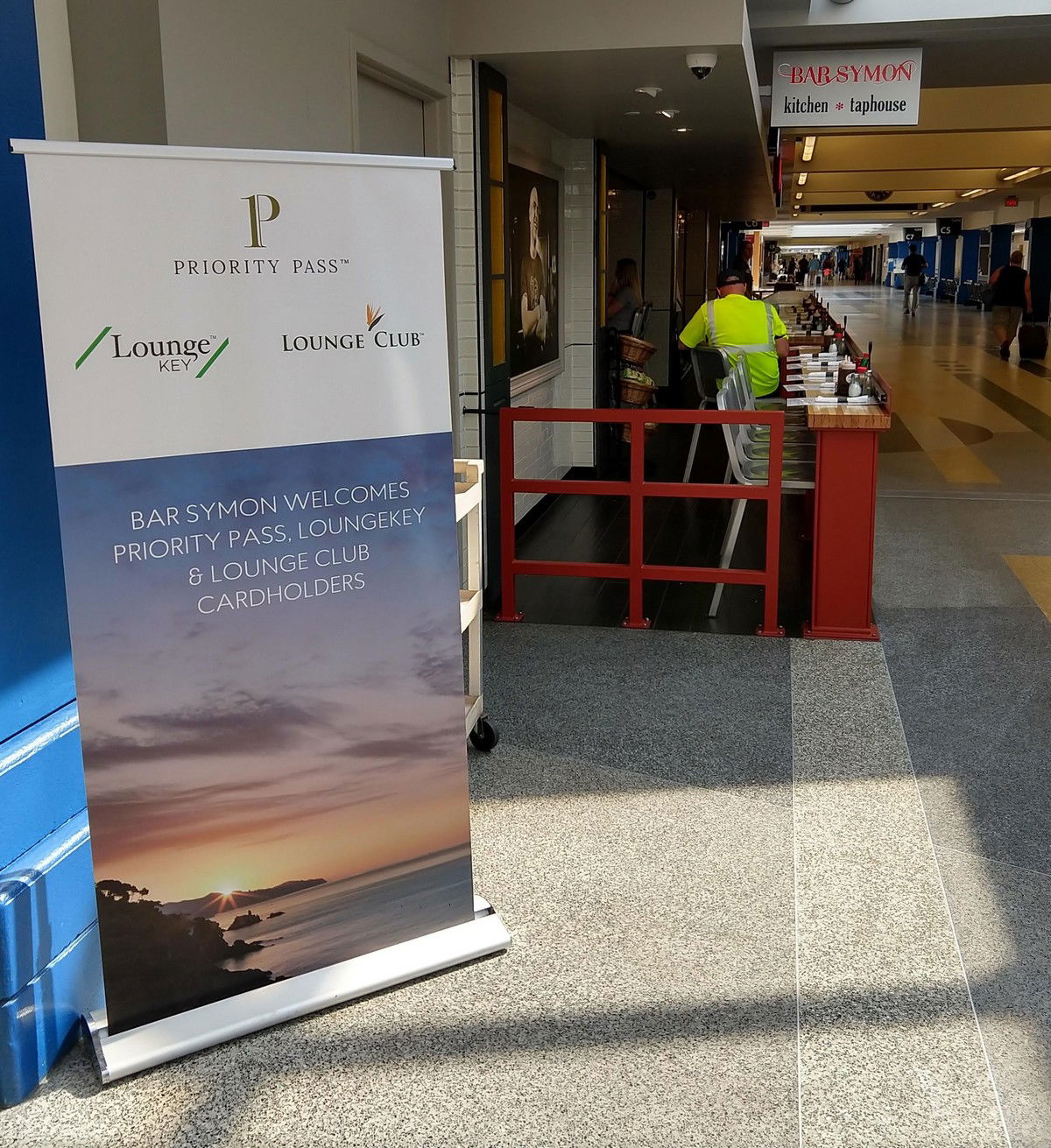 Bar Symon Cleveland Airport
There are roughly three seating areas at Bar Symon, including the bar, a "rail" out front, and then a reasonable number of tables. We were there in late afternoon and the place was fairly quiet, at least compared to Timberline Steak and Grille, which we regularly visit in Denver.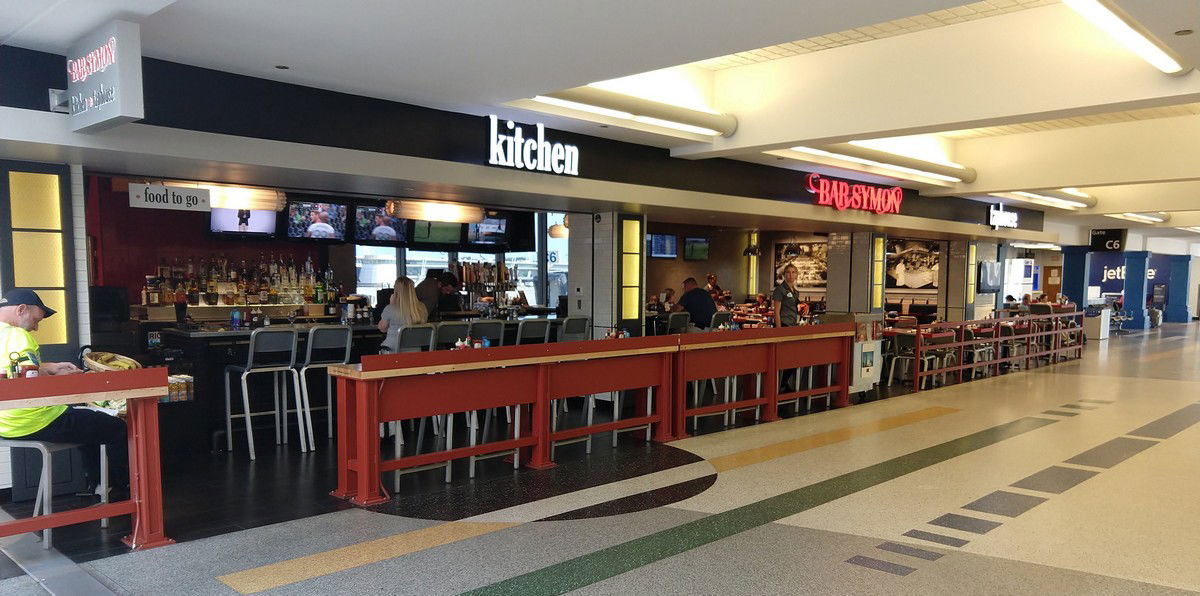 We walked up to the hostess station to request a table. There are some additional Priority Pass signs there, and a handout explaining the policies.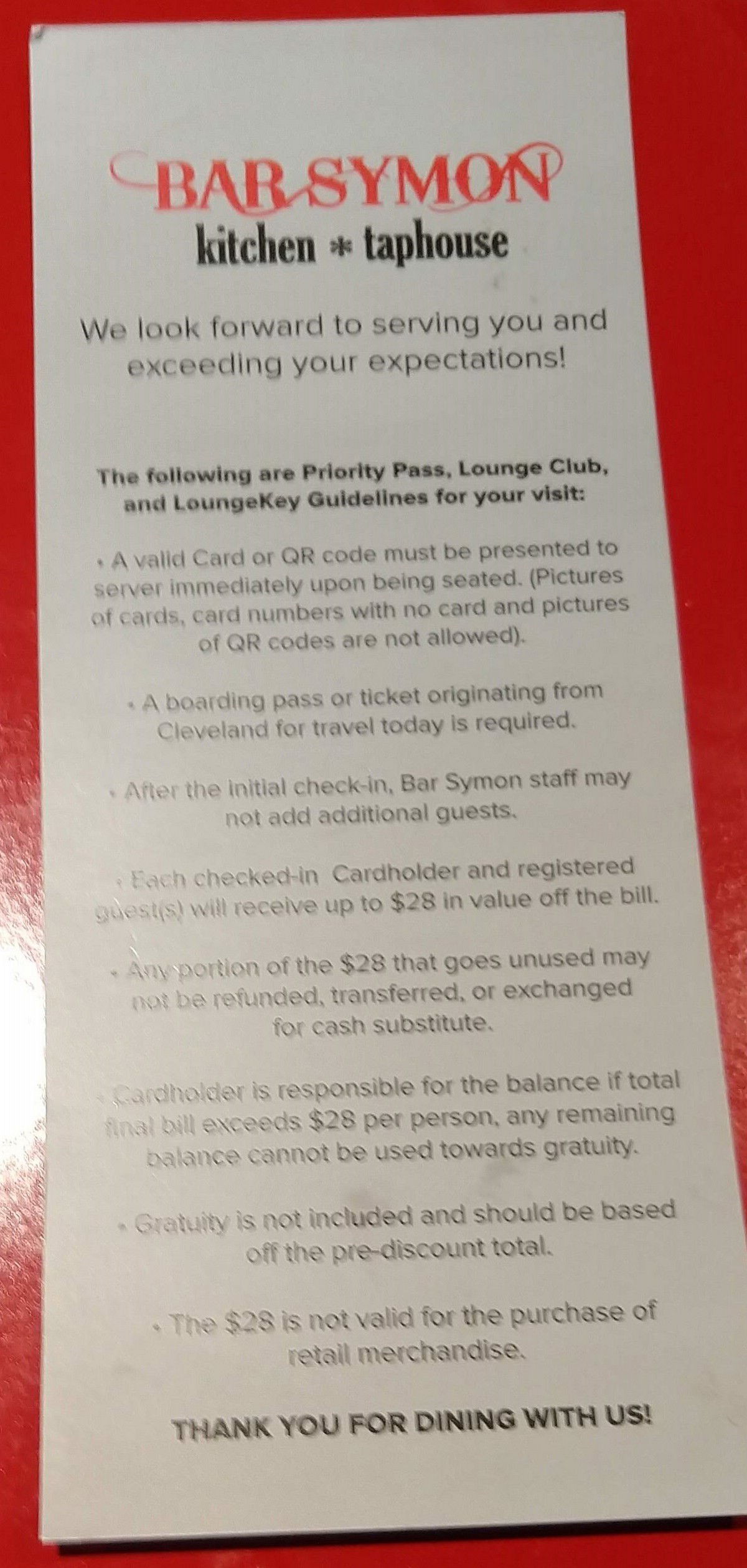 Bar Symon Cleveland Airport
I advised her we'd be using Priority Pass and she said our server would check us in.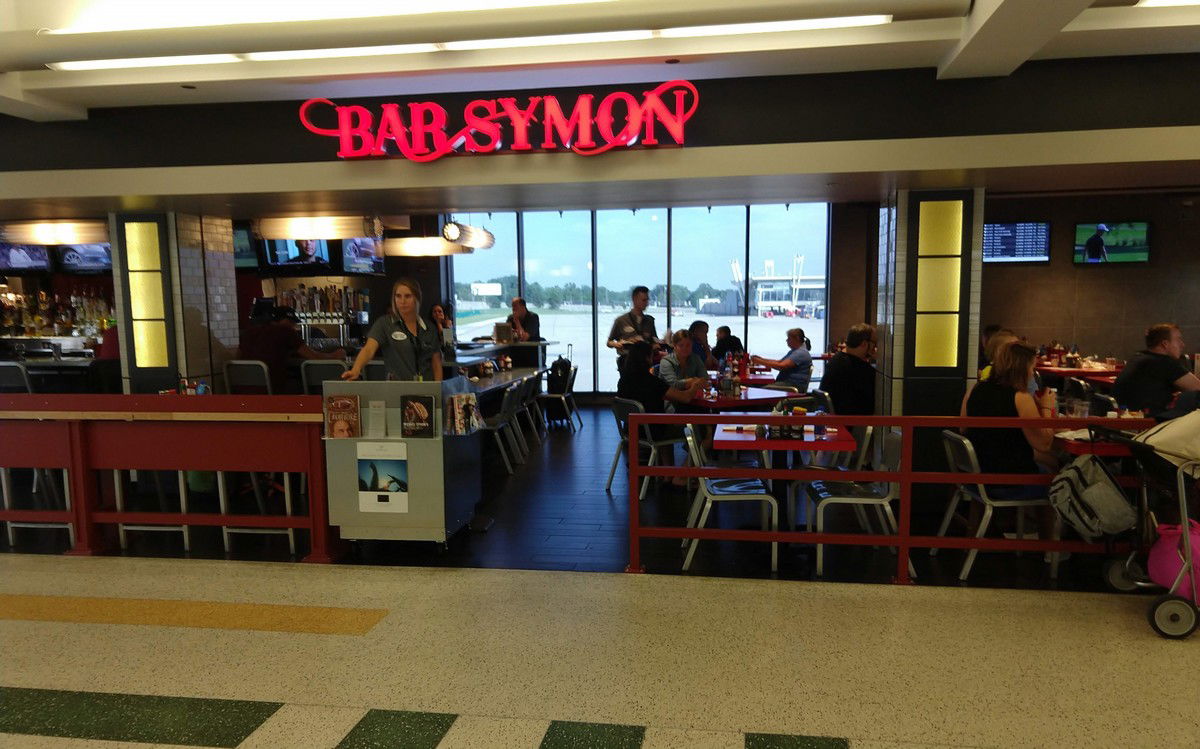 Bar Symon Cleveland Airport
We were seated along the side wall, which was great as it gave us some containment for the kids. For those needing to charge their devices, I noticed that the front rail had a power outlet at each seat. There were also power outlets under the side bench where we were sitting.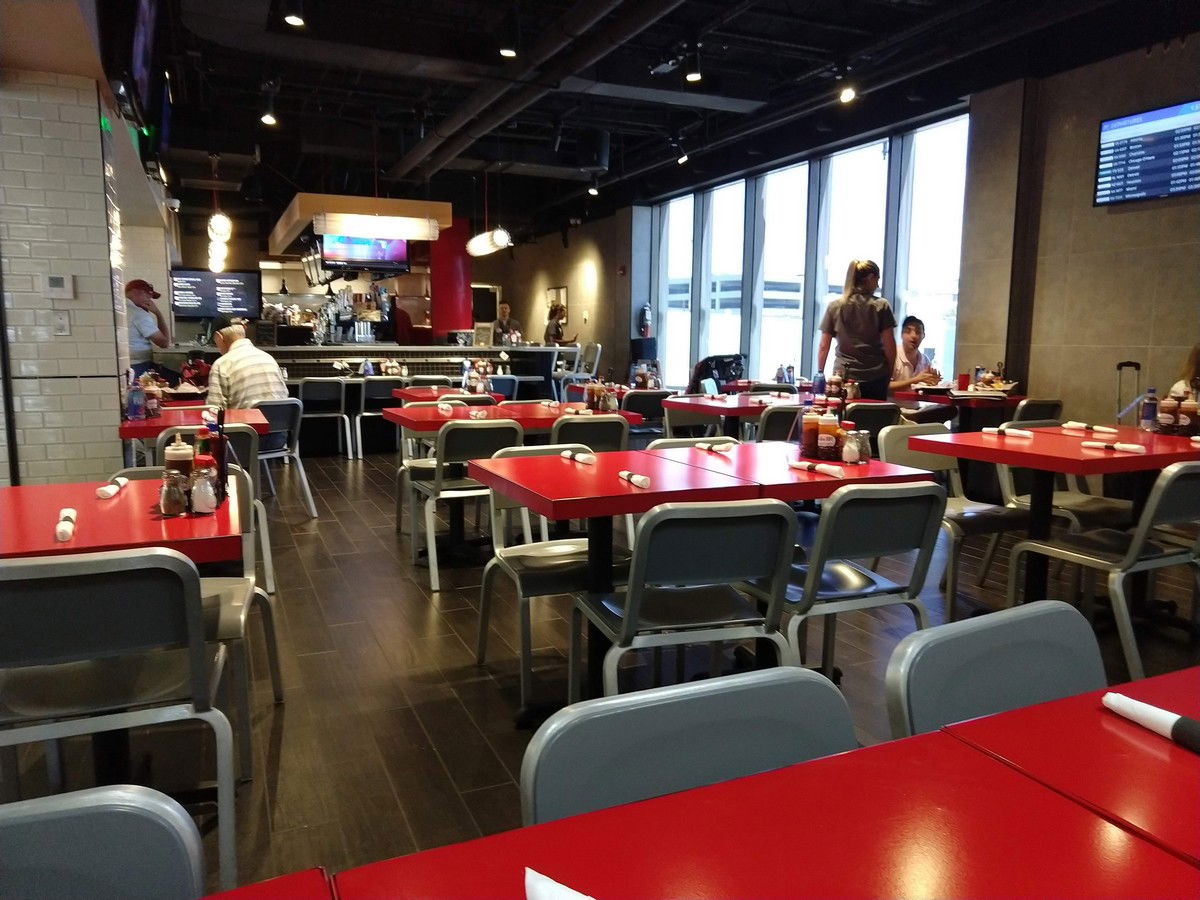 Bar Symon Cleveland Airport
It's worth noting that you need to show a same-day boarding pass for a flight originating in Cleveland, and they do check this. I showed my mobile boarding pass and then advised that I'd have four family members as guests. She didn't ask to see their boarding passes. Since United de-hubbed Cleveland following the merger, I doubt that many passengers connect there anymore.
That said, the guy next to us created some confusion by telling the server that he didn't have his connecting Southwest boarding pass yet, given that he was inbound on a Frontier flight. (That sounds like some crazy itinerary I would book!) She didn't seem to know if that was acceptable, and given that the rules state that you have to have a ticket originating in Cleveland, I suppose someone could argue that visiting during a connection doesn't count.
So my advice would be to just show your departing boarding pass, and not mention that you are a connecting passenger. I mean, your connecting flight is originating in Cleveland, even if you, the passenger, are not. I'm not sure how it played out for the guy.
Bar Symon menu
The menu at Bar Symon is relatively limited, and felt a bit random. For example, they have about four flavors of gourmet fries, but only one dish that I would call an entree. Nothing wrong with that of course.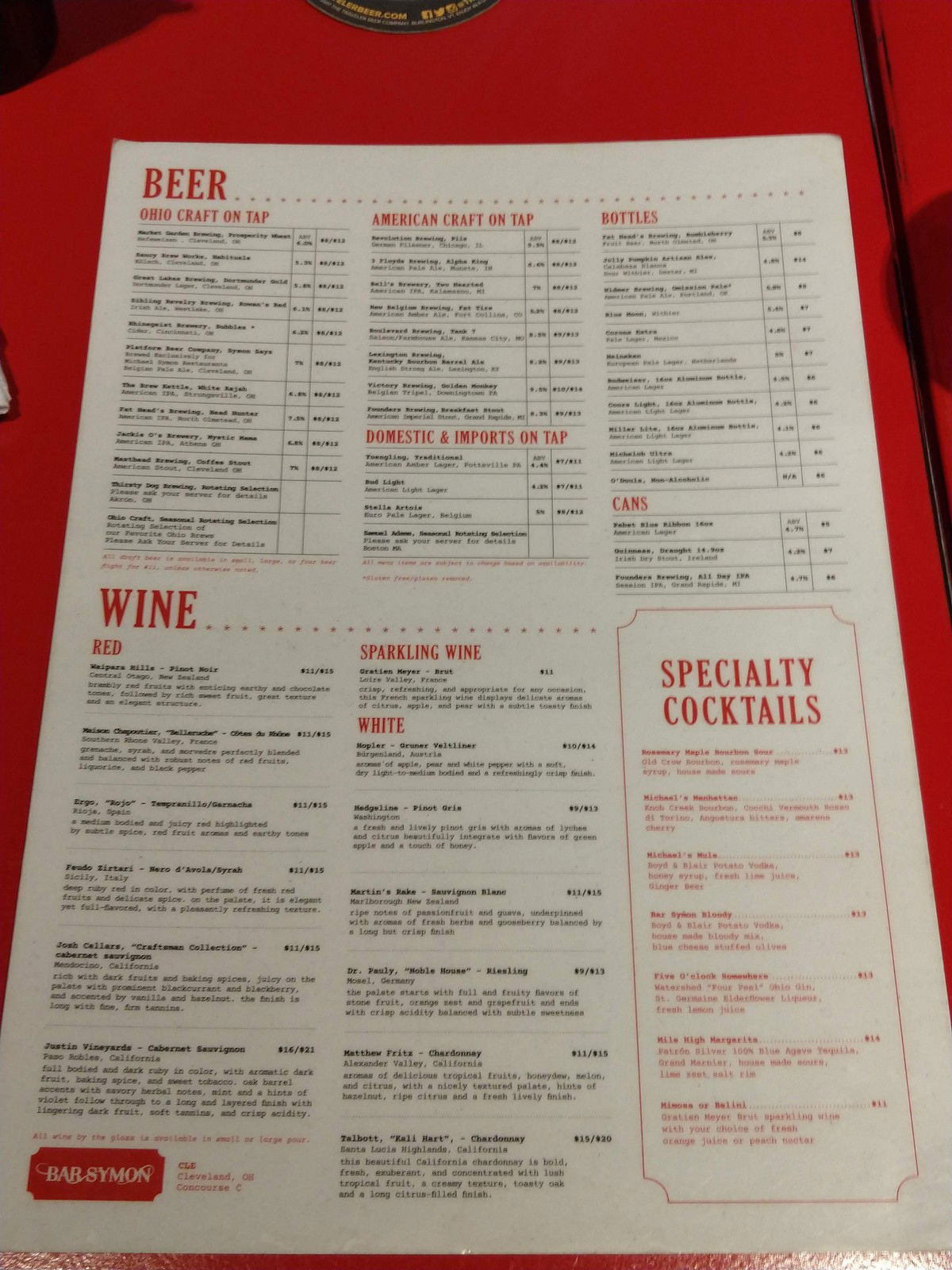 Bar Symon Cleveland Airport menu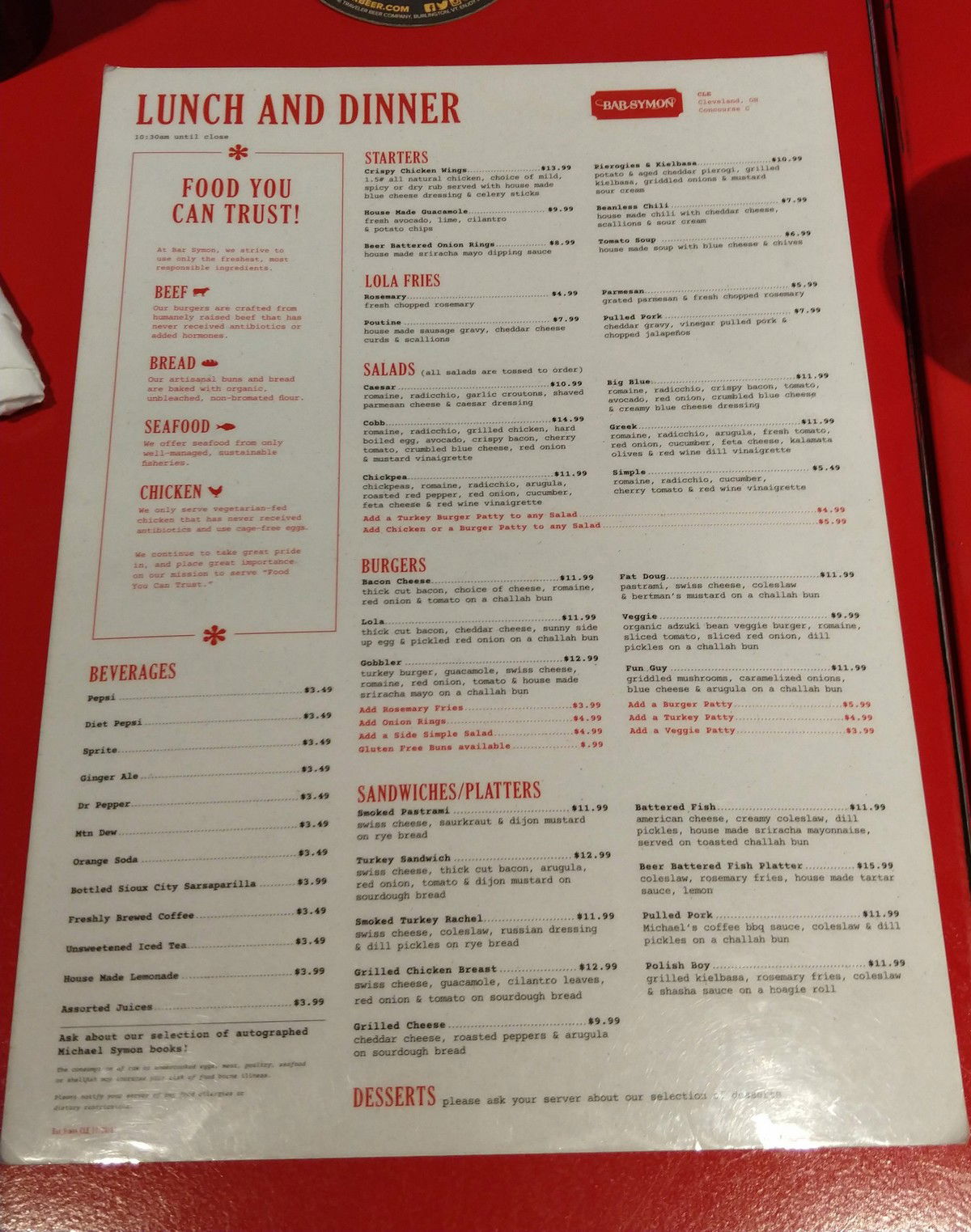 Bar Symon Cleveland Airport
On our first visit, we started with the wings, which can come in various levels of spiciness. I ordered them mild, but my kids informed me that they are still a bit spicy for their tastes. Fair enough, that means more for me.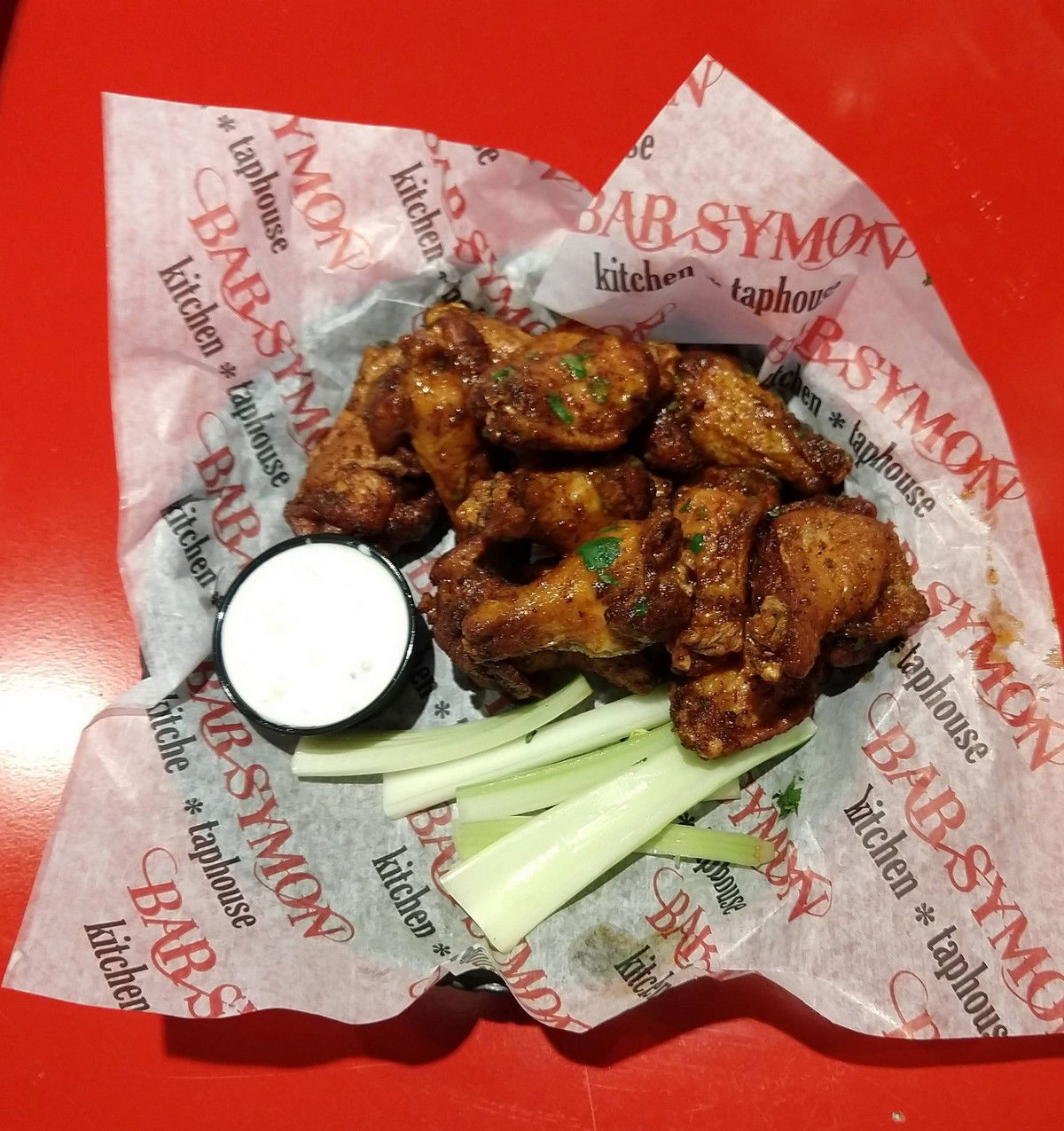 Bar Symon Cleveland Airport wings
On another visit, we ordered the poutine fries as a starter. I've been to Quebec enough to know what poutine is, but not enough to be an expert. Still, in my mind at least, they were fantastic.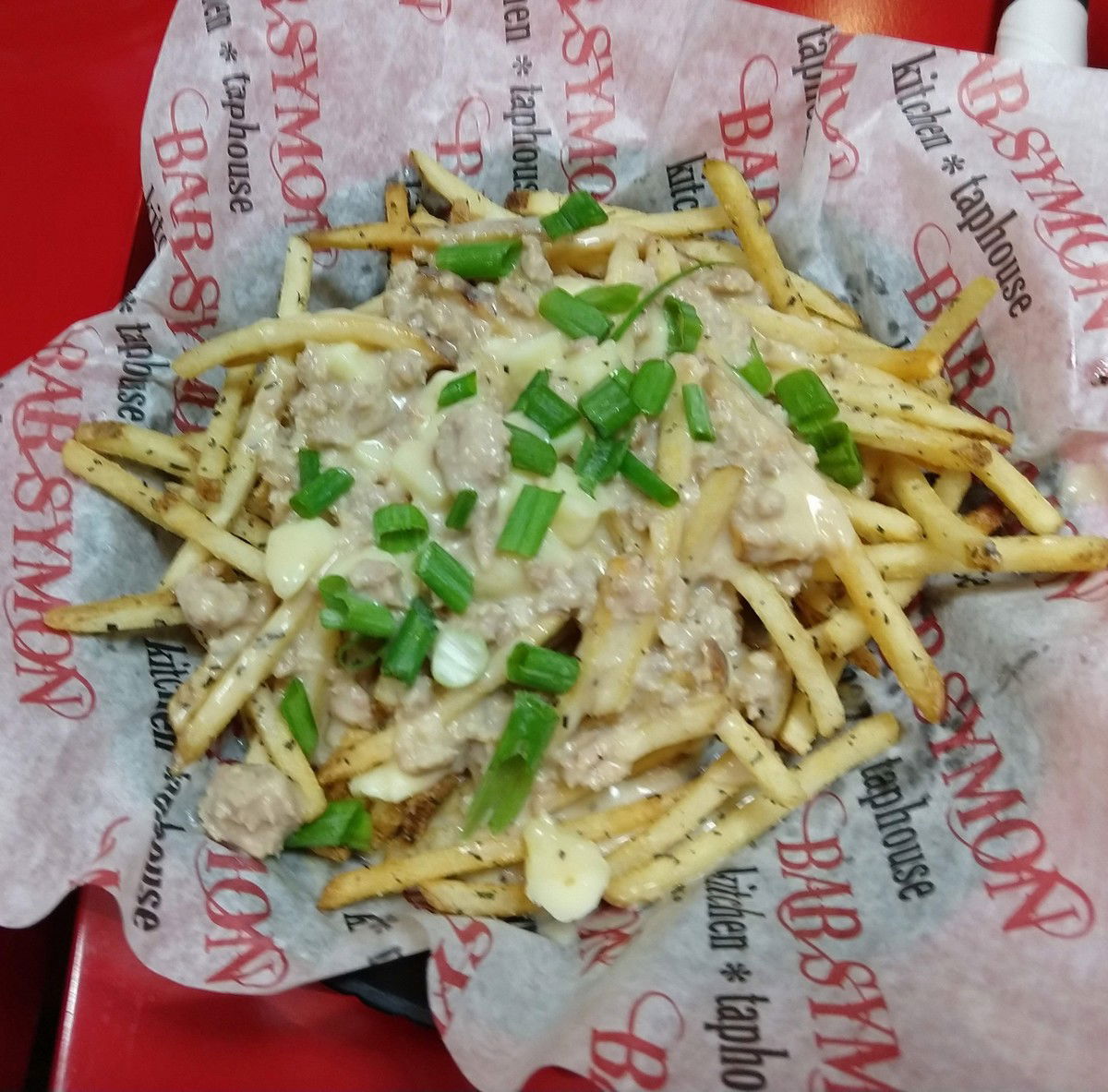 Bar Symon Cleveland Airport poutine fries
On one visit, I had the BBQ pulled pork sandwich, which comes with slaw on top. It's a generous pile of meat, and oh so good.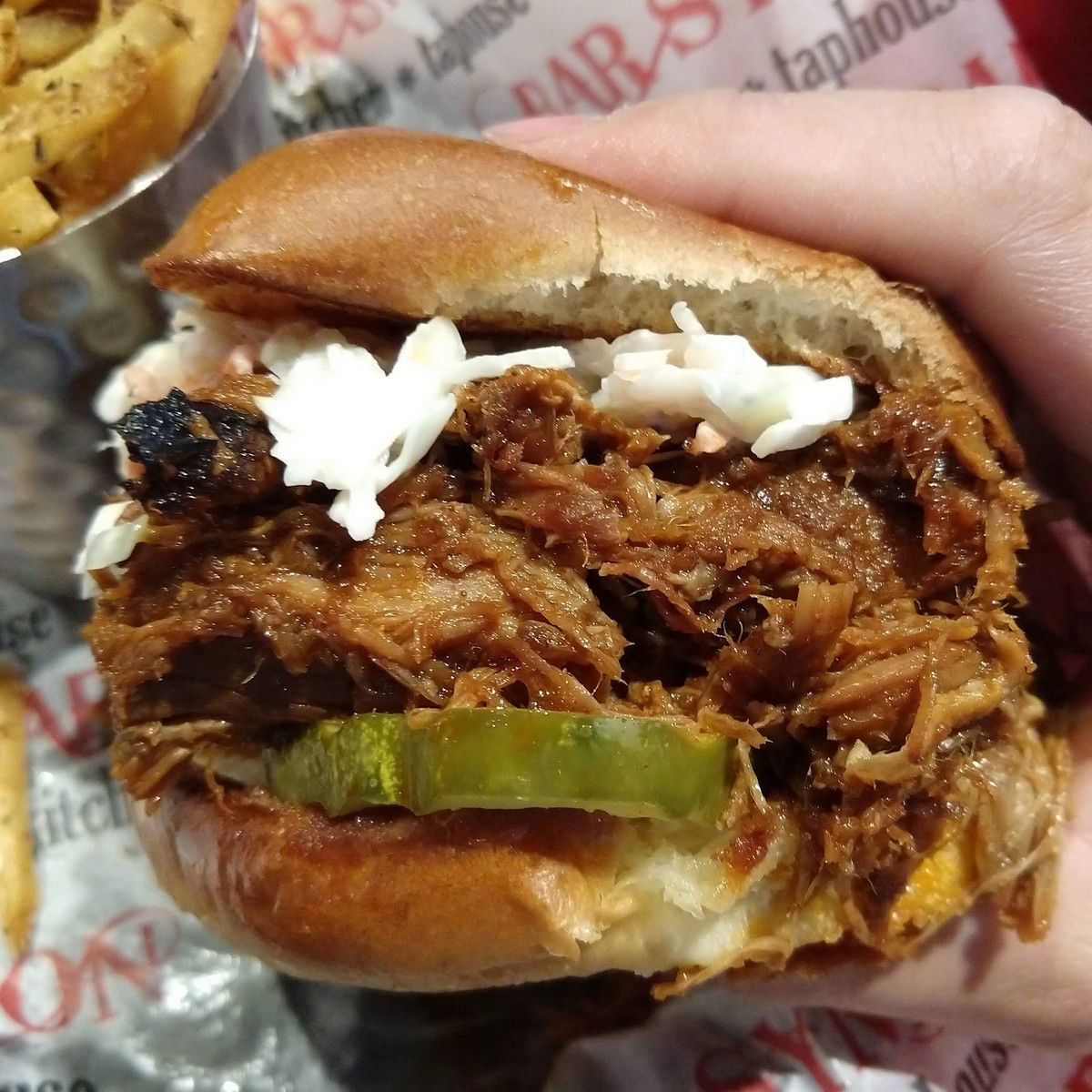 Bar Symon Cleveland Airport pulled pork sandwich
The second time I decided to have the beer battered cod, which was also fine, though nothing special.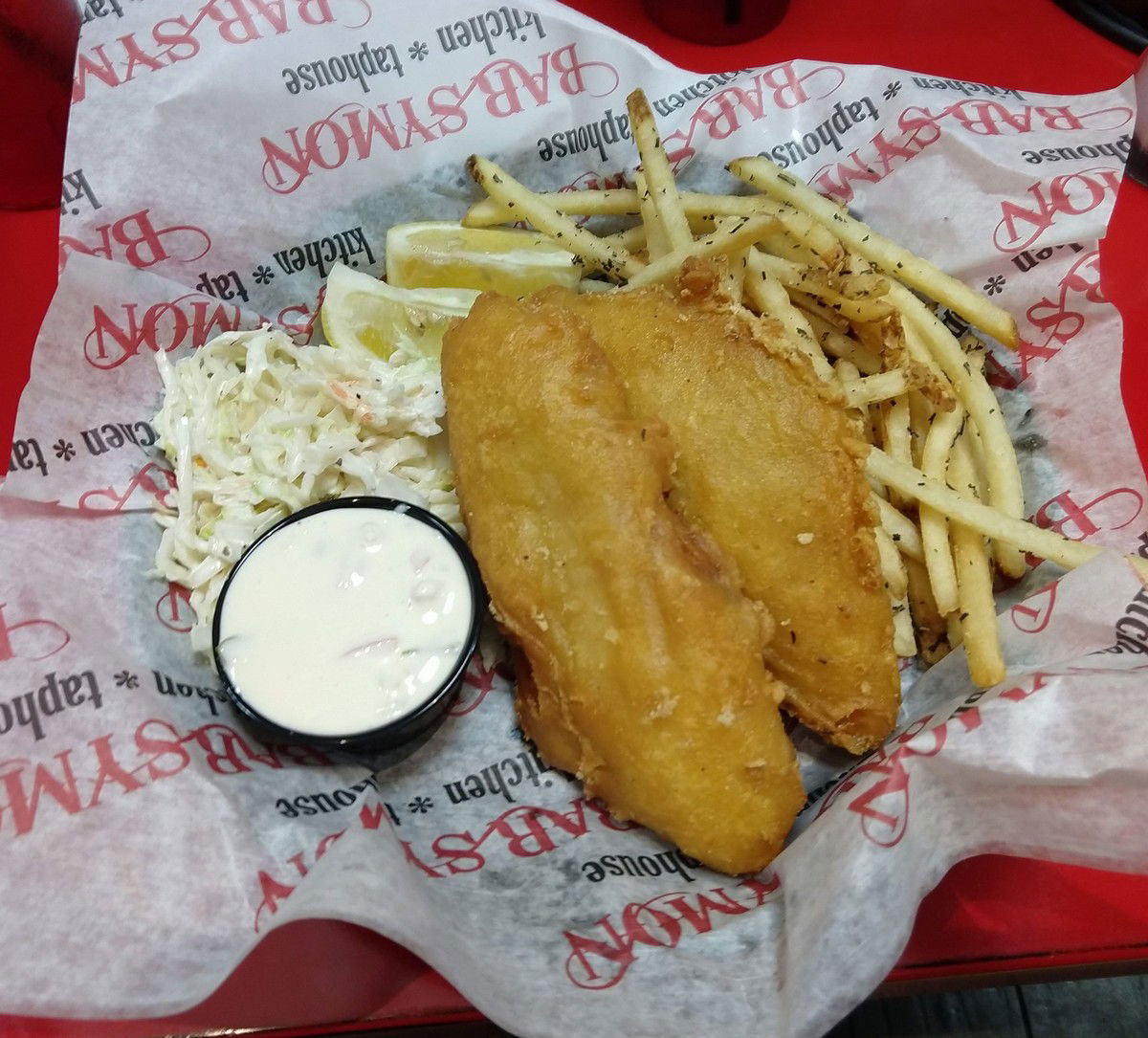 Bar Symon Cleveland Airport fish platter
My wife had a salad with a burger on top.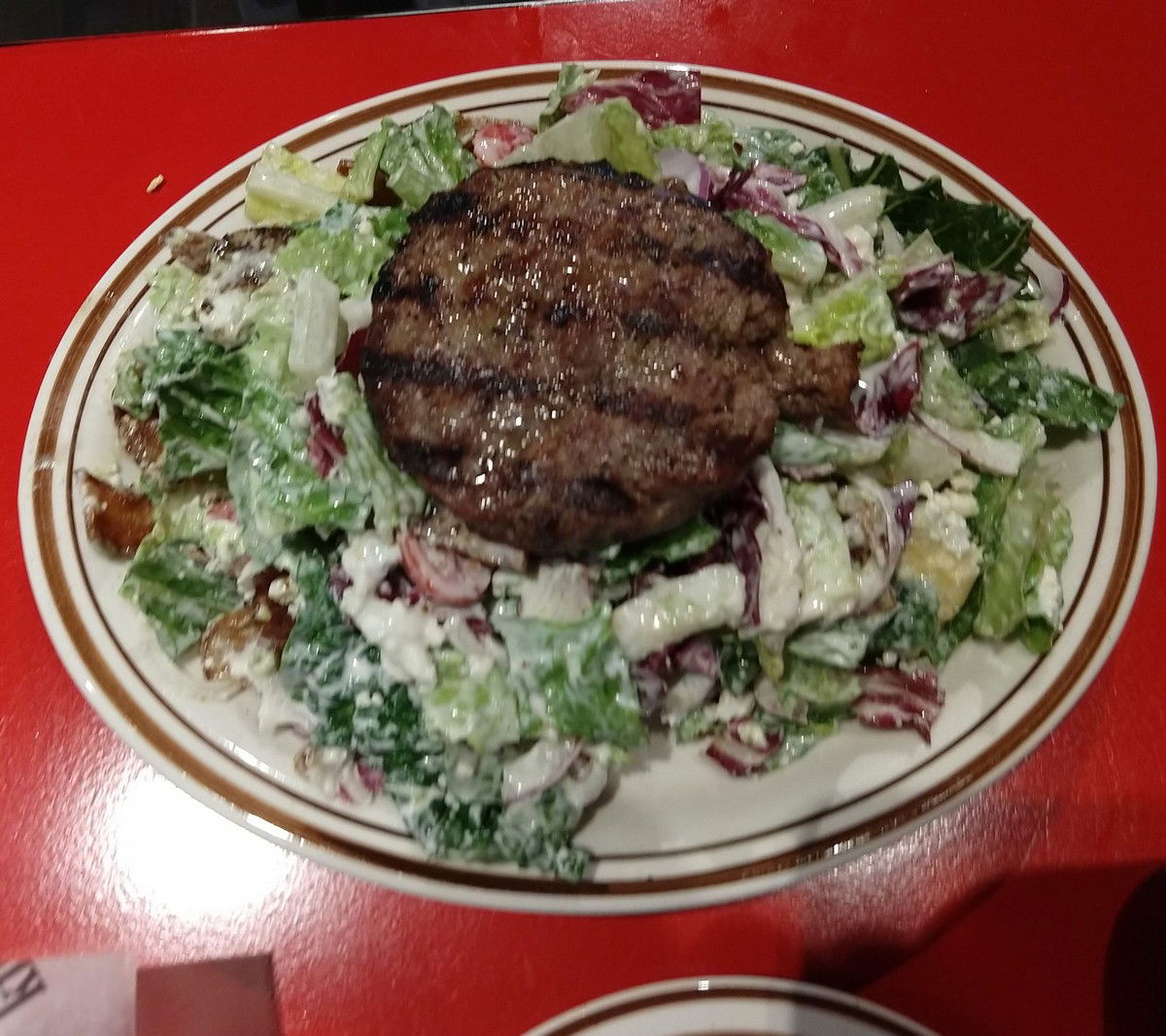 Bar Symon Cleveland Airport salad with burger patty
There's no kids menu, but there is a grilled cheese sandwich on the regular menu. We got one of those and a burger for the kids. But $9.99 for a grilled cheese sandwich?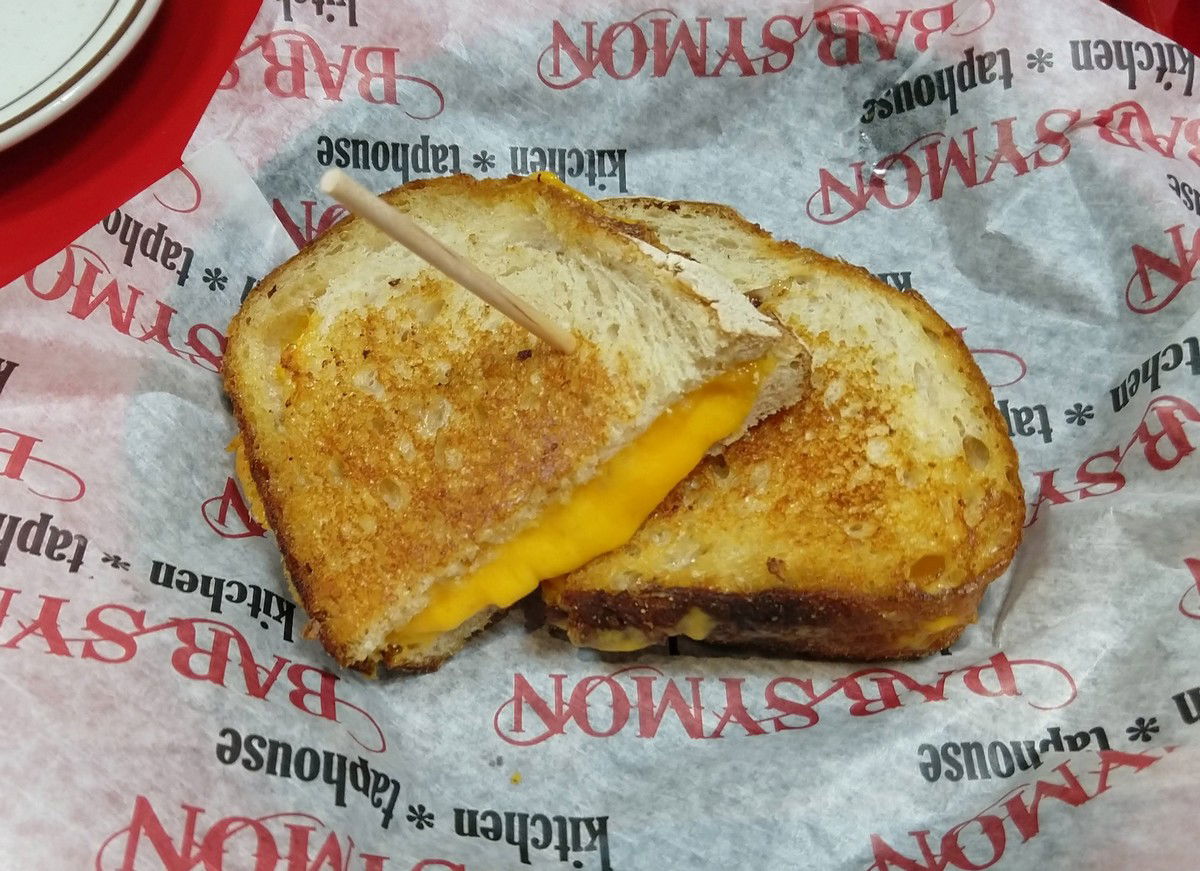 Bar Symon Cleveland Airport grilled cheese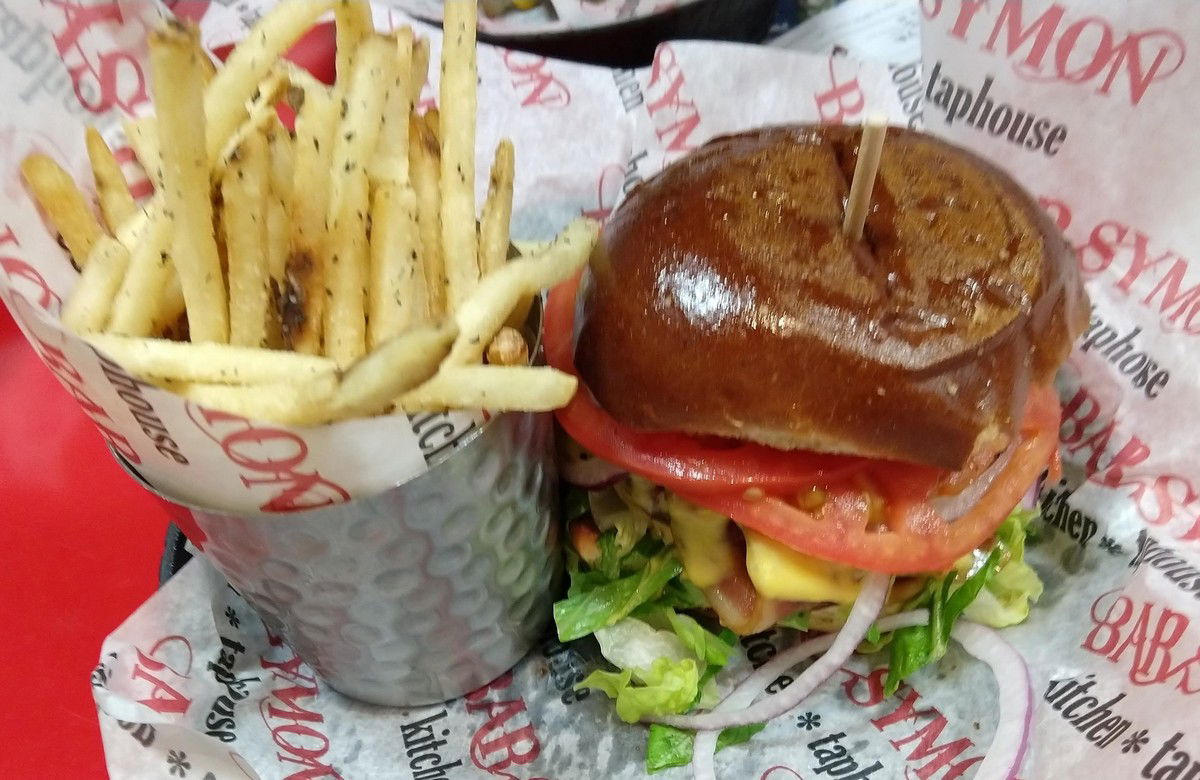 Bar Symon Cleveland Airport burger
They have some special sauces, and notably Bertman ball park mustard, the latter of which is historically a big deal in Cleveland. They also have Fiji water bottles on the table, presumably so that you can conveniently grab a bottle for the plane. I'm not sure if they consider that a retail item, and thus not eligible for purchase using Priority Pass.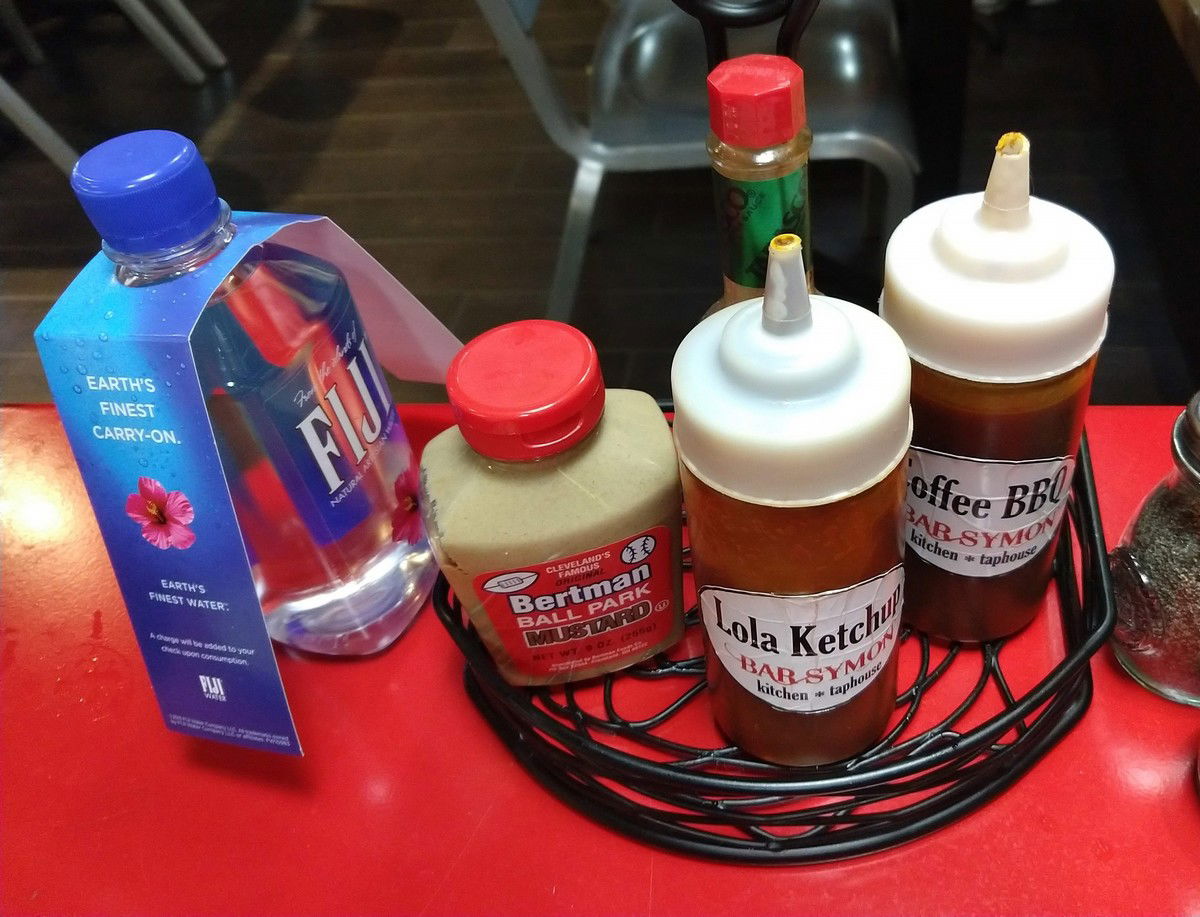 Bar Symon Cleveland Airport
On one visit, my son wasn't feeling very well and said he wasn't hungry. Knowing that he'd probably get hungry later while we were driving, we asked if we could order something to go for him. Our server said that was fine. I'm not sure if you can place a purely to-go order and charge it to Priority Pass, but it seems like you can at least add a to-go along item onto your regular tab.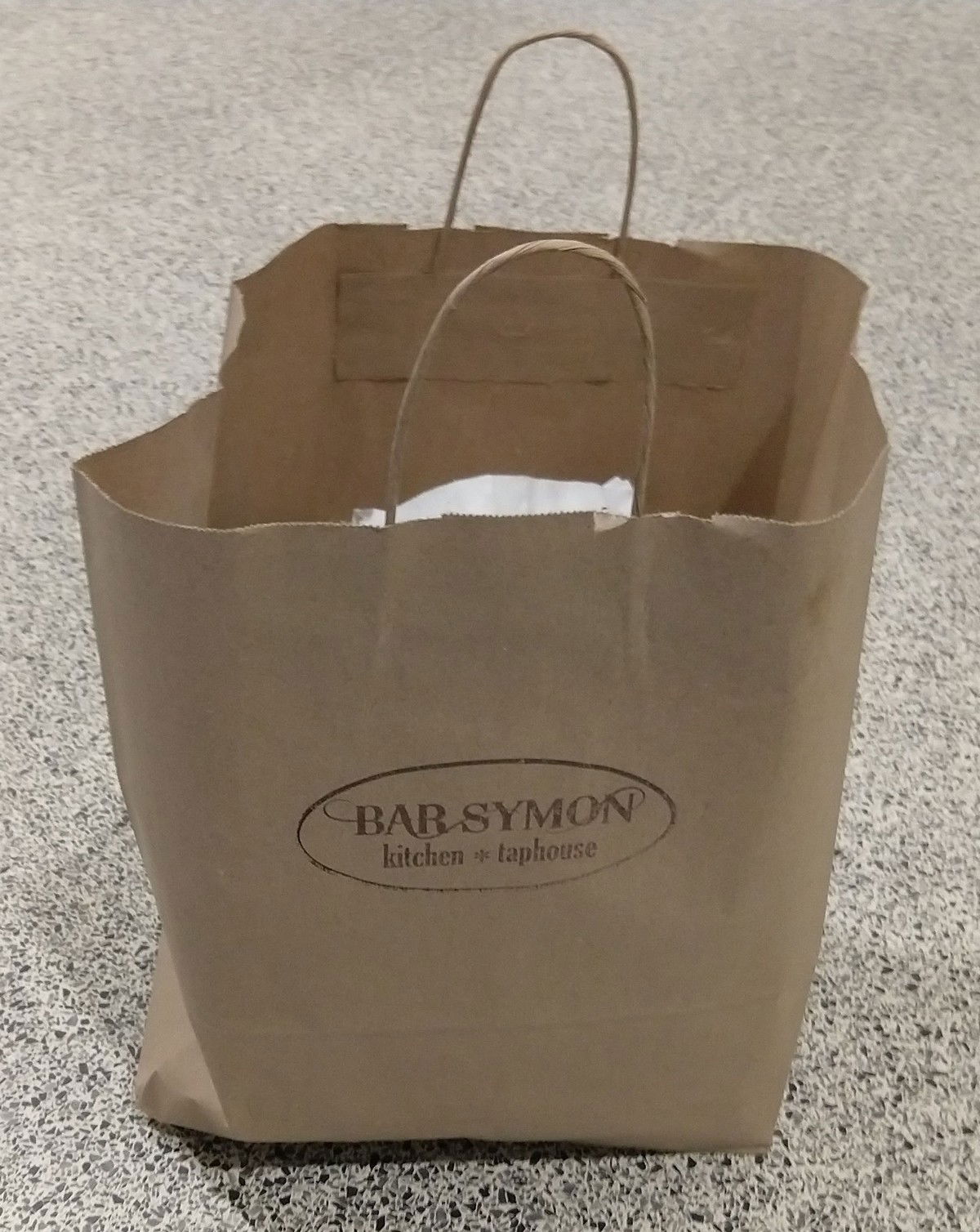 Bar Symon Cleveland Airport
We're not big drinkers, so I just had an iced tea. At $3.49, or $3.99 for lemonade, I think the price is a bit steep, but whatever.
When the check came, our Priority Pass discount had already been applied, leaving a $0 balance. The odd part was that the Priority Pass discount was for $23 per person, not $28.
It didn't matter to us, because we didn't use our full allowance anyway. But if you were close, I'm not sure how it would work. I imagine that the $23 is the reimbursement that Bar Symon receives from Priority Pass, but it still seems like it would cause an accounting error if you were trying to zero out the balance. (And do they realize that other Priority Pass restaurants are getting $24? Maybe they should negotiate harder next time!)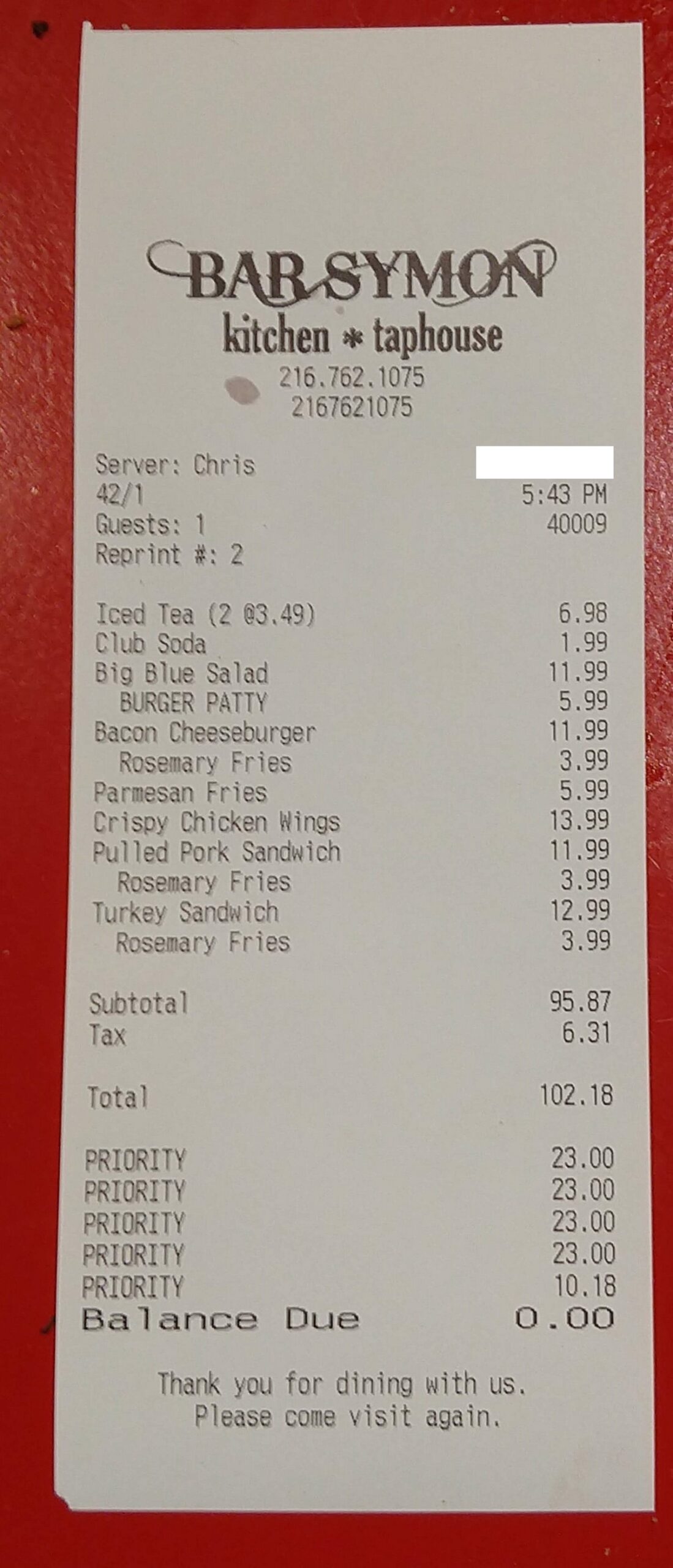 Bar Symon Cleveland Airport
Of course, you should always tip on the actual amount, regardless of whether you are using Priority Pass.
Bar Symon Cleveland Airport bottom line
I have now visited the Bar Symon restaurant at the Cleveland Airport on a couple of occasions and found it to be perfectly fine both times. The food is good and the service is reasonably fast. The prices are a bit high in my opinion — like charging an additional $4 for fries on top of a $12 burger — but with Priority Pass picking up the tab, I don't much care.
I'm really enjoying these restaurant concepts that Priority Pass is introducing, and look forward to visiting more of them in the future.
Have you been to Bar Symon at the Cleveland Airport?