Brazilian airline Azul has just announced their third US destination, New York.
Azul launching Viracopos to New York flight
As of June 15, 2020, Azul will begin flying daily between Viracopos and New York JFK. The ~4,700 mile flight will operate with the following schedule:
AD8700 Viracopos to New York departing 8:30PM arriving 5:30AM (+1 day)
AD8701 New York to Viracopos departing 11:30PM arriving 10:30AM (+1 day)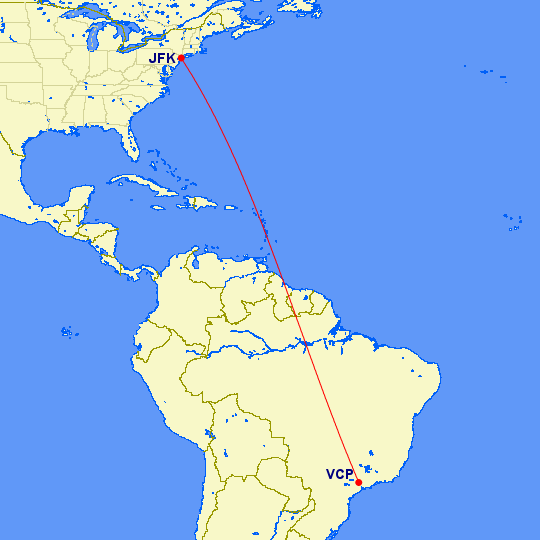 The new flight is already on sale. Azul has a partnership with JetBlue, United, and Air Canada. So if you are looking to redeem miles for travel on Azul, then booking through Air Canada Aeroplan is the best option. Fortunately Azul also has fairly reasonable paid fares, including in business class.
Azul's current US destinations include Fort Lauderdale and Orlando — the airline flies to Fort Lauderdale from Belém, Belo Horizonte, Recife, and Viracopos, and to Orlando from Belo Horizonte, Recife, and Viracopos.
An inefficient schedule
While it's pretty standard for airlines to operate double redeyes between the US and Brazil, the aircraft utilization on this route is especially bad, with the plane sitting on the ground in New York for 18 hours.
I'm surprised they don't at least push the Viracopos to New York flight back by a few hours, and the New York to Viracopos flight forward by a few hours, so that the plane is "only" on the ground in New York for 12 hours, rather than 18 hours.
My guess is that the difference in utilization isn't a huge deal here:
Azul uses their long haul fleet pretty inefficiently to begin with, so odds are that the plane would otherwise just be sitting on the ground in Viracopos during the day (though I imagine it's still cheaper to park there than JFK?)
Presumably the schedule is based around maximizing connection opportunities in cooperation with JetBlue
Azul's A330s
Azul operates a long haul fleet consisting of A330s, including A330-200s and A330-900neos. Azul has staggered business class seats on their A330-200s, while their A330-900neo business class is similar to TAP's.
Bottom line
It's cool to see Azul expand their US service beyond Florida. I've been meaning to fly Azul for quite a while, so I'm hoping to do that soon. I can fly them in one direction to Viracopos, then head to Sao Paulo and maybe return to the US on LATAM's reconfigured 777.
Has anyone flown Azul before? What was your experience like?