Arguably the best way to earn points in the US is through credit cards, be it through sign-up bonuses or earning bonus points through everyday spend.
While the US and Australia are culturally similar in many ways, credit cards isn't one of those ways. In the US, credit cards have become almost globally accepted, and in many cases credit card surcharges are even in violation of merchant contracts.
Australia is different, however. Not only are credit card surcharges commonplace, but they're actually a profit center for many companies. Many companies don't just pass on the cost of using credit cards, but actually profit off the use of them.
Perhaps the worst culprits are airlines, which in some cases charge insane fees. Take Jetstar, for example. They accept credit cards, but booking and service fees apply.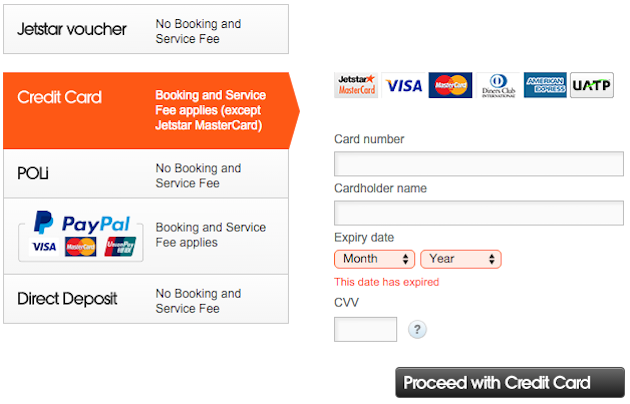 Just how bad are the fees? Even on a flight which costs $49, the online booking and service fees are $8.50. That's a whopping 17% credit card surcharge.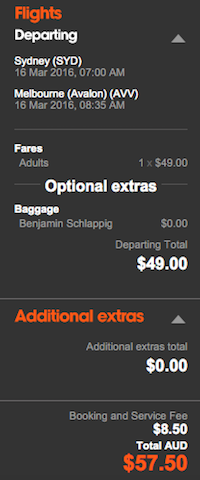 Other businesses are a bit more reasonable. For example, Hilton charges a 1.5% fee for credit card payments, which seems more in line with their cost of accepting them.

Well, it seems like consumers in Australia have had enough, and laws will be changing. While Australia won't quite match the US, to the point that there are virtually no credit card fees, Australian credit card fees will be regulated by the government.
Via The Sydney Morning Herald:
The Competition and Consumer Amendment (Payment Surcharges) Bill 2015, passed in the Senate on Monday, will instate tough new laws to end excessive surcharges on card payments.

The statement labelled card and other electronic payments as "critical for the efficient operation of the economy".

The new laws will ensure customers are only charged according to the true amount of a merchant's costs in accepting payment.
What hasn't yet been determined is what's considered "excessive," though guidelines for that should be set soon:
Specific details on how much a merchant is permitted to charge per electronic transaction are yet to be determined, however the ban will work in tandem with Reserve Bank of Australia Payments System Board standards that will set the permitted surcharge.
Bottom line
This is fantastic news for those in Australia (or those who travel to Australia), because under the current system you get penalized for using credit cards. The new system will be a huge improvement, but you'll still basically be paying for the "right" to use a credit card. In the US when I put a charge on a credit card, there's no direct cost to doing so (other than the overall increase in costs caused by higher merchant fees, though those paying cash and those paying by credit card are subsidizing that equally), which won't be true in Australia.
But this is still a huge step in the right direction for Australia.
So, who's excited about this new legislation?