Amex has announced an interesting change in strategy that may have some long term effects for both merchants and consumers. Historically Amex has tried to position themselves as the premium card issuer, and as a result they've typically had higher merchant fees than other issuers. There are all kinds of merchant contracts that are negotiated based on a variety of factors, so this wasn't true across the board, though as a general rule of thumb it was.
Amex's logic has been that their average cardmemember is higher income and spends more, and as a result merchants should be willing to pay a little bit extra to have Amex cards accepted at their business. Some businesses buy into that, and others don't — Amex lags behind their competitors when it comes to acceptance. This is true in the US to some degree, though it's especially evident outside the US, where it's common for Amex cards not to be accepted.
Amex knows they're losing volume with this strategy, though they've historically believed that their superior margins make up for that.
It looks like the card issuer may soon be taking a new strategy, under the leadership of their new CEO. American Express is hoping to close the acceptance gap between their cards and Visa & Mastercard, and they plan to do that by decreasing merchant fees by the greatest amount they've done in nearly two decades. The Financial Times reports that Amex plans to lower their average merchant fees by 5-6 basis points, to 2.37% (this is an average, so many small businesses will still pay more, while big businesses will often pay less).
This is all according to an investor day presentation last week, where they outlined their new strategy. Here's the chart Amex uses to compare their acceptance to that of Visa and Mastercard, as well as how card acceptance has changed between 2013 and 2017: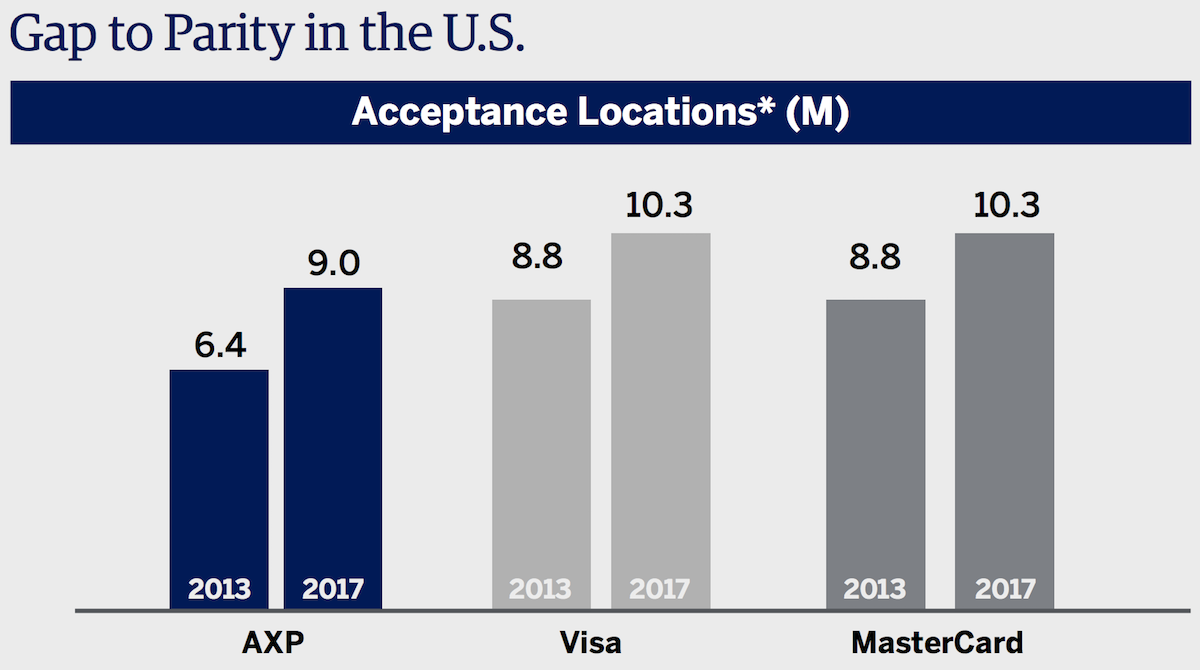 As you can see, over the past four years they've increased acceptance by about 40%, and they're hoping to close the gap with their competitors.
The natural question is whether Amex reducing merchant fees means that we could see a reduction of benefits on their cards. Their strategy here is to decrease margins but increase transactions, so long term they think this strategy will be more profitable for them. However, it's a gamble, and we don't know for sure if it will pay off.
My general inclination is that this won't lead to a reduction in benefits on Amex cards. That's because ultimately Amex's decision to provide benefits isn't driven by their merchant fees (at least not directly), but rather by their need to compete with Chase, Citi, etc. We've seen Amex make their cards more competitive lately in response to what their competitors are doing, and they didn't raise merchant fees as a result.
Perhaps short term there may be some impact, as groups are encouraged to cost cut to improve Amex's short term performance, but long term that's not a way to compete.
So we'll have to see how this plays out, though personally I'm not too worried. I welcome anything they can do to improve card acceptance.
What's your take on Amex reducing merchant fees?