My preference is always to communicate online as much as possible, rather than having to pick up the phone and make a call. I spend a lot of time in the air, and during that time I can typically use the internet, but I can't make phone calls.
Furthermore, when it comes to customer service interactions, I far prefer having an "electronic trail." By having something in writing you're less likely to deal with a situation where a company doesn't honor what you're promised.
A couple of years ago American Express eliminated their secure message center, which was basically the equivalent of an email system through the American Express website. You could send American Express a question by secure message, and they'd typically respond within a day (Chase still offers this feature, for example).

While the secure message center has been eliminated for Amex, I think it's worth pointing out that they still offers a live online chat feature, where you can chat with an Amex representative in real time.
Maybe this is obvious to many, but I've had two people contact me in the past few days who didn't realize Amex had this feature, which is why I'm writing about it.
To access the Amex live chat feature, log into your Amex account, and click on the "Help" button at the top right.

Then under the "Online" heading, click "Start Live Chat."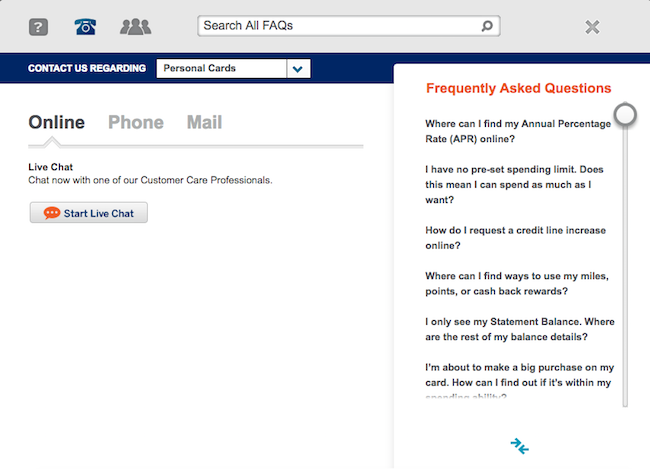 Once you click "Start Live Chat" you'll be prompted to write a sentence about your question, and then a few seconds later you'll be connected to an American Express representative.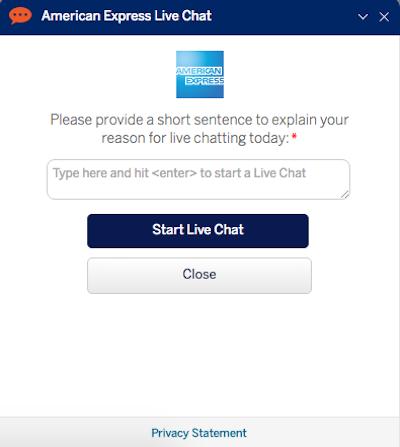 If you're trying to ask anything other than a basic question, you'll be prompted to answer a security question, so that they can verify your identity.
I find Amex's online chat to be easy to use. It's useful for canceling cards, and even for asking whether you've had a particular card in the past (since all sign-up bonuses are "once in a lifetime" now).
Bottom line
A lot of people don't seem to know about Amex's online chat feature. Or perhaps they remember hearing about the Amex secure message center closing a couple of years back, and get the two mixed up. When it comes to handling issues with my Amex account, I almost always prefer using the online chat feature rather than calling.
Do you typically handle your credit card service requests online or by phone?