There are many reasons it can make sense to have a lot of credit cards. In the case of American Express cards, one of those reasons is the Amex Offers program. In this post I wanted to take a closer look at exactly how that works (Chase has a similar program called Chase Offers, which I covered in a separate post).
What is the Amex Offers program?
With the Amex Offers program, those with US-issued American Express cards can receive statement credits or bonus Membership Rewards points for making purchases with select retailers. The types of retailers cover most industries, from shopping, to restaurants, to travel.
The list of participating retailers is constantly changing, and if you really take advantage of this program, it can potentially save you hundreds of dollars per year.
Presumably Amex runs this program as a way of engaging cardmembers, both by encouraging them to use Amex cards more, and by frequently checking the Amex website. I would also assume that at least in some cases, Amex and the retailer are splitting the cost of running the program, as a way of generating incremental business.
Which American Express cards have Amex Offers?
Virtually all US-issued American Express cards have access to the Amex Offers program. This includes:
Note that different Amex cards will have access to different Amex Offers. In my experience cards earning Membership Rewards points often have the most generous offers, while co-brand cards often have lucrative Amex Offers specific to that brand.
Tutorial: how to use Amex Offers
To access Amex Offers, log into your American Express account (either through the website or mobile app), and then scroll to the bottom. There you'll see a section labeled "Amex Offers & Benefits," which will show all the offers available on your account.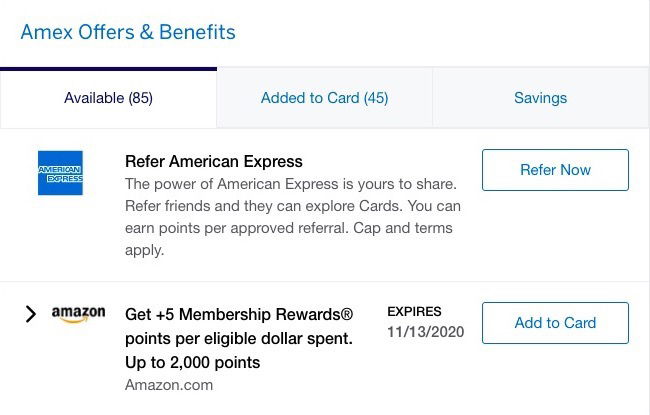 Each Amex card will have different offers, so you'll always want to look at the offers on each card. Once you're in the Amex Offers section, you can click on the "View All" button at the bottom.

This will display all the Amex Offers deals on your account, and you'll even be able to sort based on category. Categories include the following:
Featured
Shopping
Travel
Dining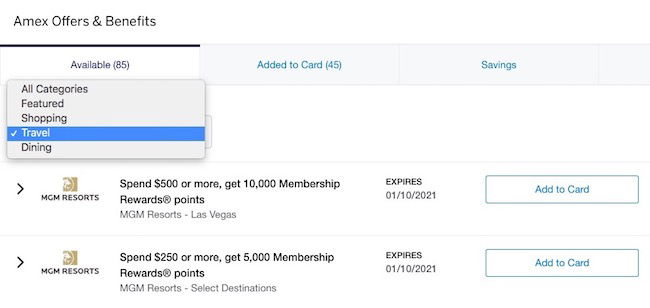 Generally speaking there are three kinds of Amex Offers deals:
Some Amex Offers are for a fixed value statement credit after making a purchase of a certain amount
Some Amex Offers are for a certain number of bonus Membership Rewards points after making a purchase of a certain amount
Some Amex Offers are for a certain number of bonus points per dollar spent, up to a certain limit
In all cases you'll need to register for Amex Offers in order to be eligible for them, so you'll want to click the "Add to Card" button for the offers that interest you (though I suggest reading the section below about maximizing Amex Offers before doing so).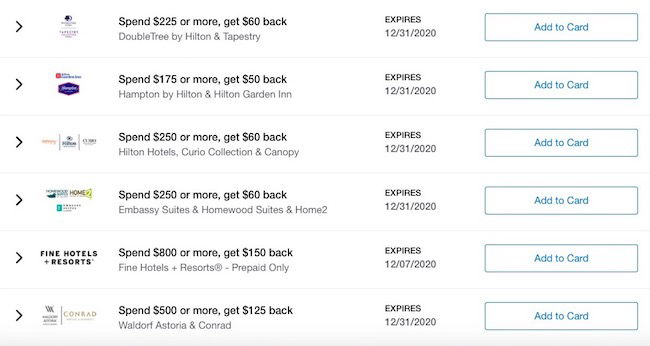 You can also push the arrow at the left of each offer to get more details about how exactly the offers work. There are quite a few terms associated with each offer, so you'll want to read through them:
Some retailers have geographic restrictions on where purchases can be made
Some retailers have restrictions on what kind of purchases qualify, excluding gift cards and partner products
Some retailers allow you to reach spending thresholds across multiple transactions, while some require purchases to be made in a single transaction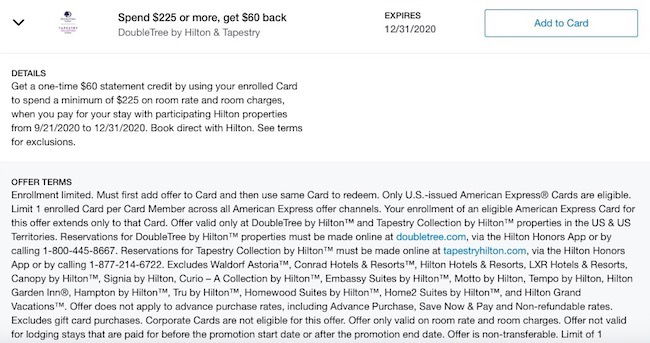 Once you're registered you'll want to make a purchase directly with a retailer, following the terms laid out with the offer. Shortly after making an eligible purchase you should receive an email confirming that the offer has been used.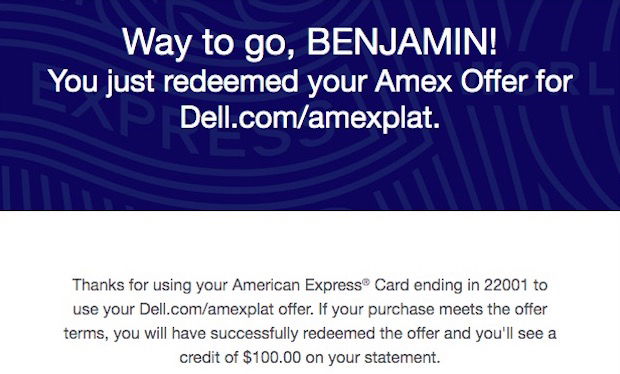 If the offer is for a statement credit, you'll often find that the credit posts within days, even if the terms indicate it will take longer.

Tips: maximize value with Amex Offers
While the above is a rundown of how the Amex Offers program works, I wanted to provide some general tips for really maximizing the value of Amex Offers, since there is a bit of nuance to doing so.
In no particular order, here are some further recommendations:
Register for Amex Offers promotions early
If you see an Amex Offers deal that you think you might be able to take advantage of, register right away. While all offers have end dates, in some cases there's a cap on how many people can register. Register as soon as you can, because once registered you're guaranteed to have the offer, even if you don't make a purchase for a while.
Keep your Amex Offers total below 100
Any given American Express account will show at most 100 Amex Offers. So absolutely add as many Amex Offers to your cards as you can, even if you don't think you'll use them. By keeping the number of new deals below 100, you're most likely to see new offers.
For example, if you're at 100 Amex Offers and register for 10, there's a good chance that 10 more offers will appear once you log out and then log back in again. This is the easiest way to get access to the best offers possible.
Choose the card on which you add Amex Offers carefully
You can only add an Amex Offers promotion to a single card in your profile. Once the offer is added to one card, it will disappear on other cards. Therefore you'll want to pick the card on which you register very carefully.
In particular, use the card that maximizes your rewards beyond the Amex Offers deal as such. Let me give an example — I see an offer for $125 back when I spend $500+ at Waldorf Astoria or Conrad hotels, which are two luxury Hilton brands.

I see this offer on both my Amex Platinum Card, and my Hilton Aspire Card:
The Amex Platinum Card offers 1x Membership Rewards points per dollar spent at Hiltons, which I value at a return of 1.7%
The Hilton Aspire Card offers 14x Hilton Honors points per dollar spent at Hiltons, which I value at a return of 7%
Since the Hilton Aspire Card offers a much better return for Hilton spending, I should register for the offer on that card, so that I can maximize the offer and maximize my rewards.
If you see an offer available on multiple cards, always choose the card offering the best rewards for spending with that retailer.
Stack Amex Offers with shopping portal bonuses
Using online shopping portals is one of the best ways to maximize your spending online. Just for going through a portal like Rakuten, you can earn bonus points or bonus cash back. This is essentially a way to double dip, and it's perfectly legit:
First register for the Amex Offers promotion you want
Then go to the online shopping portal offering the biggest bonus with the retailer you're considering
Then pay for your purchase with the card on which your Amex Offers promotion is registered
Then you'll earn both the Amex Offers reward and the shopping portal reward
Think creatively with Amex Offers retailers
Often it pays to be creative with Amex Offers retailers. For example, sometimes you may see Amex Offers for department stores that you may not otherwise make purchases from. However, keep in mind that many department stores sell third party products at the same prices you'd find elsewhere. This includes things like skincare, cologne, candles, shoes, etc.
Even if you'd usually purchase a product with another retailer, it could be worth changing the retailer to maximize your rewards.
Choose Membership Rewards points over cash
In some cases you'll see two versions of Amex Offers on different cards. When you see this, one version will offer a statement credit, and one will offer Membership Rewards points.


You'll consistently see that with this option, one Membership Rewards point is valued at one cent. In the above example, you can choose you earn a $50 statement credit or 5,000 bonus Membership Rewards points.
Personally I'd highly recommend earning Amex points, assuming you're looking to maximize travel long-term. I value Membership Rewards points at 1.7 cents each, so to me the offer for points is 70% more valuable.
Have as many Amex cards as possible
Amex Offers is one reason to have as many American Express cards as possible. The more cards you have, the more of a variety of Amex Offers you'll have access to. This is a reason I think there's big value in picking up no annual fee Amex cards, like the Amex Blue Business Plus.
It costs nothing to hang onto them, having credit cards long-term can help your credit score, and you can even make money on them with Amex Offers.
Get more Amex Offers by adding authorized users
While you can only add a given Amex Offers deal to one of your cards, authorized users on credit cards can register as well. In other words, you and your authorized users can potentially register for the same deal.
This is a reason that it could pay to have multiple authorized users on your credit cards, especially if there's no annual fee for adding them.
Split payments across multiple cards when possible
Let me explain this in the form of an example. Say Ford and I both had the above deal for Waldorf Astoria properties on our accounts (for $125 off a $500+ purchase), and we both registered. If we stayed at a Waldorf Astoria and it cost $1,000, at check-out we could put $500 on each of our cards. Then we'd each be able to take advantage of the $125 statement credit.
While not all online retailers will let you split purchases, in-person retailers usually will, and that may allow you to maximize rewards.
Bottom line
When many people think of the core benefits of Amex cards, the Amex Offers program probably isn't the first thing that comes to mind. However, it's often overlooked, and with it I save hundreds of dollars per year, and also earn quite a few Membership Rewards points.
With a bit of creativity and effort, this is an awesome program that's worth taking advantage of. These offers more than cover the annual fees on some of my Amex cards, and even allow me to "earn" money on some no annual fee cards.
What has your experience been with the Amex Offers program?