File this under "things that are interesting but probably not useful, and especially not useful right now, when this is probably the last thing most people are thinking about."
But I do find it interesting, so will cover it nonetheless.
The Amex Centurion Card is invitation only
The Amex Centurion Card (often referred to as the "Black Card") is invitation only. Generally speaking an invitation seems to be determined based on how much you spend on your American Express cards, as well as your income and net worth.
Amex is tight-lipped about the requirements to get a Black Card, though I've heard the following thrown around as key thresholds:
You need to spend at least $250K per year on Amex cards
You need to have an income of at least a million dollars per year, and/or a high net worth
The truth is that no one in a position to speak really knows what the requirement is, so that info could be totally off.
You can now request to be considered for the Black Card
In the past you'd need to hope for an invitation to get the Centurion Card, though Amex has just added a new feature. When you go to centurion.com, you'll see a link at the bottom that says:
Interested in Centurion Membership? Click Here.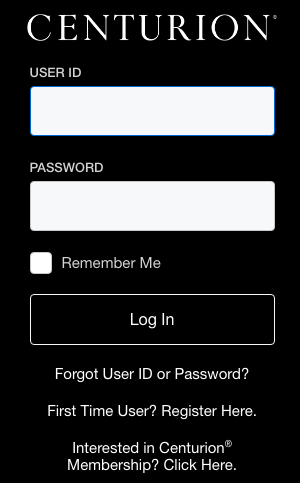 Once you click that button, you'll be brought to a page asking for your name and details of one of your American Express card numbers, so that you can be considered based on your existing customer profile.
The page also says the following:
Centurion Membership is by invitation only.

If you are interested in being considered for invitation to Centurion Membership, please provide the information below: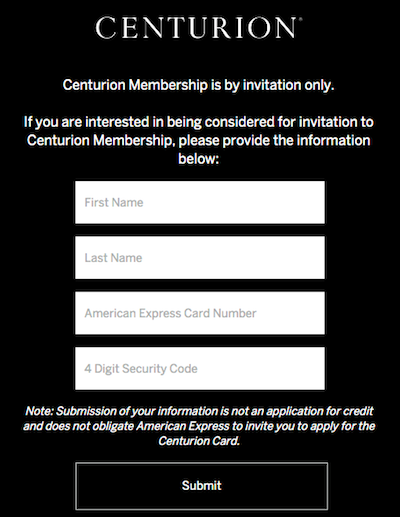 Once you submit that info you'll get a message saying the following:
Thank you for your interest in Centurion.

If you are selected to apply for Membership, you will receive an invitation via your mailing address on file.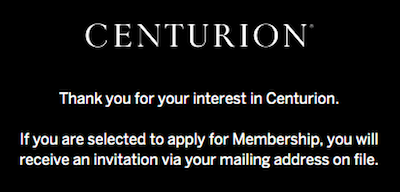 As you can see, it's not an instant decision. For that matter, they'll only get in touch with you if you are eligible, so there won't be a denial if you don't meet their requirements.
Is the Centurion Card worth it?
The reality is that the Centurion Card is one that you get for the benefits and perhaps the prestige (if that matters to you), but it's a card that's not worth spending money on.
The Amex Black Card recently became more expensive — it has a $10,000 initiation fee and $5,000 annual fee, while it used to have a $7,500 initiation fee and $2,500 annual fee.
Some of the perks of the card include the following:
Delta SkyMiles Platinum Medallion status
Hilton Honors Diamond status
IHG Rewards Club Platinum status
A CLEAR membership
A $1,000 Saks credit per calendar year
An Equinox Destination Access membership; this would ordinarily cost $300 per month
Expanded access to Centurion Lounges
I guess if you were going to pay for an Equinox membership anyway, and if you could use the Saks credit, then you're almost breakeven, especially when you consider the value of the potential airline and hotel status. However, without otherwise paying for an Equinox membership I couldn't make sense of the value.
The bigger problem is that there's a direct opportunity cost to every dollar spent on this card. There are cards that are so much better for everyday spending. So if you're getting this card for an ego boost at the register, just know that it comes at an opportunity cost.
Bottom line
I doubt the rollout of this new feature is in any way tied to the current pandemic, but rather it's probably something they just got around to.
I'm not sure how much we should read into this — the card is still invitation only, I'm guessing they just want to give people a clearer path to being able to initiate this on their end.
I imagine Amex gets quite a few phone calls and messages from people asking how they can get an invitation, and this gives agents an easy way to handle that question.
I imagine Amex is keen to get data on who is interested in the card. I doubt they're easing requirements right now, but with the annual fee increase, maybe that will change over time.
Interestingly all of this comes at a time when Amex is allegedly considering introducing a new product between the Platinum and Centurion card. Maybe this is a bit farfetched, but it's also possible that the card could be invitation(ish) only, and maybe those who aren't eligible for the Centurion Card may still be eligible for the new card.
What do you make of Amex inviting people to inquire about a Centurion Card invitation?